Baghdatis fan favorite against Federer
Marcos Baghdatis will have to beat Roger Federer to win the Australian Open. But, even if he doesn't beat the top seed in the final, Brad Gilbert writes that the 20-year-old Cypriot became the face of this year's tournament.
Updated:
January 27, 2006, 10:28 AM ET
By
Brad Gilbert
| Special to ESPN.com
MELBOURNE, Australia -- Marcos Baghdatis has put the energy and passion in this year's Australian Open.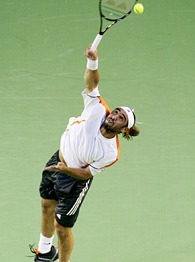 Quinn Rooney/Getty ImagesMarcos Baghdatis is 0-3 against Roger Federer but has become a crowd favorite.
He came in as a pretender and absolutely has earned his way into the final against Roger Federer by beating three straight top-10 players. He plays with a lot of zeal, and it's fun to see the crowd get juiced up behind him.
There's a parallel between what Baghdatis is doing and the run Gustavo Kuerten made at the 1997 French Open.
Kuerten was 20 years old (as is Baghdatis), ranked 66th in the world and had never won a tournament. He came in, stormed Paris and won the French with the same kind of flair and flash in his game that Baghdatis has and went on to be a great player.
The only problem is, the Cypriot has to play Federer and he has lost to him all three times they've met. Federer knows his game.
Hopefully, Baghdatis still has something left because I want to see him come out and empty the barrel. It would be awesome to see him, somehow, rise to the occasion and beat his fourth consecutive top-10 player.
Lowest Seeds To Reach A Men's Grand Slam Final
No. 212 Mark Edmondson def. John Newcombe, 1976 Australian Open
No. 188 John Marks lost to Guillermo Vilas, 1978 Australian Open
No. 125 Goran Ivanisevic def. Pat Rafter, 2001 Wimbledon
No. 100 Andrei Medvedev lost to Andre Agassi, 1999 French Open
No. 91 Chris Lewis lost to John McEnroe, 1983 Wimbledon
No. 86 Marat Safin lost to Roger Federer, 2004 Australian Open
No. 66 Gustavo Kuerten def. Sergi Bruguera, 1997 French Open
No. 54 Marcos Baghdatis vs. Roger Federer, 2006 Australian Open
That would be one of the best tournament runs I've ever seen.
To beat Federer, Baghdatis is going to have to serve well, maybe the match of his life. He's going to have serve at a high percentage and serve big. He'll need to be aggressive on his backhand, as well.
One advantage Baghdatis will have is the crowd. He's the fan favorite. By the fifth set against David Nalbandian, Rod Laver Arena felt like a Davis Cup atmosphere.
Win or lose, Baghdatis has shown how global the game of tennis is, and he's heading up the ranks really quickly.
Brad Gilbert, former top-5 player and former coach of Andre Agassi, is providing ESPN.com with analysis throughout the Australian Open. For more, log onto bradgilberttennis.com
Former player-turned coach and author Brad Gilbert is an analyst on ESPN's extensive schedule of tennis programming, including, since 2009, all four majors the Australian Open, the French Open, Wimbledon and US Open. He joined ESPN in 2004 and serves as a studio analyst, match analyst and sideline reporter. After leaving to return to coaching rising star Andy Murray of Scotland in 2006, he came back to ESPN in 2008.
SPONSORED HEADLINES
MORE TENNIS HEADLINES
MOST SENT STORIES ON ESPN.COM