Unseeded Baghdatis upsets Nalbandian
Updated:
January 26, 2006, 2:07 PM ET
ESPN.com news services
MELBOURNE, Australia -- Unseeded Marcos Baghdatis extended his remarkable run at the Australian Open, rallying Thursday to beat No. 4 David Nalbandian 3-6, 5-7, 6-3, 6-4, 6-4 and reach the final.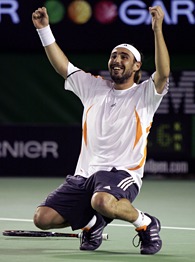 AP Photo/Mark BakerMarcos Baghdatis celebrated after beating David Nalbandian.
With the crowd screaming support, the 54th-ranked Baghdatis guaranteed that he will more than double his career winnings. He will play the winner of Friday's semifinal between top-seeded Roger Federer and No. 21 Nicolas Kiefer.
That match can be seen on ESPN2 at 3:30 a.m. ET.
Baghdatis, a former world junior champion from Cyprus, was serving for the match at 15-15 when rain began pouring down, forcing organizers to close the roof on Rod Laver Arena.
After workers toweled off the surface, the 20-year-old Baghdatis missed his first match point on a backhand that was ruled long.
Nalbandian hit a forehand into the net to set up a second chance, and Baghdatis finished it off with his 15th ace, dropping to his knees and bowing his head.
"Just amazing," said Baghdatis, who hadn't made it past the fourth round of his first five Grand Slam events. "I have to wake up.
"Everything was going in. I was just in my own world I think."
Lowest Seeds To Reach A Men's Grand Slam Final
No. 212 Mark Edmondson def. John Newcombe, 1976 Australian Open
No. 188 John Marks lost to Guillermo Vilas, 1978 Australian Open
No. 125 Goran Ivanisevic def. Pat Rafter, 2001 Wimbledon
No. 100 Andrei Medvedev lost to Andre Agassi, 1999 French Open
No. 91 Chris Lewis lost to John McEnroe, 1983 Wimbledon
No. 86 Marat Safin lost to Roger Federer, 2004 Australian Open
No. 66 Gustavo Kuerten def. Sergi Bruguera, 1997 French Open
No. 54 Marcos Baghdatis vs. Roger Federer, 2006 Australian Open
He won 17 of the last 21 points.
The stadium was awash in blue-and-white, looking more like Greece's national day than Australia's, in support of Baghdatis. The dozens of chanting fans who showed up for every one of his matches had plenty of company this time in a city with a large Greek population.
"Everything is first time here: getting to the quarters was the first time, getting to the semis was the first time, getting to the final -- I hope it continues," Baghdatis said.
Baghdatis broke Nalbandian, the reigning Masters Cup champion and 2002 Wimbledon runner-up, early in the first set before the Argentine started ripping winners from both sides.
Nalbandian jumped ahead by a set and 5-1 in the second before Baghdatis started rallying.
The crowd erupted in thunderous cheers as he tied it at 5-5. He was serving at 15-40 in the next game when holiday fireworks started thundering nearby. The startled Baghdatis hit a forehand crosscourt winner before twisting his ankle while losing the next point and the game.
Baghdatis bounced up quickly. Nalbandian held serve to take the set, but Baghdatis continued to claw back, seemingly oblivious to the pressure, soccer kicking a ball eight times at one point.
He survived an early break to take the third set and broke Nalbandian for the only time that he needed in the fourth, holding serve the rest of the way.
Never-say-die Baghdatis, with his infectious smile and quirky service routine of using his racket to bounce the ball once between his legs each time, rallied twice from service breaks in the fifth set. The umpire had to repeatedly ask the crowd for quiet.
Serving at 4-4, Nalbandian double-faulted, then committed three straight errors to give Baghdatis his eighth service break.
Baghdatis held serve for the match.
Nalbandian, the Masters Cup champion and 2002 Wimbledon finalist, is the last man -- and one of only four in 2005 -- to beat Federer.
Baghdatis aims to be the next.
"I believe it, my coach believe it, the guys I work with believe, my parents believe it," said Baghdatis, ranked 54th. "I have worked for that ... I'm very proud of myself ... it's been amazing."
Baghdatis is the fifth-youngest player to reach the final of the Australian Open in the Open Era. He is 6-0 in his career in five-set matches, including his third at this year's Open.
The unseeded Cypriot's run began in the fourth round when he beat No. 2 Andy Roddick and followed that up with a five-set win in the quarterfinals against seventh seed Ivan Ljubicic.
The Associated Press contributed to this report.
EDITORS' PICKS
Simona Halep crushed Serena Williams at WTA Finals.
Story »

Garber: Serena has been shaky, but Maria Sharapova is ready for the WTA finals.
Garber »

Roger Federer peaking for year-end championships.
Garber »