Serena holds off Vaidisova; Sharapova tops Clijsters
Updated:
January 25, 2007, 9:03 AM ET
Associated Press
MELBOURNE, Australia -- Unseeded and ranked No. 81 after an injury-plagued 2006, Serena Williams made it back to a Grand Slam final with a 7-6 (5), 6-4 win over Nicole Vaidisova at the Australian Open.
Australian Open Scoreboard
Every match, both men's and women's, throughout the Australian Open. Complete Scores
Standing in the way of an eighth Grand Slam title -- she already has two here -- is top-seeded Maria Sharapova. Sharapova turned her semifinal against No. 4 Kim Clijsters into an Australian farewell match for the 23-year-old Belgian, who is retiring at the end of the year, with a 6-4, 6-2 victory.
Williams and Sharapova have split four previous matchups. Williams won their last encounter after saving match points in the semifinals here two years ago before going on to win the title.
Ranked No. 81 coming into the tournament after dropping out of the top 100 last year while dealing with a bad knee, Williams guaranteed herself a return to the top 20.
"I can't believe it," the former world No. 1 said. "That's awesome. I'm like a chameleon. I can kind of change and get my game going to whatever the situation is. If I play well, which I don't think I've even reached yet at all in this tournament ... it's really hard for anyone on the women's tour to beat me."
Sharapova certainly isn't taking Williams lightly.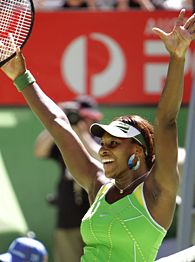 Rick Stevens/AP PhotoSerena Williams is a surprise finalist at the Australian Open and has guaranteed herself a return to the top 20.
"I'm going to be playing against a player that didn't really expect too much coming into this tournament," she said. "She's playing some really good tennis. I think she has nothing to lose going into the match. Those are always dangerous opponents."
Williams sprinted ahead 4-0 in the tiebreaker, then doubled-faulted on consecutive points as Vaidisova rallied to tie it at 5. Grunting louder with each shot, Williams whacked a backhand cross-court winner to get a set point, then growled loudly when Vaidisova hit a forehand into the net.
Williams ran off four straight games to pull ahead 5-1 in the second set. A quick finish seemed certain.
Then came the comeback that fell just short.
Vaidisova broke Williams as she served for the match to pull within 3-5, then fell behind 0-40 for triple match point in the next game. The Czech fought back to deuce, fended off another match point, then held to a thunderous ovation.
"I almost did a gagarooney there," said Williams, explaining: "Basically, you know, gagging."
Serving again to finish it off, Williams had match point No. 5 at 40-30, only to see Vaidisova whip a backhand cross-court winner. Williams thought the ball was out and started to celebrate, then clearly wanted to question the no-call but had no challenges left after using up her allotment earlier.
Her 10th ace of the match, on a second serve, set up match point No. 6, and Williams finally converted this one, throwing her hands in the air and leaning back to look at the sky.
Lowest-ranked
Grand Slam winners

Serena Williams entered the Australian Open final ranked No. 81 in the world. Here are the lowest-ranked women's Grand Slam winners since the computer rankings system began in November 1975:
Player
Tournament
Ranking
Evonne Goolagong
1977 Australian
NR
Chris O'Neil
1978 Australian
111
Serena Williams
2007 Australian
81
Barbara Jordan
1979 Australian
68
Sue Barker
1976 French
18
Virginia Ruzici
1978 French
17
Venus Williams
2005 Wimbledon
16
Maria Sharapova
2004 Wimbledon
15
Jennifer Capriati
2001 Australian
14
Justine Henin-Hardenne
2005 French
12
-- The Associated Press
"She's definitely a great champ," Vaidisova said. "She played the tight points very well. I had my opportunities. I didn't use them. That was the big difference. I was trying to go for a winner or easy shot too early."
Sharapova, last year's U.S. Open champion, wasn't at the top of her game either, committing eight double-faults, missing badly on a number of easy putaways and finishing with six more unforced errors (33) than winners (27). But she was at her best under pressure, fending off seven break points in the second set.
"I felt like I played a much better match all around today," Sharapova said. "Couldn't quite get the serve and return together in the beginning. But overall I was really focused. I did the right things at the right time. I was patient when I had to be patient, played a smart game."
It helped that the normally solid Clijsters was even more inconsistent, and her worst errors came at the worst times as she squandered opportunity after opportunity. She frequently forced Sharapova to hit two or three good shots to win a point, but had only two winners of her own in the last set.
Clijsters got two standing ovations as she said goodbye to Rod Laver Arena after the loss.
"I have so many great memories from here," she said. "I'm going to come back tomorrow and take my time to say goodbye to everybody, just get everybody's e-mail address, number."

Copyright 2007 by The Associated Press
SPONSORED HEADLINES
MORE TENNIS HEADLINES
MOST SENT STORIES ON ESPN.COM
Australian Open
Dates: Jan. 14-28
Melbourne, Australia
2007 Champions:
Serena Williams, Roger Federer
Time difference: Melbourne is 16 hours ahead of Eastern time in North America

Day 14
• Federer perfect winning 10th Grand Slam
• The facts about Federer
• Jensen on Federer's mental game
• Nestor, Likhovtseva win mixed doubles title
Day 13
• Serena dominates Sharapova in final
• Inside the numbers
• Shriver on Serena
• Bryans win men's doubles title
Day 12
• Results: Men | Women's doubles
Day 11
• Results: Men | Women
Day 10
• Results: Men | Women
Day 9
• Results: Men | Women
Day 8
• Results: Men | Women
Day 7
• Results: Men | Women
Day 6
• Results: Men | Women
Day 5
• Results: Men | Women
Day 4
• Results: Men | Women
Day 3
• Results: Men | Women
Day 2
• Results: Men | Women
Day 1
• Results: Men | Women

Preview coverage
• 2007 Australian Open review
• Can Sharapova succeed as No. 1 seed?
• Kreidler: No seeds for American women
• Federer, Sharapova No. 1 seeds