Nadal pushed by qualifier in opener, while Murray knocked out
Updated:
January 14, 2008, 10:14 AM ET
ESPN.com news services
MELBOURNE, Australia -- No. 2 seed Rafael Nadal survived an early test of his Australian Open credentials, while ninth-seeded Andy Murray became the first high-profile casualty at the season-opening Grand Slam.
Australian Open scores
In-progress scores and results from every match from both sides of the draw throughout the event. Complete scores
Nadal battled to a 7-6 (3), 7-5, 6-1 win over Viktor Troicki, a Serbian qualifier in his first Grand Slam appearance.
Showing no signs of nerves, the 126th-ranked Troicki forced a set point at 6-5 in the first set and led 4-2 in the second before Nadal finally wore him down to clinch victory in 2 hours, 35 minutes.
"He played very, very aggressively," said Nadal, the only player to beat Roger Federer at the last 10 Grand Slams (at the last two French Opens). "Today I was struggling at some times in the match. I couldn't get the rhythm in the beginning but in the third set I think I played a bit better."
[+] Enlarge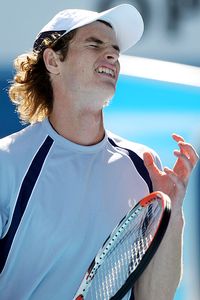 WilliamWest/AFP/Getty ImagesAndy Murray's appearance at the Australian Open was excruciatingly short. He lost his opener in four sets to Jo-Wilfried Tsonga.
In cool evening conditions, Nadal missed the chance to serve out for the first set at 5-4 and then had to save a set point in the 12th game, before winning the tiebreak 7-3.
Troicki then broke in the third game of the second set on his way to a 4-2 lead but Nadal levelled at 4-4 and after pinching the set, he eased through the third to win a match that finished in the early hours of Tuesday local time.
"I was struggling sometimes,'' Nadal said. "He played aggressive, served very well."
Murray lost 7-5, 6-4, 0-6, 7-6 (5) to Jo-Wilfried Tsonga of France, who gave Andy Roddick a tough time in the first round last year. Juan Ignacio Chela of Argentina, seeded 18th, lost in four sets to Guillermo Garcia-Lopez of Spain.
Murray, considered a dark horse to win in Melbourne, weathered withering blows in the first set, his legs wobbled in the second and, after a gutsy rally, was sent packing in the fourth set.
"Didn't start off great," he said. "[Tsonga] dictated a lot of points early in the match. I made a few mistakes there I shouldn't have made."
Sixth-ranked Roddick had less trouble this time, advancing 6-3, 6-4, 7-5 over Czech qualifier Lukas Dlouhy, who self-destructed with 12 double-faults in the first two sets.
No. 4 Nikolay Davydenko, still subject to an ATP investigation into illegal gambling, beat Michael Llodra 7-5, 7-5, 6-3.
Three seeded men needed five sets to advance: No. 11 Tommy Robredo rallied from two sets down to oust Mischa Zverev, No. 24 Jarkko Nieminen beat Canada's Frank Dancevic, and No. 28 Gilles Simon downed American Bobby Reynolds.
In a match between two former finalists, 2003 runner-up Rainer Schuettler of Germany beat 2001 runner-up Arnaud Clement of France; while Mardy Fish, who combined with Serena Williams in the United States' Hopman Cup-winning team earlier this month, beat Serbia's Boris Pashanski.
Also advancing were eighth-seeded Richard Gasquet of France and No. 14 Mikhail Youzhny of Russia, who won in Sydney last week.
Information from Reuters and The Associated Press was used in this report.
2008 AUSTRALIAN OPEN
2008 ChampionsWomen's singles:
Maria Sharapova
Men's singles:
Novak Djokovic
Men's doubles:
Jonathan Erlich and Andy Ram, Israel
Women's doubles:
Alona and Kataryna Bondarenko, Ukraine
Mixed doubles:
Sun Tiantian, China, and Nenad Zimonjic, Serbia
Official scoreboard:
Real-time scores
---
Day 14
•
Djokovic wins Aussie men's title
•
Ford: Concentration, patience key for Djokovic
•
Report: Women's final likely moving to night
Video

•
Record Aussie Open turnout cracks 600,000
•
Djokovic wins first Slam
•
Return of serve helps Djoker
•
Dick Enberg's tribute
Day 13
•
Sharapova wins Aussie women's crown
•
Ford: Life lessons provoke Sharapova to win
Video

•
Sharapova wins title
•
Men's final preview
Day 12
•
Men
•
Ford: Djokovic ends significant run by Federer
•
McEnroe: Djokovic just too strong for Federer
•
Ford: Tennis in need of a competitive final
•
Ubha: Rivalries that could come to fruition
•
Bodo: Dreamy tennis from Sharapova
Video

•
Federer loses
•
Djokovic looks for first Slam
•
Federer talks about loss
•
Women's final preview
Day 11
•
Men
|
Women
•
Ford: Djokovic confident versus Federer
•
Ford: Tsonga shrink's Nadal down to normal size
•
McEnroe: Tsonga a player who's here to stay
•
Tennis.com: Djokovic's golden opportunity
•
Notebook: Aussie teenager turning heads
Video

•
Sharapova defeats Jankovic
•
Ivanovic downs Hantuchova
•
Tsonga stuns Nadal
Day 10
•
Men
|
Women
•
Ford: Hantuchova, Ivanovic have come along
•
Wilansky: Jankovic could be in for a long day
Video

•
Federer defeats Blake
•
Ivanovic down Venus
•
Djokovic cruises past Ferrer
Day 9
•
Men
|
Women
•
Ford: Blake, Federer two of the classiest players
•
Ford: Jankovic defies odds in defeating Williams
•
Notebook: Is Blake's maturation enough?
Video

•
Serena falls to Jankovic
•
What happened to Serena?
•
Nadal headed to semifinals
Day 8
•
Men
|
Women
•
Ford: Sharapova ready to tackle Henin
•
Notebook: Two surprising quarterfinalists
Video

•
Federer defeats Berdych
•
Nadal advances
•
Blake happy with win and Giants' victory
•
Advantage Luke Jensen
Week 1
•
Photo Gallery: Best of Week 1 from Down Under
Day 7
•
Men
|
Women
•
Notebook: Oh, what a night of tennis
Video

•
Weekend madness
•
Henin ready for Sharapova
Day 6
•
Men
|
Women
•
Ford: Stealth Serb pushes Federer to the limit
•
Jensen: Federer's great physical condition
Video

•
Federer defeats Tipsarevic
•
Federer reflects
Day 5
•
Men
|
Women
•
Ford: Mirza's off-court battles
•
Wilansky: Early exit for Roddick
•
Notebook: Henin more confident
Video

•
15 aces for Serena
•
Roddick falls to Kohlschreiber in five sets
Day 4
•
Men
|
Women
•
Ford: Just like home for Americans Down Under
•
Spadea wins and raps

•
Notebook: Top-ranked Huber not on Fed Cup
Video

•
Day 4 highlights
•
Vince Spadea's chicken dance
Day 3
•
Men
|
Women
Video

•
Day 3 highlights
Day 2
•
Men
|
Women
•
Ford: Santoro continues to slice and dice
Day 1
•
Men
|
Women
Video

•
Day 1 highlights
•
2008 Australian Open preview
MOST SENT STORIES ON ESPN.COM