Commentary
Henin-Mauresmo rivalry fading before our eyes
It wasn't long ago that the Justine Henin-Amelie Mauresmo rivalry was the prize fight in women's tennis. Today, though, their careers have gone in diametrically opposite directions -- and that's a shame.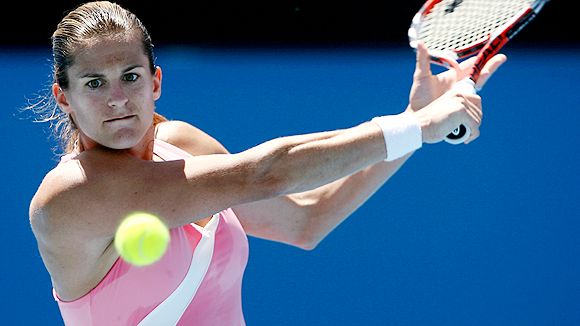 Clive Brunskill/Getty ImagesSince defying the odds, winning the Australian Open and Wimbledon in 2006, Amelie Mauresmo has been bitten by the injury bug. Today, the former No. 1 player has fallen out of the top 15.
MELBOURNE -- They're on the same side of the draw and can't meet in the championship match here. That's probably a good thing for Justine Henin and Amelie Mauresmo, who don't need to rehash the letdown both felt when Henin withdrew due to illness in the second set of the Australian Open final two years ago.
They've long since moved on, although in the past year, they've moved in completely different directions. World No. 1 Henin is on cruise control, having won all 30 of her matches since last year's Wimbledon semifinal. The 18th-seeded Mauresmo fell out of the top 10 for the first time in seven years last fall and took a real cruise to get away.
"I needed some time off," Mauresmo said Wednesday after she labored to a 6-4, 7-6 (5) win over No. 85 Yaroslava Shvedova of Russia to advance to the third round. "I needed to spend some time for myself and really quality time to figure out what I really want for the -- first for the rest of that season, but then for the future, as well. Make sure I really, you know, rest.
"I went on a boat on the Mediterranean Sea and not doing really anything special but just relaxing. That was it."
Both have some heavy seas to sail if they're to meet in the semis. Henin has an alarmingly dominant-looking, newly confident Maria Sharapova in her quarter, and if Mauresmo has trouble closing out Shvedova, what are her chances against Serena Williams?
Yet the thought of another Henin-Mauresmo prize fight is appealing, if only because their history is so rich and their sustained rivalry so rare in the women's game today.
Henin has won eight of their 14 matches; all but two have been played in the semifinal or final of a tournament. Perhaps the most distinctive thing about their record is that surface doesn't much matter. Henin leads 5-4 on hard court and 2-1 on clay and they've split their two meetings on grass.
Mauresmo said she devoted considerable thought to how much effort she wanted to invest in this season. It's an understandable preoccupation. She's in her 15th year as a pro, she'll turn 29 this year, and she achieved a career ambition and defied the doubters by beating Henin to win Wimbledon six months after their anticlimax in Australia.
Last year wasn't exactly a sign from above that she should continue. Mauresmo had to stop playing abruptly last March to have an emergency appendectomy. She missed two months and pushed herself to come back in time for the French Open in May, where neither the surface nor the nationalistic pressure has ever suited her.
Her best and most dramatic match in 2007 was a loss to -- naturally -- Henin, in the finals on grass at Eastbourne in England. Mauresmo exited Wimbledon in the fourth round, played Fed Cup the next week and then had to take another two months off with a strained groin muscle. The same injury flared up again last week, forcing her to withdraw from the tune-up event in Sydney.
Wednesday's match turned into a mild nightmare for Mauresmo when Shvedova clawed back from a 5-1 deficit in the second set to force a tiebreaker and fended off nine match points while both women struggled with their serves.
[+] Enlarge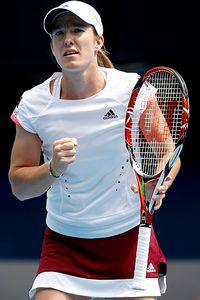 Quinn Rooney/Getty ImagesJustine Henin won 10 titles last season and finished No. 1 in the world for the second straight year.
Mauresmo's next opponent is a local, sort of, from the other side of the island -- the delightfully happy-to-be-here No. 78 Casey Dellacqua, who took down 15th seed Patty Schnyder and regaled reporters with a description of buying three-for-$30 shirts at Target before Nike opened its closet for her. Henin will face 25th seed Francesca Schiavone of Italy, who has never beaten her in six tries.
There's no doubt about Henin's motivation. She missed the Aussie last year while dealing with her divorce and didn't even watch it on television. Although Wimbledon remains her elusive white whale, she said she'd like a repeat of her winning performance here in 2004.
She revealed another facet of her desire, oddly enough, in a conversation about the daytime glare on the new blue courts at Melbourne Park. Henin likes to play early matches, when the sun is high, but said even her trademark baseball cap wasn't enough to shield her eyes Wednesday.
"When you wear contact lenses, your eyes are more sensitive to light," she said. "I dream of having [laser] surgery on my eyes, but I'm going to wait until my career is over, because there are always risks."
Good on her for safeguarding a precious asset, although it does seem like Henin is seeing the ball pretty well these days. By contrast, Mauresmo spoke Wednesday of trying to find her confidence as if it were a set of misplaced car keys. "If I had an answer, I would have managed things better," she said of the attenuated end of her match.
It would be a shame if these two never met on a big stage again, if only because the old dichotomy of the likeable Mauresmo and the aloof Henin has evaporated. As soon as Henin hit her personal stride, it let all of us focus on the great matchup and the ever-fascinating physics that play out when power meets finesse.
Bonnie D. Ford covers tennis and Olympic sports for ESPN.com. E-mail her at bonniedford@aol.com.
Enterprise and Olympic Sports
Bonnie D. Ford is a senior writer for ESPN.com.
SPONSORED HEADLINES
MORE TENNIS HEADLINES
MOST SENT STORIES ON ESPN.COM
2008 AUSTRALIAN OPEN
2008 ChampionsWomen's singles:
Maria Sharapova
Men's singles:
Novak Djokovic
Men's doubles:
Jonathan Erlich and Andy Ram, Israel
Women's doubles:
Alona and Kataryna Bondarenko, Ukraine
Mixed doubles:
Sun Tiantian, China, and Nenad Zimonjic, Serbia
Official scoreboard:
Real-time scores
---
Day 14
•
Djokovic wins Aussie men's title
•
Ford: Concentration, patience key for Djokovic
•
Report: Women's final likely moving to night
Video

•
Record Aussie Open turnout cracks 600,000
•
Djokovic wins first Slam
•
Return of serve helps Djoker
•
Dick Enberg's tribute
Day 13
•
Sharapova wins Aussie women's crown
•
Ford: Life lessons provoke Sharapova to win
Video

•
Sharapova wins title
•
Men's final preview
Day 12
•
Men
•
Ford: Djokovic ends significant run by Federer
•
McEnroe: Djokovic just too strong for Federer
•
Ford: Tennis in need of a competitive final
•
Ubha: Rivalries that could come to fruition
•
Bodo: Dreamy tennis from Sharapova
Video

•
Federer loses
•
Djokovic looks for first Slam
•
Federer talks about loss
•
Women's final preview
Day 11
•
Men
|
Women
•
Ford: Djokovic confident versus Federer
•
Ford: Tsonga shrink's Nadal down to normal size
•
McEnroe: Tsonga a player who's here to stay
•
Tennis.com: Djokovic's golden opportunity
•
Notebook: Aussie teenager turning heads
Video

•
Sharapova defeats Jankovic
•
Ivanovic downs Hantuchova
•
Tsonga stuns Nadal
Day 10
•
Men
|
Women
•
Ford: Hantuchova, Ivanovic have come along
•
Wilansky: Jankovic could be in for a long day
Video

•
Federer defeats Blake
•
Ivanovic down Venus
•
Djokovic cruises past Ferrer
Day 9
•
Men
|
Women
•
Ford: Blake, Federer two of the classiest players
•
Ford: Jankovic defies odds in defeating Williams
•
Notebook: Is Blake's maturation enough?
Video

•
Serena falls to Jankovic
•
What happened to Serena?
•
Nadal headed to semifinals
Day 8
•
Men
|
Women
•
Ford: Sharapova ready to tackle Henin
•
Notebook: Two surprising quarterfinalists
Video

•
Federer defeats Berdych
•
Nadal advances
•
Blake happy with win and Giants' victory
•
Advantage Luke Jensen
Week 1
•
Photo Gallery: Best of Week 1 from Down Under
Day 7
•
Men
|
Women
•
Notebook: Oh, what a night of tennis
Video

•
Weekend madness
•
Henin ready for Sharapova
Day 6
•
Men
|
Women
•
Ford: Stealth Serb pushes Federer to the limit
•
Jensen: Federer's great physical condition
Video

•
Federer defeats Tipsarevic
•
Federer reflects
Day 5
•
Men
|
Women
•
Ford: Mirza's off-court battles
•
Wilansky: Early exit for Roddick
•
Notebook: Henin more confident
Video

•
15 aces for Serena
•
Roddick falls to Kohlschreiber in five sets
Day 4
•
Men
|
Women
•
Ford: Just like home for Americans Down Under
•
Spadea wins and raps

•
Notebook: Top-ranked Huber not on Fed Cup
Video

•
Day 4 highlights
•
Vince Spadea's chicken dance
Day 3
•
Men
|
Women
Video

•
Day 3 highlights
Day 2
•
Men
|
Women
•
Ford: Santoro continues to slice and dice
Day 1
•
Men
|
Women
Video

•
Day 1 highlights
•
2008 Australian Open preview