Baghdatis needs five sets to top Safin; Federer, Djokovic cruise
Updated:
January 17, 2008, 3:56 PM ET
ESPN.com news services
MELBOURNE, Australia -- Marcos Baghdatis needed five sets to defeat Marat Safin 6-4, 6-4, 2-6, 3-6, 6-2 Thursday at the Australian Open, evoking memories of his run to the 2006 final.
Earlier Thursday, top-seeded Roger Federer was impressive again in ending friend Fabrice Santoro's record 62nd Grand Slam tournament 6-1, 6-2, 6-0 in a match long on entertainment and short on drama.
But the marquee matchup of the night between Baghdatis and Safin was packed with drama -- long rallies, seemingly impossible winners and shifts in momentum.
Baghdatis appeared to be on his way to a straight-sets victory, looked down and out, then pulled himself together to set up a third-round meeting with another former No. 1, Lleyton Hewitt.
Australian Open scores
In-progress scores and results from every match from both sides of the draw throughout the event. Complete scores
The mercurial Safin, the 2005 champion who has slipped to No. 56 because of a rash of injuries, tossed his racket twice in frustration while falling behind, then broke it after dropping serve early in the fifth set.
Both players took tumbles on the court, with Safin making a lunging layout to pick off a passing shot for a winner and Baghdatis awkwardly doing the splits when he slipped on the dead run.
The 15th-seeded Baghdatis constantly rallied two years ago, feeding off the energy from vocal fans from Melbourne's large Greek community, before he lost the final to Roger Federer.
His beard and ponytail are gone, but the support was there again, and Baghdatis fed off it.
Sharp in taking the first two sets, Baghdatis' game slipped at the same time Safin picked up his performance. The Russian broke Baghdatis early in the third and fourth sets, then fended off triple break point while serving at 5-3 to hold with his 11th ace to even the match.
[+] Enlarge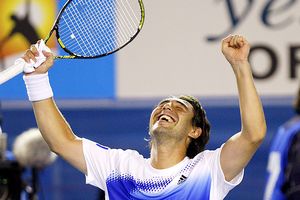 AP Photo/Mark BakerIt took Marcos Baghdatis five sets to finally beat Marat Safin and advance at the Australian Open.
Baghdatis pulled ahead 3-0 in the fifth set and never yielded the advantage despite constant pressure from Safin. He finished off the victory in 3 hours, 13 minutes by breaking Safin for the fifth time when a forehand went long on match point.
Santoro's wily courtcraft, anticipation and phenomenal retrieving have carried him through a record 62 Grand Slam tournaments, but he was no match for Federer when they shared the stage Thursday.
When Santoro did win a closely contested point when Federer miscued an overhead from an opportunistic defensive lob, he threw up his hands in victory and jogged around in circles as if he had just finished off the match.
But it was a rare mistake for Federer, who had 53 winners and 18 unforced errors and ran off the last 10 games to advance to the third round.
Federer set up match point with a leaping overhead, prompting a plea from Santoro for a bit of mercy as he nodded toward the scoreboard.
He got a laugh and a slight pause from Federer, who then held at love and strode over the net to congratulate Santoro for bettering Andre Agassi's 61 majors by one.
[+] Enlarge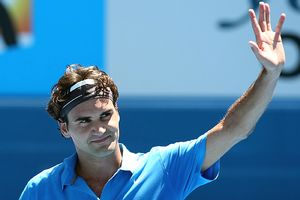 TORSTEN BLACKWOOD/AFP/Getty ImagesRoger Federer celebrates after running off the last 10 games of a 6-1, 6-2, 6-0 win to advance to the third round at the Australian Open.
"Obviously I always enjoy the match against Fabrice," said Federer, chasing his third consecutive Australian Open title and his 13th major. "First time I played him, he totally dismantled me. Showed I had a lot of things to work on.
"Today I was in great shape, could play aggressive. We always have great rallies together, because of his playing style ... he does a great job of making you doubt."
Santoro, at 35 the oldest player in the singles draw, was good natured on and off the court.
"Regarding the score, it was not easy to have fun," he said, "but I tried to have some."
Santoro broke into a smile when asked about his retirement plans.
He had just been thrashed Federer, and the crowd treated the match on Rod Laver Arena as the last time they would see him play.
"I don't know yet. I can't answer a hundred percent now," the 35-year-old known as "The Magician" said when asked if 2008 would be his final year on the ATP tour.
"It was great," he said of the crowd reaction. "They're maybe thinking it was my last match on this court, and this court is very special for me."
No. 3-ranked Novak Djokovic, who beat Federer in the final of the Masters Series event in Canada last year and then lost to him in the U.S. Open final, had a 6-1, 6-2, 6-2 win over Simone Bolelli.
Fifth-seeded David Ferrer advanced when Juan Martin Del Potro retired in the third set. Former U.S. Open and Wimbledon champion Lleyton Hewitt was broken when serving for the match in the third set before beating Asian wild card entry Denis Isomin 7-6 (5), 6-3, 5-7, 6-1.
Also joining Federer in the third round were No. 7 Fernando Gonzalez, No. 10 David Nalbandian, No. 12 James Blake, No. 13 Tomas Berdych and former No. 1-ranked Juan Carlos Ferrero.
No. 21 Juan Monaco beat American Amer Delic 6-3, 7-6 (6), 5-7, 6-7 (8), 8-6.
No. 10 David Nalbandian, who defeated Federer twice in consecutive tournaments last October, had a 4-6, 7-5, 6-4, 6-1 win over Australian Peter Luczak.
Information from The Associated Press and Reuters was used in this report.
SPONSORED HEADLINES
MORE TENNIS HEADLINES
MOST SENT STORIES ON ESPN.COM
2008 AUSTRALIAN OPEN
2008 ChampionsWomen's singles:
Maria Sharapova
Men's singles:
Novak Djokovic
Men's doubles:
Jonathan Erlich and Andy Ram, Israel
Women's doubles:
Alona and Kataryna Bondarenko, Ukraine
Mixed doubles:
Sun Tiantian, China, and Nenad Zimonjic, Serbia
Official scoreboard:
Real-time scores
---
Day 14
•
Djokovic wins Aussie men's title
•
Ford: Concentration, patience key for Djokovic
•
Report: Women's final likely moving to night
Video

•
Record Aussie Open turnout cracks 600,000
•
Djokovic wins first Slam
•
Return of serve helps Djoker
•
Dick Enberg's tribute
Day 13
•
Sharapova wins Aussie women's crown
•
Ford: Life lessons provoke Sharapova to win
Video

•
Sharapova wins title
•
Men's final preview
Day 12
•
Men
•
Ford: Djokovic ends significant run by Federer
•
McEnroe: Djokovic just too strong for Federer
•
Ford: Tennis in need of a competitive final
•
Ubha: Rivalries that could come to fruition
•
Bodo: Dreamy tennis from Sharapova
Video

•
Federer loses
•
Djokovic looks for first Slam
•
Federer talks about loss
•
Women's final preview
Day 11
•
Men
|
Women
•
Ford: Djokovic confident versus Federer
•
Ford: Tsonga shrink's Nadal down to normal size
•
McEnroe: Tsonga a player who's here to stay
•
Tennis.com: Djokovic's golden opportunity
•
Notebook: Aussie teenager turning heads
Video

•
Sharapova defeats Jankovic
•
Ivanovic downs Hantuchova
•
Tsonga stuns Nadal
Day 10
•
Men
|
Women
•
Ford: Hantuchova, Ivanovic have come along
•
Wilansky: Jankovic could be in for a long day
Video

•
Federer defeats Blake
•
Ivanovic down Venus
•
Djokovic cruises past Ferrer
Day 9
•
Men
|
Women
•
Ford: Blake, Federer two of the classiest players
•
Ford: Jankovic defies odds in defeating Williams
•
Notebook: Is Blake's maturation enough?
Video

•
Serena falls to Jankovic
•
What happened to Serena?
•
Nadal headed to semifinals
Day 8
•
Men
|
Women
•
Ford: Sharapova ready to tackle Henin
•
Notebook: Two surprising quarterfinalists
Video

•
Federer defeats Berdych
•
Nadal advances
•
Blake happy with win and Giants' victory
•
Advantage Luke Jensen
Week 1
•
Photo Gallery: Best of Week 1 from Down Under
Day 7
•
Men
|
Women
•
Notebook: Oh, what a night of tennis
Video

•
Weekend madness
•
Henin ready for Sharapova
Day 6
•
Men
|
Women
•
Ford: Stealth Serb pushes Federer to the limit
•
Jensen: Federer's great physical condition
Video

•
Federer defeats Tipsarevic
•
Federer reflects
Day 5
•
Men
|
Women
•
Ford: Mirza's off-court battles
•
Wilansky: Early exit for Roddick
•
Notebook: Henin more confident
Video

•
15 aces for Serena
•
Roddick falls to Kohlschreiber in five sets
Day 4
•
Men
|
Women
•
Ford: Just like home for Americans Down Under
•
Spadea wins and raps

•
Notebook: Top-ranked Huber not on Fed Cup
Video

•
Day 4 highlights
•
Vince Spadea's chicken dance
Day 3
•
Men
|
Women
Video

•
Day 3 highlights
Day 2
•
Men
|
Women
•
Ford: Santoro continues to slice and dice
Day 1
•
Men
|
Women
Video

•
Day 1 highlights
•
2008 Australian Open preview