Commentary
Long journey Down Under worth it for unheralded Americans
The long pilgrimage to the other side of the world hasn't distracted Sam Querrey from his singular mission Down Under: to focus on the fuzzy yellow ball. And thus far, he's playing with 20-20 vision.
Clive Brunskill/Getty ImagesHe's won just one match in the other three Grand Slams, but Sam Querrey has thrived in the Australian Open pastures, reaching the third round for the second consecutive year.
MELBOURNE, Australia -- There's something about this tournament that suits the current crop of American men, who feed off it like contented Koala bears munching on eucalyptus leaves. Five of them have made it as far as the third round.
Is it the near-guaranteed sunshine? The casual, beach-party atmosphere? The rabid crowds? The hard courts? That all may be true, but Sam Querrey had a slightly different take.
"I'm not a big sightseer," said the 20-year-old from Thousand Oaks, Calif. "And sometimes when you go to Europe, you have to see the Eiffel Tower and places like that. You don't have to see anything here, and I like that."
All Querrey wants to see right now, as he tries to improve on an encouraging but uneven first full season on the ATP circuit, are fuzzy yellow balls landing inside the lines. He'll have to be very good at that geometry to get past his next opponent, No. 3 seed Novak Djokovic.
Querrey knocked off 32nd-seeded Dmitry Tursunov in four chippy sets. Despite his Russian passport, Tursunov is nearly as much a Californian as Querrey -- he has lived more than half his life there and has a home in Sacramento. The two tall blonds look as if they'd be just as comfortable carrying surfboards as tennis rackets.
But Querrey, who made the third round here last year, didn't fly all this way to take a vacation. He swatted 13 aces, giving him 34 in the past two matches to tie Ivo Karlovic for the tournament lead, and stayed cool as Tursunov fumed in the late going.
This continent feels comfortable to Querrey for reasons he's not particularly intent on analyzing. He likes the weather and he did allude to the fact that his coach, Grant Doyle, is Australian and has a posse of friends and family present.
"It's kind of nice, they can show me around," said Querrey, who presumably has told his escorts he doesn't want to see any large monuments.
It was only one of three upsets by U.S. men in the second round. Mardy Fish, who will play 24th seed Jarkko Nieminen of Finland Friday, got there by dismissing Spain's 11th-seeded Tommy Robredo with clinical ease. One more win would set him up for a clash with close pal Andy Roddick for the second year in a row. Roddick won when the two met in the 2007 quarterfinals.
[+] Enlarge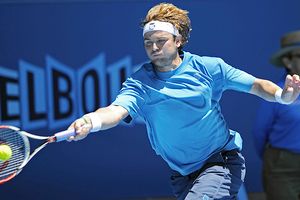 Paul Crock/AFP/Getty ImagesAfter losing three straight Grand Slam matches to seeded players, Mardy Fish is hoping to win his second straight when he takes on No. 24 Jarkko Nieminen.
Fish didn't hesitate to list the reasons he likes it in Oz -- it's convenient, friendly and feels like home with a slightly tweaked accent. It's more manageable and less pressure-filled than the U.S. Open.
"New York is such a fast-paced tournament, and I'm kind of a small-town boy," said Fish, who hails from Edina, Minn., a suburb of Minneapolis. "So a lot of that attention might not suit me as well."
Vince Spadea outlasted German qualifier Denis Gremelmayr in a rousing five-setter on an outer court -- the second match in a row in which the 33-year-old has gone the full distance.
"I felt like Jimmy Connors, except in a park," said Spadea, who beat Andre Agassi here in 1999 to make the quarterfinals, his best Grand Slam showing. He'll take on Spain's tireless David Ferrer in the next round.
James Blake was effusive about Melbourne, saying the only thing he doesn't like is how long it takes to get here.
"It's a fun-loving crowd, and they see me having fun on the court and kind of feed off that," he said after knocking off fellow American Michael "Pocket Rocket" Russell. "I feed off them. They feed off me. It's just a great feeling. Being out there in Margaret Court Arena, it seems like you could almost have a conversation with the people in the front row. They're so close.
Delic leaves it on the court
Amer Delic was not as fortunate as some other unheralded American players after coming up short in a marathon match that lasted 4 hours, 11 minutes. But his allegiant are growing by the numbers. Ford

"I think rowdy atmospheres are a lot more fun. … Being an American, I'm a fan of basketball and football and baseball, where the crowd's going crazy the whole time. I've always enjoyed that. I don't know if it will ever fit or ever go that route in tennis, but I enjoy an excited and sometimes a biased crowd."
Serbian fans will doubtless show up in force to support Djokovic against Querrey. The two, born only a few months apart, have never played and are riding very different waves. Asked if Djokovic had ever targeted him for one of his trademark impersonations, Querrey said dryly, "I don't think you really imitate guys if they're not in the top 10."
The lanky, 6-foot-6 Querrey said his six-week offseason was spent working with a personal trainer as hard as he ever has in his life to try to avoid the late-season slump that undid a lot of his good early results.
"We were in the gym a couple hours a day," he said. "Some days we'd go down to the beach and do beach workouts in the sand. Sometimes we'd do weights. I'd bench between 350 and 400 [pounds], usually like 10 reps."
He stopped and looked at the small group of blank-faced reporters in front of him. "No one got that," he said as laughter broke the silence.
Querrey was invited to be a Davis Cup hitting partner but declined, and says, without rancor, that he's done it several times and would prefer not to return until he's asked to play -- even if that takes a while.
In the meantime, he'll play tourist. Getting any deeper into the draw would be quite a trip.
Bonnie D. Ford covers tennis and Olympic sports for ESPN.com. E-mail her at bonniedford@aol.com.
Enterprise and Olympic Sports
Bonnie D. Ford is a senior writer for ESPN.com.
2008 AUSTRALIAN OPEN
2008 ChampionsWomen's singles:
Maria Sharapova
Men's singles:
Novak Djokovic
Men's doubles:
Jonathan Erlich and Andy Ram, Israel
Women's doubles:
Alona and Kataryna Bondarenko, Ukraine
Mixed doubles:
Sun Tiantian, China, and Nenad Zimonjic, Serbia
Official scoreboard:
Real-time scores
---
Day 14
•
Djokovic wins Aussie men's title
•
Ford: Concentration, patience key for Djokovic
•
Report: Women's final likely moving to night
Video

•
Record Aussie Open turnout cracks 600,000
•
Djokovic wins first Slam
•
Return of serve helps Djoker
•
Dick Enberg's tribute
Day 13
•
Sharapova wins Aussie women's crown
•
Ford: Life lessons provoke Sharapova to win
Video

•
Sharapova wins title
•
Men's final preview
Day 12
•
Men
•
Ford: Djokovic ends significant run by Federer
•
McEnroe: Djokovic just too strong for Federer
•
Ford: Tennis in need of a competitive final
•
Ubha: Rivalries that could come to fruition
•
Bodo: Dreamy tennis from Sharapova
Video

•
Federer loses
•
Djokovic looks for first Slam
•
Federer talks about loss
•
Women's final preview
Day 11
•
Men
|
Women
•
Ford: Djokovic confident versus Federer
•
Ford: Tsonga shrink's Nadal down to normal size
•
McEnroe: Tsonga a player who's here to stay
•
Tennis.com: Djokovic's golden opportunity
•
Notebook: Aussie teenager turning heads
Video

•
Sharapova defeats Jankovic
•
Ivanovic downs Hantuchova
•
Tsonga stuns Nadal
Day 10
•
Men
|
Women
•
Ford: Hantuchova, Ivanovic have come along
•
Wilansky: Jankovic could be in for a long day
Video

•
Federer defeats Blake
•
Ivanovic down Venus
•
Djokovic cruises past Ferrer
Day 9
•
Men
|
Women
•
Ford: Blake, Federer two of the classiest players
•
Ford: Jankovic defies odds in defeating Williams
•
Notebook: Is Blake's maturation enough?
Video

•
Serena falls to Jankovic
•
What happened to Serena?
•
Nadal headed to semifinals
Day 8
•
Men
|
Women
•
Ford: Sharapova ready to tackle Henin
•
Notebook: Two surprising quarterfinalists
Video

•
Federer defeats Berdych
•
Nadal advances
•
Blake happy with win and Giants' victory
•
Advantage Luke Jensen
Week 1
•
Photo Gallery: Best of Week 1 from Down Under
Day 7
•
Men
|
Women
•
Notebook: Oh, what a night of tennis
Video

•
Weekend madness
•
Henin ready for Sharapova
Day 6
•
Men
|
Women
•
Ford: Stealth Serb pushes Federer to the limit
•
Jensen: Federer's great physical condition
Video

•
Federer defeats Tipsarevic
•
Federer reflects
Day 5
•
Men
|
Women
•
Ford: Mirza's off-court battles
•
Wilansky: Early exit for Roddick
•
Notebook: Henin more confident
Video

•
15 aces for Serena
•
Roddick falls to Kohlschreiber in five sets
Day 4
•
Men
|
Women
•
Ford: Just like home for Americans Down Under
•
Spadea wins and raps

•
Notebook: Top-ranked Huber not on Fed Cup
Video

•
Day 4 highlights
•
Vince Spadea's chicken dance
Day 3
•
Men
|
Women
Video

•
Day 3 highlights
Day 2
•
Men
|
Women
•
Ford: Santoro continues to slice and dice
Day 1
•
Men
|
Women
Video

•
Day 1 highlights
•
2008 Australian Open preview
MOST SENT STORIES ON ESPN.COM