Commentary
Delic leaves it all on the court in grueling five-set loss
Despite coming up short in a grueling five-set marathon, Amer Delic's Bosnian fans were electrifying.
MELBOURNE, Australia -- Oogy oogy oogy Monaco!
That's the phonetic spelling of what Bosnian fans chanted constantly through five exhilarating sets of tennis as Bosnian-born Floridian Amer Delic almost pulled off another American upset Thursday.
Asked for a translation afterward, Delic smiled wearily. "It means, beat him, beat him, beat Monaco," he said.
Delic did his best to upend 21st seed Juan Monaco of Argentina, but in the end, the heat and the cumulative fatigue from winning three qualifying matches and a first-rounder caught up with him and he succumbed 6-3, 7-6 (6), 5-7, 6-7 (8), 8-6 in 4 hours, 11 minutes.
We got lucky. Slipping into the first available front row seat in the far corner on Court 13, we found ourselves next to Rodney Harmon, director of men's tennis for the U.S. Tennis Association, who met the 25-year-old Delic shortly after he immigrated with his family as a young teenager.
[+] Enlarge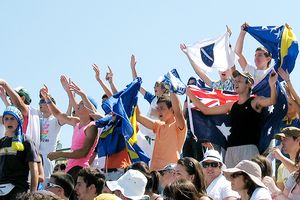 Bonnie D. FordDelic fans came out in flocks -- unfortunately he was on the short end of a grueling five-set loss.
Harmon was as excited, if not quite as loud, as the Bosnians, who drowned out "olés" from the Argentinians across the court. At one point, Delic looked up at his supporters, whose ranks have swelled each year he returns here, and uttered a stern word we took to mean "cool it."
"He's playing his best tennis since Miami," said Harmon, referring to Delic's breakthrough win over Nikolay Davydenko there last year. "His tennis rides on his confidence. He's a top-50 player. His best tennis is in front of him."
During the games Delic played on our end of the court, he hung his towel over the chain-link fence in front of Harmon and came over frequently to dry his hands. (He has a condition called hyperhidrosis, which causes his hands to sweat so profusely, especially when he's nervous, that he had trouble gripping a pencil or pen while taking exams.)
"C'mon, Del," Harmon would murmur. He kept up a steady play-by-play, trying to predict when Delic would unleash his fearsome kick serve, when he would go down the middle, when he should come to the net.
When Delic struck winners, Harmon exhaled deeply. "It's courage time," he kept repeating. "Chip and charge, chip and charge." When Delic made questionable choices, Harmon ducked and winced. When Delic started cramping in the fourth set, we could swear we saw Harmon kneading his own legs.
Harmon and the Bosnians weren't the only avid Delic fans in the crowd. Australian Open tournament director Craig Tiley, Delic's former coach at the University of Illinois, took a break and took in some of the late-match action.
Delic had chances in the second-set tiebreaker that might have changed the tenor of the match, but the No. 136 seed found some bright spots amid the disappointment: "Today I didn't serve as well as I hoped to, but I was able to dig it out. I left everything on the court."
Bonnie D. Ford covers tennis and Olympic sports for ESPN.com. E-mail her at bonniedford@aol.com.
Enterprise and Olympic Sports
Bonnie D. Ford is a senior writer for ESPN.com.
2008 AUSTRALIAN OPEN
2008 ChampionsWomen's singles:
Maria Sharapova
Men's singles:
Novak Djokovic
Men's doubles:
Jonathan Erlich and Andy Ram, Israel
Women's doubles:
Alona and Kataryna Bondarenko, Ukraine
Mixed doubles:
Sun Tiantian, China, and Nenad Zimonjic, Serbia
Official scoreboard:
Real-time scores
---
Day 14
•
Djokovic wins Aussie men's title
•
Ford: Concentration, patience key for Djokovic
•
Report: Women's final likely moving to night
Video

•
Record Aussie Open turnout cracks 600,000
•
Djokovic wins first Slam
•
Return of serve helps Djoker
•
Dick Enberg's tribute
Day 13
•
Sharapova wins Aussie women's crown
•
Ford: Life lessons provoke Sharapova to win
Video

•
Sharapova wins title
•
Men's final preview
Day 12
•
Men
•
Ford: Djokovic ends significant run by Federer
•
McEnroe: Djokovic just too strong for Federer
•
Ford: Tennis in need of a competitive final
•
Ubha: Rivalries that could come to fruition
•
Bodo: Dreamy tennis from Sharapova
Video

•
Federer loses
•
Djokovic looks for first Slam
•
Federer talks about loss
•
Women's final preview
Day 11
•
Men
|
Women
•
Ford: Djokovic confident versus Federer
•
Ford: Tsonga shrink's Nadal down to normal size
•
McEnroe: Tsonga a player who's here to stay
•
Tennis.com: Djokovic's golden opportunity
•
Notebook: Aussie teenager turning heads
Video

•
Sharapova defeats Jankovic
•
Ivanovic downs Hantuchova
•
Tsonga stuns Nadal
Day 10
•
Men
|
Women
•
Ford: Hantuchova, Ivanovic have come along
•
Wilansky: Jankovic could be in for a long day
Video

•
Federer defeats Blake
•
Ivanovic down Venus
•
Djokovic cruises past Ferrer
Day 9
•
Men
|
Women
•
Ford: Blake, Federer two of the classiest players
•
Ford: Jankovic defies odds in defeating Williams
•
Notebook: Is Blake's maturation enough?
Video

•
Serena falls to Jankovic
•
What happened to Serena?
•
Nadal headed to semifinals
Day 8
•
Men
|
Women
•
Ford: Sharapova ready to tackle Henin
•
Notebook: Two surprising quarterfinalists
Video

•
Federer defeats Berdych
•
Nadal advances
•
Blake happy with win and Giants' victory
•
Advantage Luke Jensen
Week 1
•
Photo Gallery: Best of Week 1 from Down Under
Day 7
•
Men
|
Women
•
Notebook: Oh, what a night of tennis
Video

•
Weekend madness
•
Henin ready for Sharapova
Day 6
•
Men
|
Women
•
Ford: Stealth Serb pushes Federer to the limit
•
Jensen: Federer's great physical condition
Video

•
Federer defeats Tipsarevic
•
Federer reflects
Day 5
•
Men
|
Women
•
Ford: Mirza's off-court battles
•
Wilansky: Early exit for Roddick
•
Notebook: Henin more confident
Video

•
15 aces for Serena
•
Roddick falls to Kohlschreiber in five sets
Day 4
•
Men
|
Women
•
Ford: Just like home for Americans Down Under
•
Spadea wins and raps

•
Notebook: Top-ranked Huber not on Fed Cup
Video

•
Day 4 highlights
•
Vince Spadea's chicken dance
Day 3
•
Men
|
Women
Video

•
Day 3 highlights
Day 2
•
Men
|
Women
•
Ford: Santoro continues to slice and dice
Day 1
•
Men
|
Women
Video

•
Day 1 highlights
•
2008 Australian Open preview
MOST SENT STORIES ON ESPN.COM