Maria, Serena, Henin advance to fourth round; Mauresmo out
Updated:
January 18, 2008, 9:05 AM ET
Associated Press
MELBOURNE, Australia -- Maria Sharapova was struggling.
She had never played a match against another Russian across the net who bore a strong resemblance to her, physically and in style of play. Her usually reliable serve was getting broken.
Then it all clicked Friday, and last year's runnerup at the Australian Open was through to the fourth round with a 6-3, 6-0 victory over Elena Vesnina that was a lot harder than the score indicated.
Defending champion Serena Williams and top-ranked Justine Henin also advanced against opponents with similar games. Williams next faces 12th-seeded Nicole Vaidisova, while Henin puts her 31-match winning streak on the line against Taiwanese qualifier Hsieh Su-Wei.
But 2006 champion Amelie Mauresmo, seeded 18th, fell 3-6, 6-4, 6-4 to Australian Casey Dellaqua, who had a year-end No. 78 ranking and earlier beat No. 15 Patty Schnyder.
Former No. 1 Mauresmo, who has fought nerves before, double-faulted while serving at 4-5, deuce in the third set. Dellaqua then finished it off with a forehand inches inside the corner that Mauresmo let drop for a winner as the Rod Laver Arena crowd erupted in cheers for the last local hope in the women's draw.
Australian Open scores
In-progress scores and results from every match from both sides of the draw throughout the event. Complete scores
Dellaqua earned a matchup against No. 3 Jelena Jankovic, who had to save match points in her first-round match and a code violation for coaching -- by her mother in the players' box -- in the second game of the third set of a 6-2, 4-6, 6-1 win over No. 30 Virginie Razzano of France.
After routing Lindsay Davenport in the last round -- a match that Sharapova said she prepared for as if it were a final -- she seemed puzzled and frustrated that she couldn't put away Vesnina until she finally put it all together and ran off the last nine games.
"I really tried to keep the intensity I had in the previous match, but that's always difficult," said Sharapova, who next faces another Russian, No. 11 Elena Dementieva, who beat Israel's Shahar Peer. "She came out having not really much to lose."
Sharapova grunted louder and louder and hit harder and harder as she was broken twice in the first set by Vesnina, who was in constant trouble on her own serve. Known for her deliberate routine before she serves, Sharapova also got a warning for taking too much time and double-faulted on the next point.
"When it got close, I felt like I had a huge advantage ... whether that's experience or her being a little tight," Sharapova said. "I still felt like I had the edge in the match."
Finally finding her rhythm, particularly on badly executed drop shots and other softer offerings from Vesnina that turned into little more than target practice, Sharapova had 11 winners to only five unforced errors in the second set, breaking Vesnina for the seventh consecutive time to end the match.
[+] Enlarge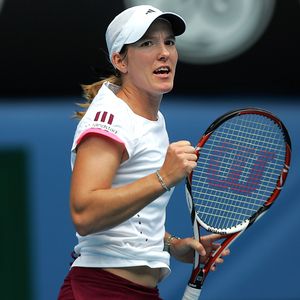 Ezra Shaw/Getty ImagesJustine Henin will play Taiwan's Hsieh Su-wei, who beat Aravane Rezai , in the fourth round.
Williams, who improved her record to 26-1 at Melbourne Park since the start of 2003, has said she likes hot weather, and on a warm, muggy day, she was wearing a sweatshirt for her warmups. It must have helped, because she came out hot, as her sister Venus and their mother applauded at courtside.
With opponent Victoria Azarenka liking a fast pace, there were no high, looping moon balls here, just power tennis. And when it comes to power, Williams may be the best.
Her serve was working particularly well, with 15 aces and a stretch of seven service games in which she yielded only six points.
She credited physiotherapy treatment she had on her shoulder before the match.
Azarenka played well, but she never had a serious chance. She had no break points, and every time she made a mistake, Williams capitalized.
"I feel pretty good about where I am," she said. "Hopefully, I'll peak later in the tournament."
Vaidisova, who had set points against Williams in the semifinals last year, knows the challenge she faces.
"Obviously, it doesn't get much tougher than that," "She's a great champion, a great fighter. I'll definitely have to have my A game on."
Henin, the 2004 champion, improved her record in Melbourne to 15-1 since '04. She and Schiavone kept each other on the run constantly, mixing up speed and spins to keep each other off-balance.
"She's always given me trouble in the past, so it was a tough third round for me," Henin said.

Copyright 2008 by The Associated Press
SPONSORED HEADLINES
MORE TENNIS HEADLINES
MOST SENT STORIES ON ESPN.COM
2008 AUSTRALIAN OPEN
2008 ChampionsWomen's singles:
Maria Sharapova
Men's singles:
Novak Djokovic
Men's doubles:
Jonathan Erlich and Andy Ram, Israel
Women's doubles:
Alona and Kataryna Bondarenko, Ukraine
Mixed doubles:
Sun Tiantian, China, and Nenad Zimonjic, Serbia
Official scoreboard:
Real-time scores
---
Day 14
•
Djokovic wins Aussie men's title
•
Ford: Concentration, patience key for Djokovic
•
Report: Women's final likely moving to night
Video

•
Record Aussie Open turnout cracks 600,000
•
Djokovic wins first Slam
•
Return of serve helps Djoker
•
Dick Enberg's tribute
Day 13
•
Sharapova wins Aussie women's crown
•
Ford: Life lessons provoke Sharapova to win
Video

•
Sharapova wins title
•
Men's final preview
Day 12
•
Men
•
Ford: Djokovic ends significant run by Federer
•
McEnroe: Djokovic just too strong for Federer
•
Ford: Tennis in need of a competitive final
•
Ubha: Rivalries that could come to fruition
•
Bodo: Dreamy tennis from Sharapova
Video

•
Federer loses
•
Djokovic looks for first Slam
•
Federer talks about loss
•
Women's final preview
Day 11
•
Men
|
Women
•
Ford: Djokovic confident versus Federer
•
Ford: Tsonga shrink's Nadal down to normal size
•
McEnroe: Tsonga a player who's here to stay
•
Tennis.com: Djokovic's golden opportunity
•
Notebook: Aussie teenager turning heads
Video

•
Sharapova defeats Jankovic
•
Ivanovic downs Hantuchova
•
Tsonga stuns Nadal
Day 10
•
Men
|
Women
•
Ford: Hantuchova, Ivanovic have come along
•
Wilansky: Jankovic could be in for a long day
Video

•
Federer defeats Blake
•
Ivanovic down Venus
•
Djokovic cruises past Ferrer
Day 9
•
Men
|
Women
•
Ford: Blake, Federer two of the classiest players
•
Ford: Jankovic defies odds in defeating Williams
•
Notebook: Is Blake's maturation enough?
Video

•
Serena falls to Jankovic
•
What happened to Serena?
•
Nadal headed to semifinals
Day 8
•
Men
|
Women
•
Ford: Sharapova ready to tackle Henin
•
Notebook: Two surprising quarterfinalists
Video

•
Federer defeats Berdych
•
Nadal advances
•
Blake happy with win and Giants' victory
•
Advantage Luke Jensen
Week 1
•
Photo Gallery: Best of Week 1 from Down Under
Day 7
•
Men
|
Women
•
Notebook: Oh, what a night of tennis
Video

•
Weekend madness
•
Henin ready for Sharapova
Day 6
•
Men
|
Women
•
Ford: Stealth Serb pushes Federer to the limit
•
Jensen: Federer's great physical condition
Video

•
Federer defeats Tipsarevic
•
Federer reflects
Day 5
•
Men
|
Women
•
Ford: Mirza's off-court battles
•
Wilansky: Early exit for Roddick
•
Notebook: Henin more confident
Video

•
15 aces for Serena
•
Roddick falls to Kohlschreiber in five sets
Day 4
•
Men
|
Women
•
Ford: Just like home for Americans Down Under
•
Spadea wins and raps

•
Notebook: Top-ranked Huber not on Fed Cup
Video

•
Day 4 highlights
•
Vince Spadea's chicken dance
Day 3
•
Men
|
Women
Video

•
Day 3 highlights
Day 2
•
Men
|
Women
•
Ford: Santoro continues to slice and dice
Day 1
•
Men
|
Women
Video

•
Day 1 highlights
•
2008 Australian Open preview