Roddick unable to break sharper Kohlschreiber in 5-set loss
Updated:
January 18, 2008, 7:22 PM ET
Associated Press
MELBOURNE, Australia -- Andy Roddick ran out of ways to vent his anger.
He berated the chair umpire. He cracked his racket. He pulled out of a serve and yelled at the crowd to "shut up." He also reeled off a personal best 42 aces -- three in one game to save match points -- but none of it unnerved Philipp Kohlschreiber at the Australian Open.
The 29th-ranked German won 6-4, 3-6, 7-6 (9), 6-7 (3), 8-6 in a third-round match that started after 10 p.m. Friday and finished at 2:04 a.m. Saturday.
"I took his best stuff for five sets and I thought I was going to get him to break or to fold," Roddick said. "I thought if I kept it on him long enough that that would happen. Tonight he played like a great, great player. There's no doubt about that."
Roddick, seeded sixth, produced some impressive numbers, in addition to the aces. He made 72 percent of his first serves and committed only three double-faults. However, he broke his opponent only once.
"The whole match for me was perfect," Kohlschreiber said. "Just amazing, to start the year like this and beating such a good guy is the best thing that has happened to me in tennis."
Australian Open scores
In-progress scores and results from every match from both sides of the draw throughout the event. Complete scores
Kohlschreiber reached the fourth round only before once at 14 previous Grand Slam tournaments, and that ended in a straight-sets loss to Roddick.
For Roddick, this match had the feel almost from the start of his five-hour marathon against Younes El Aynaoui five years ago in a quarterfinal in Australia. Then 20, Roddick won an Open era longest fifth set 21-19 in a match that finished after 2:30 a.m., also under the roof at Rod Laver Arena.
"Yeah, I thought about it," Roddick said.
Roddick came into the tournament after leading the United States to its first Davis Cup title since 1995 and winning the Kooyong exhibition tuneup for the third straight time. He left with his quest for a second major to go with his 2003 U.S. Open title still unfulfilled.
[+] Enlarge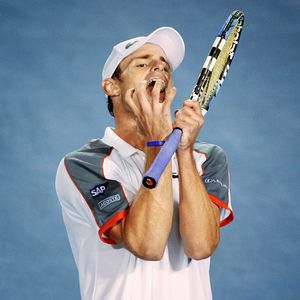 William West/AFP/Getty ImagesA frustrated Andy Roddick is going home earlier than expected from Australia.
"It's rough, yeah, but that's sports, man," Roddick said. "If you don't want an emotional rollercoaster, if you want to be serene and kind of chilled out all day, then get a job serving Margaritas at the beach.
"When you decide to be a pro athlete you're going to have ups, you're going to have downs, you're going to have extreme highs and extreme lows. That's just the nature of the beast."
No. 2 Rafael Nadal saved six set points in the first against Frenchman Gilles Simon before winning 7-5, 6-2, 6-3. The Spaniard faces another Frenchman in the fourth round after No. 23 Paul-Henri Mathieu rallied for a 4-6, 7-6 (4), 2-6, 7-5, 8-6 win over Austria's Stefan Koubek.
"In every tournament, you have to overcome difficult moments. It's important, because you feel the pressure," Nadal said. "It's important to play in difficult moments and is important to have alternatives when the things are not doing very well."
No. 4 Nikolay Davydenko beat France's Marc Gicquel and next plays fellow Russian Mikhail Youzhny, a 6-2, 6-4, 6-2 winner over Croatia's Ivo Karlovic.
A section of the draw that could have offered a fourth-round showdown between friends and U.S. Davis Cup teammates -- Roddick and Mardy Fish -- will now feature Kohlschreiber against No. 24 Jarkko Nieminen, who beat Fish in four sets.

Copyright 2008 by The Associated Press
SPONSORED HEADLINES
MORE TENNIS HEADLINES
MOST SENT STORIES ON ESPN.COM
2008 AUSTRALIAN OPEN
2008 ChampionsWomen's singles:
Maria Sharapova
Men's singles:
Novak Djokovic
Men's doubles:
Jonathan Erlich and Andy Ram, Israel
Women's doubles:
Alona and Kataryna Bondarenko, Ukraine
Mixed doubles:
Sun Tiantian, China, and Nenad Zimonjic, Serbia
Official scoreboard:
Real-time scores
---
Day 14
•
Djokovic wins Aussie men's title
•
Ford: Concentration, patience key for Djokovic
•
Report: Women's final likely moving to night
Video

•
Record Aussie Open turnout cracks 600,000
•
Djokovic wins first Slam
•
Return of serve helps Djoker
•
Dick Enberg's tribute
Day 13
•
Sharapova wins Aussie women's crown
•
Ford: Life lessons provoke Sharapova to win
Video

•
Sharapova wins title
•
Men's final preview
Day 12
•
Men
•
Ford: Djokovic ends significant run by Federer
•
McEnroe: Djokovic just too strong for Federer
•
Ford: Tennis in need of a competitive final
•
Ubha: Rivalries that could come to fruition
•
Bodo: Dreamy tennis from Sharapova
Video

•
Federer loses
•
Djokovic looks for first Slam
•
Federer talks about loss
•
Women's final preview
Day 11
•
Men
|
Women
•
Ford: Djokovic confident versus Federer
•
Ford: Tsonga shrink's Nadal down to normal size
•
McEnroe: Tsonga a player who's here to stay
•
Tennis.com: Djokovic's golden opportunity
•
Notebook: Aussie teenager turning heads
Video

•
Sharapova defeats Jankovic
•
Ivanovic downs Hantuchova
•
Tsonga stuns Nadal
Day 10
•
Men
|
Women
•
Ford: Hantuchova, Ivanovic have come along
•
Wilansky: Jankovic could be in for a long day
Video

•
Federer defeats Blake
•
Ivanovic down Venus
•
Djokovic cruises past Ferrer
Day 9
•
Men
|
Women
•
Ford: Blake, Federer two of the classiest players
•
Ford: Jankovic defies odds in defeating Williams
•
Notebook: Is Blake's maturation enough?
Video

•
Serena falls to Jankovic
•
What happened to Serena?
•
Nadal headed to semifinals
Day 8
•
Men
|
Women
•
Ford: Sharapova ready to tackle Henin
•
Notebook: Two surprising quarterfinalists
Video

•
Federer defeats Berdych
•
Nadal advances
•
Blake happy with win and Giants' victory
•
Advantage Luke Jensen
Week 1
•
Photo Gallery: Best of Week 1 from Down Under
Day 7
•
Men
|
Women
•
Notebook: Oh, what a night of tennis
Video

•
Weekend madness
•
Henin ready for Sharapova
Day 6
•
Men
|
Women
•
Ford: Stealth Serb pushes Federer to the limit
•
Jensen: Federer's great physical condition
Video

•
Federer defeats Tipsarevic
•
Federer reflects
Day 5
•
Men
|
Women
•
Ford: Mirza's off-court battles
•
Wilansky: Early exit for Roddick
•
Notebook: Henin more confident
Video

•
15 aces for Serena
•
Roddick falls to Kohlschreiber in five sets
Day 4
•
Men
|
Women
•
Ford: Just like home for Americans Down Under
•
Spadea wins and raps

•
Notebook: Top-ranked Huber not on Fed Cup
Video

•
Day 4 highlights
•
Vince Spadea's chicken dance
Day 3
•
Men
|
Women
Video

•
Day 3 highlights
Day 2
•
Men
|
Women
•
Ford: Santoro continues to slice and dice
Day 1
•
Men
|
Women
Video

•
Day 1 highlights
•
2008 Australian Open preview