Commentary
As if playing Venus Williams wasn't enough for Mirza
When Venus Williams meets Sania Mirza, it will be a showcase of two women of color who defied cultural stereotypes to go after what they wanted. But Bonnie D. Ford writes it's unclear whether Mirza will be able to continue down that obstacle-strewn path.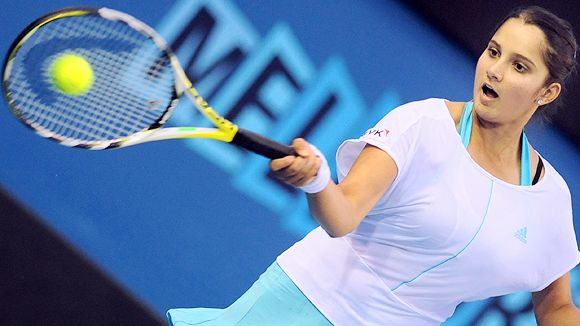 Romeo Gacad/AFP/Getty ImagesWith the threat of a potential three-year jail term hovering over her, Sania Mirza has somehow thrust herself into the third round of the Australian Open.
MELBOURNE, Australia -- Venus Williams' career record against India's Sania Mirza stands at 1-0, based on a single match in California in the summer of 2005.
But that number is hardly relevant in the larger picture. When it comes to the pursuit of happiness, the ability to live her life and practice her profession in peace, Williams has a much bigger lead.
When the eighth-seeded Williams meets the 31st seed Saturday in the third round of the Australian Open, it will be a showcase for grit -- two strong, iconoclastic women of color who defied cultural stereotypes to go after what they wanted. Yet it's unclear whether Mirza will be able to continue down that obstacle-strewn path.
Williams didn't have an easy start on the concrete courts of Compton, Calif., and any African-American woman who achieves as much as she has almost inevitably becomes a lightning rod for hypercriticism. Her desire has been questioned, her family relationships parsed, and this week, her physique was grist for a leering television commentator.
But now, at 27, Williams is an international icon with six Grand Slam titles, a degree in fashion design, a clothing line and her own interior decorating business. She is an independent businesswoman who has the resources to buffer herself in public or buy as much privacy as she wants. She has a best friend who travels with her, plays doubles with her and understands everything she's been through: her little sister.
The 21-year old Mirza is a sultry scrapper whose offense has earned her some impressive results and whose magnetic looks and charm are draws for corporate sponsors. But it seems she still can't win off the court.
Three years ago, it was Mirza's supposedly revealing clothing -- stuff a typical American high school girl would consider modest -- that aroused the ire of fringe conservative religious groups. It took months for people to stop asking Mirza about the fatwa that was declared on her, and during the same time she was fighting injuries and trying to live up to the sporting expectations she'd set.
In the past couple of months, it's begun all over again.
Mirza was criticized for filming a commercial near a sacred mosque.
Her orthopedic surgeon has received mailed threats.
At the Hopman Cup in Perth, Australia, a season-opening co-ed exhibition featuring national team competition, Mirza was photographed with her bare feet up, coincidentally resting near an Indian flag. Some people took offense.
It may sound a bit like the kerfuffle triggered when several members of the NCAA champion Northwestern University women's lacrosse team wore flip-flops to the White House. But Mirza's faux pas cost her considerably more goodwill. One citizen is bringing a charge against her for violating the Prevention of Insult to the National Honour Act.
Mirza admitted recently that she has considered quitting, but we suspect there is a very good reason for her to carry on. The tennis court is her sanctuary, a place where she can tune out the static and narrow her focus to what's in front of her.
"I think at the end of the day, when you go out on the court, it's you, the ball and the opponent," she said this week. "You really don't care who else is sitting, who else is watching."
When Mirza talked about playing Williams after winning her second-round match against Timea Bacsinszky, she might as well have been talking about dealing with those who would bring her down.
"If I let someone like that, like Venus, who is a very overpowering person on the court, you know, let them take charge, then I'm going to have no chance," she said.
Then Mirza made direct reference to her situation.
"A lot has been happening in the last couple of weeks off the court," she said. "And I just feel -- I was mentally still strong enough to come through a match like that. I mean, I was down 3-1, 30-all. I could have just said, 'I'm just mentally not there.' It would have been a good excuse even for myself. But I didn't want to do that. I wanted to come through."
All is not bleak for Mirza. Nirmal Shekar, sports editor of The Hindu newspaper, said Mirza is the most popular sportsperson in India "outside the cricketers, who are demigods." He says she is widely admired, and single-handedly credited with bringing waves of young girls into tennis and other sports.
Mirza has reached the fourth round of a Slam just once before; Williams has been there so often she could register to vote. "She tries to play aggressive," Williams said agreeably when asked about her opponent. "Looks like she enjoys herself out there.''
When the two women walk out to play on Saturday, Williams won't be thinking about anything other than the competition at hand. But if she did pause to consider the different worlds they come from, there's little doubt she'd prefer hers.
Bonnie D. Ford covers tennis and Olympic sports for ESPN.com. E-mail her at bonniedford@aol.com.
Enterprise and Olympic Sports
Bonnie D. Ford is a senior writer for ESPN.com.
SPONSORED HEADLINES
MORE TENNIS HEADLINES
MOST SENT STORIES ON ESPN.COM
2008 AUSTRALIAN OPEN
2008 ChampionsWomen's singles:
Maria Sharapova
Men's singles:
Novak Djokovic
Men's doubles:
Jonathan Erlich and Andy Ram, Israel
Women's doubles:
Alona and Kataryna Bondarenko, Ukraine
Mixed doubles:
Sun Tiantian, China, and Nenad Zimonjic, Serbia
Official scoreboard:
Real-time scores
---
Day 14
•
Djokovic wins Aussie men's title
•
Ford: Concentration, patience key for Djokovic
•
Report: Women's final likely moving to night
Video

•
Record Aussie Open turnout cracks 600,000
•
Djokovic wins first Slam
•
Return of serve helps Djoker
•
Dick Enberg's tribute
Day 13
•
Sharapova wins Aussie women's crown
•
Ford: Life lessons provoke Sharapova to win
Video

•
Sharapova wins title
•
Men's final preview
Day 12
•
Men
•
Ford: Djokovic ends significant run by Federer
•
McEnroe: Djokovic just too strong for Federer
•
Ford: Tennis in need of a competitive final
•
Ubha: Rivalries that could come to fruition
•
Bodo: Dreamy tennis from Sharapova
Video

•
Federer loses
•
Djokovic looks for first Slam
•
Federer talks about loss
•
Women's final preview
Day 11
•
Men
|
Women
•
Ford: Djokovic confident versus Federer
•
Ford: Tsonga shrink's Nadal down to normal size
•
McEnroe: Tsonga a player who's here to stay
•
Tennis.com: Djokovic's golden opportunity
•
Notebook: Aussie teenager turning heads
Video

•
Sharapova defeats Jankovic
•
Ivanovic downs Hantuchova
•
Tsonga stuns Nadal
Day 10
•
Men
|
Women
•
Ford: Hantuchova, Ivanovic have come along
•
Wilansky: Jankovic could be in for a long day
Video

•
Federer defeats Blake
•
Ivanovic down Venus
•
Djokovic cruises past Ferrer
Day 9
•
Men
|
Women
•
Ford: Blake, Federer two of the classiest players
•
Ford: Jankovic defies odds in defeating Williams
•
Notebook: Is Blake's maturation enough?
Video

•
Serena falls to Jankovic
•
What happened to Serena?
•
Nadal headed to semifinals
Day 8
•
Men
|
Women
•
Ford: Sharapova ready to tackle Henin
•
Notebook: Two surprising quarterfinalists
Video

•
Federer defeats Berdych
•
Nadal advances
•
Blake happy with win and Giants' victory
•
Advantage Luke Jensen
Week 1
•
Photo Gallery: Best of Week 1 from Down Under
Day 7
•
Men
|
Women
•
Notebook: Oh, what a night of tennis
Video

•
Weekend madness
•
Henin ready for Sharapova
Day 6
•
Men
|
Women
•
Ford: Stealth Serb pushes Federer to the limit
•
Jensen: Federer's great physical condition
Video

•
Federer defeats Tipsarevic
•
Federer reflects
Day 5
•
Men
|
Women
•
Ford: Mirza's off-court battles
•
Wilansky: Early exit for Roddick
•
Notebook: Henin more confident
Video

•
15 aces for Serena
•
Roddick falls to Kohlschreiber in five sets
Day 4
•
Men
|
Women
•
Ford: Just like home for Americans Down Under
•
Spadea wins and raps

•
Notebook: Top-ranked Huber not on Fed Cup
Video

•
Day 4 highlights
•
Vince Spadea's chicken dance
Day 3
•
Men
|
Women
Video

•
Day 3 highlights
Day 2
•
Men
|
Women
•
Ford: Santoro continues to slice and dice
Day 1
•
Men
|
Women
Video

•
Day 1 highlights
•
2008 Australian Open preview