Kuznetsova, Chakvetadze shocked at Aussie Open; Venus wins
Updated:
January 19, 2008, 1:47 PM ET
ESPN.com news services
MELBOURNE, Australia -- While a near-upset of Roger Federer in the men's draw was the talk of the Australian Open, the women's draw was turned upside down by the genuine article on Saturday as 18-year-old Agnieszka Radwanska of Poland upset No. 2 Svetlana Kuznetsova 6-3, 6-4.
[+] Enlarge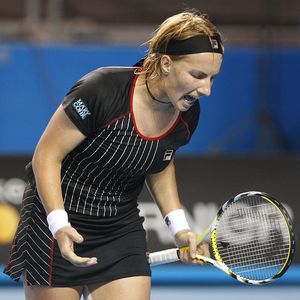 AP Photo/Rob GriffithNo. 2 seed Svetlana Kuznetsova was anything but pleased with her play in an upset loss to Agnieska Radwanska at the Australian Open.
The 29th-seeded Radwanska, who won junior titles at Wimbledon in 2005 and the French Open in 2006, broke Kuznetsova's serve at 4-4 in the second set.
Kuznetsova, the 2004 U.S. Open champion and last year's finalist in New York, hit a forehand into the net on match point, allowing Radwanska to advance to the fourth round.
Radwanska, who only finished high school last year, knocked out Maria Sharapova -- also a second seed -- in round three of last year's U.S. Open.
In other results Saturday, fourth-seeded Ana Ivanovic reached the fourth round with a 6-3, 6-4 victory over No. 28 Katarina Srebotnik, while No. 6 Anna Chakvetadze dropped a 6-7 (6), 6-1, 6-2 decision to No. 27 Maria Kirilenko and No. 8 Venus Williams overcame a slow start to beat No. 31 Sania Mirza 7-6 (0), 6-4.
Australian Open scores
In-progress scores and results from every match from both sides of the draw throughout the event. Complete scores
"Both matches I had nothing to lose. Just play and try my best and I did it twice," said Radwanska, who had lost all three of her previous encounters with Kuznetsova.
"This is a pretty tough loss because I think I've been in the best shape ever in Australian Open, and I just didn't make it work," Kuznetsova said.
"It's pretty simple. I think I beat myself up out there, so I didn't do much right things. I was not playing against her, I was playing against me."
"I wasn't doing the right things and I lost the match," Kuznetsova added. "Playing like this I deserved to lose."
Kirilenko dumped Chakvetadze after a slow start. She used to train at the same club as her opponent in Moscow and had not beaten her compatriot since 2005.
"The last few times I lost [to] her, both in Indian Wells, I got really pissed, you know," Kirilenko told reporters. "Oh, my God, I beat her every time and now I'm losing.
"I was always the best ... when I was small, in juniors. Then the last two years she has [been] very successful [and] wins everything, so she became a top 10 player."
As she did during her last match, eighth-ranked Williams started slow but played her best when she needed it most in beating Mirza.
Mirza broke early and served for the first set at 5-3, only to see Williams break back. The Indian star fended off two set points while serving at 5-6 to force a tiebreaker, where Williams was at her best, refusing to drop a point.
Williams had five aces in the second set when she dropped only seven points in five service games. She broke Mirza to pull ahead at 4-3, then held serve the rest of the way.
Information from The Associated Press and Reuters were used in this report.
SPONSORED HEADLINES
MORE TENNIS HEADLINES
MOST SENT STORIES ON ESPN.COM
2008 AUSTRALIAN OPEN
2008 ChampionsWomen's singles:
Maria Sharapova
Men's singles:
Novak Djokovic
Men's doubles:
Jonathan Erlich and Andy Ram, Israel
Women's doubles:
Alona and Kataryna Bondarenko, Ukraine
Mixed doubles:
Sun Tiantian, China, and Nenad Zimonjic, Serbia
Official scoreboard:
Real-time scores
---
Day 14
•
Djokovic wins Aussie men's title
•
Ford: Concentration, patience key for Djokovic
•
Report: Women's final likely moving to night
Video

•
Record Aussie Open turnout cracks 600,000
•
Djokovic wins first Slam
•
Return of serve helps Djoker
•
Dick Enberg's tribute
Day 13
•
Sharapova wins Aussie women's crown
•
Ford: Life lessons provoke Sharapova to win
Video

•
Sharapova wins title
•
Men's final preview
Day 12
•
Men
•
Ford: Djokovic ends significant run by Federer
•
McEnroe: Djokovic just too strong for Federer
•
Ford: Tennis in need of a competitive final
•
Ubha: Rivalries that could come to fruition
•
Bodo: Dreamy tennis from Sharapova
Video

•
Federer loses
•
Djokovic looks for first Slam
•
Federer talks about loss
•
Women's final preview
Day 11
•
Men
|
Women
•
Ford: Djokovic confident versus Federer
•
Ford: Tsonga shrink's Nadal down to normal size
•
McEnroe: Tsonga a player who's here to stay
•
Tennis.com: Djokovic's golden opportunity
•
Notebook: Aussie teenager turning heads
Video

•
Sharapova defeats Jankovic
•
Ivanovic downs Hantuchova
•
Tsonga stuns Nadal
Day 10
•
Men
|
Women
•
Ford: Hantuchova, Ivanovic have come along
•
Wilansky: Jankovic could be in for a long day
Video

•
Federer defeats Blake
•
Ivanovic down Venus
•
Djokovic cruises past Ferrer
Day 9
•
Men
|
Women
•
Ford: Blake, Federer two of the classiest players
•
Ford: Jankovic defies odds in defeating Williams
•
Notebook: Is Blake's maturation enough?
Video

•
Serena falls to Jankovic
•
What happened to Serena?
•
Nadal headed to semifinals
Day 8
•
Men
|
Women
•
Ford: Sharapova ready to tackle Henin
•
Notebook: Two surprising quarterfinalists
Video

•
Federer defeats Berdych
•
Nadal advances
•
Blake happy with win and Giants' victory
•
Advantage Luke Jensen
Week 1
•
Photo Gallery: Best of Week 1 from Down Under
Day 7
•
Men
|
Women
•
Notebook: Oh, what a night of tennis
Video

•
Weekend madness
•
Henin ready for Sharapova
Day 6
•
Men
|
Women
•
Ford: Stealth Serb pushes Federer to the limit
•
Jensen: Federer's great physical condition
Video

•
Federer defeats Tipsarevic
•
Federer reflects
Day 5
•
Men
|
Women
•
Ford: Mirza's off-court battles
•
Wilansky: Early exit for Roddick
•
Notebook: Henin more confident
Video

•
15 aces for Serena
•
Roddick falls to Kohlschreiber in five sets
Day 4
•
Men
|
Women
•
Ford: Just like home for Americans Down Under
•
Spadea wins and raps

•
Notebook: Top-ranked Huber not on Fed Cup
Video

•
Day 4 highlights
•
Vince Spadea's chicken dance
Day 3
•
Men
|
Women
Video

•
Day 3 highlights
Day 2
•
Men
|
Women
•
Ford: Santoro continues to slice and dice
Day 1
•
Men
|
Women
Video

•
Day 1 highlights
•
2008 Australian Open preview