Federer is forced to five sets but escapes; Hewitt, Blake win
Updated:
January 19, 2008, 8:11 PM ET
Associated Press
MELBOURNE, Australia -- Roger Federer took his time about this one -- needing 4½ hours and five sets to advance at the Australian Open.
Lleyton Hewitt took things a step further. The Aussie set a record for the latest finish for a day's play at a Grand Slam. He beat 2006 runner-up Marcos Baghdatis 4-6, 7-5, 7-5, 6-7 (4), 6-3, completing the marathon at 4:33 a.m. local time Sunday.
Hewitt and Baghdatis went on court at 11:47 p.m. Saturday, the last scheduled match at Rod Laver Arena on Day 6, and Hewitt ripped a forehand winner on his fifth match point 4 hours, 45 minutes later.
There was never a letup in the tension. Starting when Federer was forced to rally before outlasting 49th-ranked Janko Tipsarevic 6-7 (5), 7-6 (1), 5-7, 6-1, 10-8 to reach the fourth round of the tournament he has won the last two years.
That pushed back the night session two hours.
Then Hewitt was up two sets to one and 5-1 in the fourth when things started to go wrong. He wasted one match point in the eighth game of that set and three more in the ninth game of the fifth before he broke Baghdatis to finish off the day.
Australian Open scores
In-progress scores and results from every match from both sides of the draw throughout the event. Complete scores
"It wasn't easy for both of us. Obviously, an incredible day of tennis. For Roger Federer to go five sets, how often does that happen?" Hewitt said. "It's tough for everyone. Marcos and I are in the same boat."
Hewitt next plays No. 3 Novak Djokovic, who beat American Sam Querrey 6-3, 6-1, 6-3. Djokovic, the U.S. Open finalist, is Serbia's highest-ranked player.
Tipsarevic, who has never has reached a singles final, could be closing the gap on him after playing the match of his life and gave Federer everything he could handle with the packed crowd screaming on every point.
"I went on court with the idea that I can win," the Serbian said. "I was close. I lost because he was better in the important moments of the match."
Federer, seeking his 13th Grand Slam crown, needed each of his personal best 39 aces -- 14 more than his previous mark in one match -- to fend off the 2001 Australian Open junior champion.
"I don't often get to play five-setters unless they're against Nadal at Wimbledon," Federer said, referring to his rivalry with No. 2 Rafael Nadal. "It was good to be part of something like this. It's a pity you can't have draws in tennis."
[+] Enlarge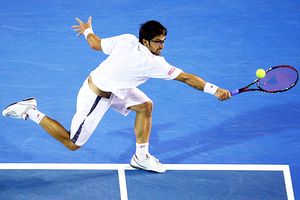 Mark Dadswell/Getty ImagesJanko Tipsarevic played the match of his life Saturday, pushing world No. 1 Roger Federer to the brink at the Australian Open.
He beat Nadal in five sets in the Wimbledon final last year.
Federer has reached the finals of the last 10 Grand Slam events, winning eight of them and losing two to Nadal -- both at the French Open.
Federer was untouchable in his first two matches, dropping only six games in six sets. He had numerous chances to take control, but Tipsarevic saved 16 of 20 break points against him until Federer finally cashed No. 21 after rallying from 40-0 as the Serbian served at 8-8 in the fifth set.
"I had to block out all the chances I missed," said Federer, who next faces No. 12 Tomas Berdych, a four-set winner over No. 21 Juan Monaco. "He came up with some fantastic plays and played me well."
Tipsarevic said his strategy was simple.
"Be aggressive, and then try to make him work for the points that he's winning," he said. "Against Roger it's so hard, because he's playing every point. Even when you're up like 40-0, the game is far, far from over."
James Blake, seeded 12th, came back from down two sets, then from a double break in the fourth before beating veteran Frenchman Sebastien Grosjean 4-6, 2-6, 6-0, 7-6 (5), 6-2.
[+] Enlarge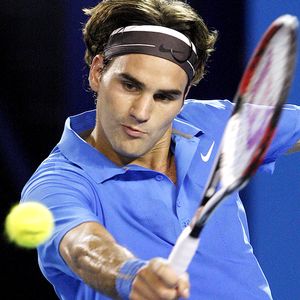 AP Photo/Rick StevensRoger Federer played the longest fifth-set match of his career in ousting Janko Tipsarevic at the Australian Open.
After losing nine matches that were decided in five sets, Blake has won his last two -- here and in the second round at the last U.S. Open against another Frenchman, Fabrice Santoro.
"That's got to be my biggest comeback -- down two sets to love, two sets to one, two breaks; 4-1 in the breaker, 5-3 in the breaker," Blake said. "Just seemed like every time there was a mountain to climb ... couldn't have been a better feeling than to accomplish what I did."
No. 7 Fernando Gonzalez, who lost the Australian final last year to Federer, was ousted 6-2, 6-7 (4), 6-3, 6-1 by Croatia's Marin Cilic, who had never gone past the first round in three previous majors. Cilic, who called it his best performance, faces Blake next.
While a few Serbian flags were scattered about the arena -- the roof was closed because of rain that postponed matches on outside courts -- Federer fans dominated, including one holding a sign reading "Federer Express."
The Swiss star was nearly derailed before extending his winning streak at Melbourne Park to 17 matches, tied for fourth-best behind Andre Agassi's record of 26 in a row.
[+] Enlarge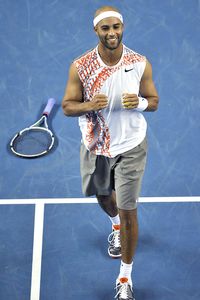 AP Photo/Andrew BrownbillJames Blake needed five sets, but eventually found his groove to defeat France's Sebastien Grosjean at the Australian Open.
Federer, who last lost a set in this event while beating Baghdatis in the final two years ago, started in top form again, ripping seven aces in his first four service games. But the Serbian, looking like a grad student in his dark-rimmed glasses and short beard, forced a tiebreaker, where the only point that went against serve came with Federer facing set point at 5-6. Tipsarevic ripped a forehand crosscourt pass that dropped just inside the corner.
Tipsarevic fended off five break points in the second set before faltering in the tiebreaker. Tipsarevic rallied from 15-40 while serving at 4-5 in the third set, then broke in the next game as Federer lost two aces to successful challenges by Tipsarevic, who then held for the set.
As he has done so often, Federer seemed to find an extra gear, running off five straight games to take the fourth set and even the match.
Tipsarevic saved two break points while serving at 2-2 in the deciding set, then a match point at 8-8 before Federer nailed a backhand volley winner to take the last break. Federer held for the match when Tipsarevic netted a backhand to end it in 4 hours, 27 minutes.
Federer shouted in relief as he pumped his fist.
"What a great victory," he said.

Copyright 2008 by The Associated Press
SPONSORED HEADLINES
MORE TENNIS HEADLINES
MOST SENT STORIES ON ESPN.COM
2008 AUSTRALIAN OPEN
2008 ChampionsWomen's singles:
Maria Sharapova
Men's singles:
Novak Djokovic
Men's doubles:
Jonathan Erlich and Andy Ram, Israel
Women's doubles:
Alona and Kataryna Bondarenko, Ukraine
Mixed doubles:
Sun Tiantian, China, and Nenad Zimonjic, Serbia
Official scoreboard:
Real-time scores
---
Day 14
•
Djokovic wins Aussie men's title
•
Ford: Concentration, patience key for Djokovic
•
Report: Women's final likely moving to night
Video

•
Record Aussie Open turnout cracks 600,000
•
Djokovic wins first Slam
•
Return of serve helps Djoker
•
Dick Enberg's tribute
Day 13
•
Sharapova wins Aussie women's crown
•
Ford: Life lessons provoke Sharapova to win
Video

•
Sharapova wins title
•
Men's final preview
Day 12
•
Men
•
Ford: Djokovic ends significant run by Federer
•
McEnroe: Djokovic just too strong for Federer
•
Ford: Tennis in need of a competitive final
•
Ubha: Rivalries that could come to fruition
•
Bodo: Dreamy tennis from Sharapova
Video

•
Federer loses
•
Djokovic looks for first Slam
•
Federer talks about loss
•
Women's final preview
Day 11
•
Men
|
Women
•
Ford: Djokovic confident versus Federer
•
Ford: Tsonga shrink's Nadal down to normal size
•
McEnroe: Tsonga a player who's here to stay
•
Tennis.com: Djokovic's golden opportunity
•
Notebook: Aussie teenager turning heads
Video

•
Sharapova defeats Jankovic
•
Ivanovic downs Hantuchova
•
Tsonga stuns Nadal
Day 10
•
Men
|
Women
•
Ford: Hantuchova, Ivanovic have come along
•
Wilansky: Jankovic could be in for a long day
Video

•
Federer defeats Blake
•
Ivanovic down Venus
•
Djokovic cruises past Ferrer
Day 9
•
Men
|
Women
•
Ford: Blake, Federer two of the classiest players
•
Ford: Jankovic defies odds in defeating Williams
•
Notebook: Is Blake's maturation enough?
Video

•
Serena falls to Jankovic
•
What happened to Serena?
•
Nadal headed to semifinals
Day 8
•
Men
|
Women
•
Ford: Sharapova ready to tackle Henin
•
Notebook: Two surprising quarterfinalists
Video

•
Federer defeats Berdych
•
Nadal advances
•
Blake happy with win and Giants' victory
•
Advantage Luke Jensen
Week 1
•
Photo Gallery: Best of Week 1 from Down Under
Day 7
•
Men
|
Women
•
Notebook: Oh, what a night of tennis
Video

•
Weekend madness
•
Henin ready for Sharapova
Day 6
•
Men
|
Women
•
Ford: Stealth Serb pushes Federer to the limit
•
Jensen: Federer's great physical condition
Video

•
Federer defeats Tipsarevic
•
Federer reflects
Day 5
•
Men
|
Women
•
Ford: Mirza's off-court battles
•
Wilansky: Early exit for Roddick
•
Notebook: Henin more confident
Video

•
15 aces for Serena
•
Roddick falls to Kohlschreiber in five sets
Day 4
•
Men
|
Women
•
Ford: Just like home for Americans Down Under
•
Spadea wins and raps

•
Notebook: Top-ranked Huber not on Fed Cup
Video

•
Day 4 highlights
•
Vince Spadea's chicken dance
Day 3
•
Men
|
Women
Video

•
Day 3 highlights
Day 2
•
Men
|
Women
•
Ford: Santoro continues to slice and dice
Day 1
•
Men
|
Women
Video

•
Day 1 highlights
•
2008 Australian Open preview