Commentary
Federer's dramatic win an ominous sign for the field
On the precipice of defeat, Roger Federer proved his physical condition and mental toughness are second to none.
Originally Published:
January 18, 2008
By
Luke Jensen
| ESPN.com
Roger Federer has the ability to absorb everything that's thrown his way. Janko Tipsarevic was determined from the first point of this match to give everything he had. His effort against Roger was similar to that of the players who have given Federer fits in the recent past. Tipsarevic approached this match much the way Rafael Nadal and David Nalbandian have when facing the world No. 1. He ambitiously attacked from both wings and held serve consistently.
Tipsarevic's ability to maintain aggression with his serve and immediately back it up with fierce groundstrokes was instrumental. With this quick one-two offensive approach, the unheralded Serb kept Federer on the defensive. Subsequently, Roger had trouble keeping the ball deep and wasn't able to control the baseline. Tipsarevic stood toe-to-toe with perhaps the great player of all time, ending points quickly and abruptly.
Federer, though, deserves ample credit for coming through. It's a tribute to his fitness that when pushed to the brink, he doesn't let up. Throughout the match's entirety, Federer never lost a step, his shots did not deteriorate and his feet never slowed.
[+] Enlarge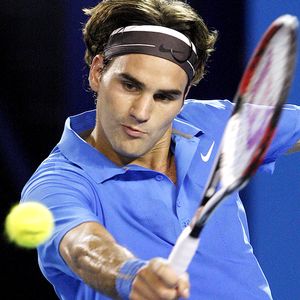 AP Photo/Rick StevensRoger Federer played the longest fifth-set match of his career in ousting Janko Tipsarevic at the Australian Open.
When a player fatigues, his lower body gives way; he doesn't have the energy or fortitude to push up from the legs and core as much. Federer, even deep into the fifth set, stayed low and his legs did not give out at any point. He can survive these matches because he is in tip-top shape.
The length and stress of this match will not hamper Federer moving forward. The more opportunity he gets to hit, the more he'll hone his game -- after having not played a single match entering the Australian Open. This Swiss maestro is not an out-of-shape veteran who can't withstand the longevity of matches. His having come through on the precipice of going down in his past two five-set matches -- the Wimbledon final vs. Nadal in '07 and Tipsarevic -- without breaking a sweat just instills more fear into his opponents. Did you even see a bead of perspiration coming from him? Tipsarevic played his heart out, but he was sweating bullets, constantly changing his shirts and shorts. Roger was gliding.
What do you think the rest of the field is thinking now? They might not tell you, but his presence liquidates a lot of their hope. Not one player in the locker room, or sitting in a hotel room, wasn't praying for Tipsarevic to pull through.
What Federer accomplished, pulling out a match separated by only a few points, is one of the most grueling physical and mental tasks a player can endure. Look at Andy Roddick. He played a nearly flawless match. He was serving his heart out, but in the end, he's not around to see the fourth round. There was never a moment in this match that Federer didn't believe he would come through.
Hopefully, these dramatics will silence some of the critics who have maligned Federer for not having to pull out tough, down-to-the-wire matches. His legacy is only amplified by the effortless nature in which he dispels the opposition. If you're not on your honor's game, Federer beats the living garbage out of you. His win against Tipsarevic was thrilling and only heightened the mental toughness that is as much a part of his repertoire as any shot in his arsenal. But Federer's legacy, right now, is the fashion is which he beats and buries his opponents across the net.
Former ATP Tour pro Luke Jensen is providing ESPN.com with analysis during the Australian Open. Jensen was a two-time All-American at USC, and is the tennis coach at Syracuse. He captured the 1993 French Open doubles crown with his brother Murphy.
2008 AUSTRALIAN OPEN
2008 ChampionsWomen's singles:
Maria Sharapova
Men's singles:
Novak Djokovic
Men's doubles:
Jonathan Erlich and Andy Ram, Israel
Women's doubles:
Alona and Kataryna Bondarenko, Ukraine
Mixed doubles:
Sun Tiantian, China, and Nenad Zimonjic, Serbia
Official scoreboard:
Real-time scores
---
Day 14
•
Djokovic wins Aussie men's title
•
Ford: Concentration, patience key for Djokovic
•
Report: Women's final likely moving to night
Video

•
Record Aussie Open turnout cracks 600,000
•
Djokovic wins first Slam
•
Return of serve helps Djoker
•
Dick Enberg's tribute
Day 13
•
Sharapova wins Aussie women's crown
•
Ford: Life lessons provoke Sharapova to win
Video

•
Sharapova wins title
•
Men's final preview
Day 12
•
Men
•
Ford: Djokovic ends significant run by Federer
•
McEnroe: Djokovic just too strong for Federer
•
Ford: Tennis in need of a competitive final
•
Ubha: Rivalries that could come to fruition
•
Bodo: Dreamy tennis from Sharapova
Video

•
Federer loses
•
Djokovic looks for first Slam
•
Federer talks about loss
•
Women's final preview
Day 11
•
Men
|
Women
•
Ford: Djokovic confident versus Federer
•
Ford: Tsonga shrink's Nadal down to normal size
•
McEnroe: Tsonga a player who's here to stay
•
Tennis.com: Djokovic's golden opportunity
•
Notebook: Aussie teenager turning heads
Video

•
Sharapova defeats Jankovic
•
Ivanovic downs Hantuchova
•
Tsonga stuns Nadal
Day 10
•
Men
|
Women
•
Ford: Hantuchova, Ivanovic have come along
•
Wilansky: Jankovic could be in for a long day
Video

•
Federer defeats Blake
•
Ivanovic down Venus
•
Djokovic cruises past Ferrer
Day 9
•
Men
|
Women
•
Ford: Blake, Federer two of the classiest players
•
Ford: Jankovic defies odds in defeating Williams
•
Notebook: Is Blake's maturation enough?
Video

•
Serena falls to Jankovic
•
What happened to Serena?
•
Nadal headed to semifinals
Day 8
•
Men
|
Women
•
Ford: Sharapova ready to tackle Henin
•
Notebook: Two surprising quarterfinalists
Video

•
Federer defeats Berdych
•
Nadal advances
•
Blake happy with win and Giants' victory
•
Advantage Luke Jensen
Week 1
•
Photo Gallery: Best of Week 1 from Down Under
Day 7
•
Men
|
Women
•
Notebook: Oh, what a night of tennis
Video

•
Weekend madness
•
Henin ready for Sharapova
Day 6
•
Men
|
Women
•
Ford: Stealth Serb pushes Federer to the limit
•
Jensen: Federer's great physical condition
Video

•
Federer defeats Tipsarevic
•
Federer reflects
Day 5
•
Men
|
Women
•
Ford: Mirza's off-court battles
•
Wilansky: Early exit for Roddick
•
Notebook: Henin more confident
Video

•
15 aces for Serena
•
Roddick falls to Kohlschreiber in five sets
Day 4
•
Men
|
Women
•
Ford: Just like home for Americans Down Under
•
Spadea wins and raps

•
Notebook: Top-ranked Huber not on Fed Cup
Video

•
Day 4 highlights
•
Vince Spadea's chicken dance
Day 3
•
Men
|
Women
Video

•
Day 3 highlights
Day 2
•
Men
|
Women
•
Ford: Santoro continues to slice and dice
Day 1
•
Men
|
Women
Video

•
Day 1 highlights
•
2008 Australian Open preview
MOST SENT STORIES ON ESPN.COM