Commentary
Federer survives beautiful match from unheralded opponent
He convinced himself he could defeat the world's No. 1 player. But despite a beautiful display from Janko Tipsarevic, Roger Federer prevailed in the biggest fight of his life.
MELBOURNE, Australia -- Roger Federer might like to say he's playing against history, but Saturday, he had to play literature buff Janko Tipsarevic.
Tipsarevic is the Stealth Serb -- a 23-year-old bundle of energy who quietly snuck into the top 50 last season while three of his fellow citizens basked in newfound limelight. He loves classic literature and has one arm tattooed with a quote -- "Beauty will save the world" -- from "The Idiot" by Russian master Fyodor Dostoevsky, which he is re-reading for the third time.
Anytime Tipsarevic is asked about his Serbian compatriots Novak Djokovic, Ana Ivanovic and Jelena Jankovic, he speaks proudly, often saying they all started "from mud" in their conflict-scarred country. He nearly turned that mud into gold against Federer, stretching the world No. 1 to the longest fifth set of his illustrious career before being vanquished 6-7 (5), 7-6 (1), 5-7, 6-1, 10-8 in the third round of the Australian Open.
[+] Enlarge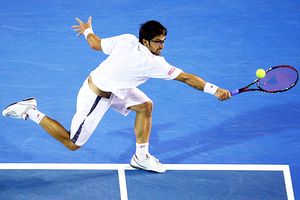 Mark Dadswell/Getty ImagesJanko Tipsarevic played the match of his life Saturday, pushing world No. 1 Roger Federer to the brink at the Australian Open.
The 63 games in the 4-hour, 27-minute match tied the most Federer has ever had to play. It also marked yet another strenuous outing in a Grand Slam event where he's had some tricky matches over the years. He didn't drop a set on his title campaign last year, but he squandered match points in losses to Marat Safin in the 2005 semifinal and Tommy Haas in the 2002 round of 16 and has been pushed on a few other occasions.
Had it not been for what Tipsarevic called an unreadable serve -- Federer smoked a career-high 39 aces -- this match might have been inscribed in red ink, as well. Both men agreed that the 49th-ranked Tipsarevic played better from the baseline, lashing passing and cross-court shots, digging for balls Federer thought he had buried.
But in typical stately fashion, Federer pronounced the resistance Tipsarevic put up as a positive.
"Just being there in a five-setter is good for me because I'm hardly ever there," Federer said. "It's good for my mind-set for the next one. … My last five-setter was back in Wimbledon, I guess. When it happens, you have to take the most out of it."
Federer can afford to look at things that way, viewing every challenge he encounters as something attributable to his own greatness. Reminded that he converted only five of 21 break-point opportunities, Federer replied that it was his own fault the numbers looked so lopsided.
"Look, it happens sometimes," he said philosophically. "I had that a few times in my career already. I create myself so many opportunities, and then it's just, you don't make them." He's the only guy in the game that could say that without sounding insufferable.
Beauty might, in fact, save the world, but Tipsarevic, his soulful eyes burning behind jock-nerdy glasses, had to save two set points in the third to elongate a beautiful match. He said he was able to pull off what might be the most difficult thing of all against the man who is gunning for the all-time Grand Slam win record -- convince himself he was in the match before it started.
"You have to believe that you're going to beat Roger Federer when you go on court, as stupid as it might sound," he said.
"If you go out there thinking, 'I'm going to play a good match, make him sweat for his money' or something like that, it's not going to work. Because then when the chances are given to you, and even Roger Federer is giving chances, you're not going to use them because you're going to be too afraid for victory. So I went on court with the idea that I can win. I was close. I lost because he was better in the important moments of the match."
Federer smelled that self-assurance. "I was back against the wall, and I was playing a guy who's confident and believes in his chance," he said. It might be a feeling he becomes more familiar with this year.
Almost imperceptibly, he lost ground in the rankings late last year. In this tournament, for the first time since mid-2004, No. 2 Rafael Nadal has a mathematical chance to pass him. It would take the somewhat unlikely scenario of Federer failing to reach the final and Nadal winning the title, but magic numbers are magic numbers.
[+] Enlarge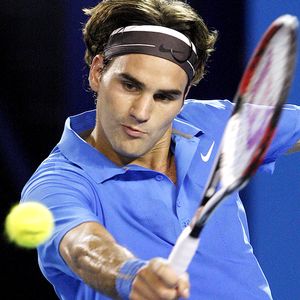 AP Photo/Rick StevensRoger Federer played the longest fifth-set match of his career in ousting Janko Tipsarevic at the Australian Open.
When reporters asked Federer about Tipsarevic's tattoo, he smiled. "The one on his back?" he said. "Have you seen that one? That's even bigger."
It takes one to know one. Federer has one of the biggest bull's-eyes in sports on his back this season, and there will be a certain number of players who make their competitive delusions come true against him.
Although it's easy to dwell on which of Federer's chief rivals might delay his seemingly inevitable march to the Slam record, Tipsarevic proved what self-belief can do for a lower-ranked player. In that effort, he might have drawn inspiration from another Dostoevsky novel. This passage comes from "The Insulted and the Injured," a title that could be applied to the ATP during Federer's reign of terror the past few years:
You're a poet, and I'm a simple mortal, and therefore I will say we must look at things from the simplest, most practical point of view.
The mere mortal's pragmatic game plan fell a little short this time, but it wouldn't be surprising if Federer finds he has to work harder than ever to fend off the proletariat.
Bonnie D. Ford covers tennis and Olympic sports for ESPN.com. E-mail her at bonniedford@aol.com.
Enterprise and Olympic Sports
Bonnie D. Ford is a senior writer for ESPN.com.
2008 AUSTRALIAN OPEN
2008 ChampionsWomen's singles:
Maria Sharapova
Men's singles:
Novak Djokovic
Men's doubles:
Jonathan Erlich and Andy Ram, Israel
Women's doubles:
Alona and Kataryna Bondarenko, Ukraine
Mixed doubles:
Sun Tiantian, China, and Nenad Zimonjic, Serbia
Official scoreboard:
Real-time scores
---
Day 14
•
Djokovic wins Aussie men's title
•
Ford: Concentration, patience key for Djokovic
•
Report: Women's final likely moving to night
Video

•
Record Aussie Open turnout cracks 600,000
•
Djokovic wins first Slam
•
Return of serve helps Djoker
•
Dick Enberg's tribute
Day 13
•
Sharapova wins Aussie women's crown
•
Ford: Life lessons provoke Sharapova to win
Video

•
Sharapova wins title
•
Men's final preview
Day 12
•
Men
•
Ford: Djokovic ends significant run by Federer
•
McEnroe: Djokovic just too strong for Federer
•
Ford: Tennis in need of a competitive final
•
Ubha: Rivalries that could come to fruition
•
Bodo: Dreamy tennis from Sharapova
Video

•
Federer loses
•
Djokovic looks for first Slam
•
Federer talks about loss
•
Women's final preview
Day 11
•
Men
|
Women
•
Ford: Djokovic confident versus Federer
•
Ford: Tsonga shrink's Nadal down to normal size
•
McEnroe: Tsonga a player who's here to stay
•
Tennis.com: Djokovic's golden opportunity
•
Notebook: Aussie teenager turning heads
Video

•
Sharapova defeats Jankovic
•
Ivanovic downs Hantuchova
•
Tsonga stuns Nadal
Day 10
•
Men
|
Women
•
Ford: Hantuchova, Ivanovic have come along
•
Wilansky: Jankovic could be in for a long day
Video

•
Federer defeats Blake
•
Ivanovic down Venus
•
Djokovic cruises past Ferrer
Day 9
•
Men
|
Women
•
Ford: Blake, Federer two of the classiest players
•
Ford: Jankovic defies odds in defeating Williams
•
Notebook: Is Blake's maturation enough?
Video

•
Serena falls to Jankovic
•
What happened to Serena?
•
Nadal headed to semifinals
Day 8
•
Men
|
Women
•
Ford: Sharapova ready to tackle Henin
•
Notebook: Two surprising quarterfinalists
Video

•
Federer defeats Berdych
•
Nadal advances
•
Blake happy with win and Giants' victory
•
Advantage Luke Jensen
Week 1
•
Photo Gallery: Best of Week 1 from Down Under
Day 7
•
Men
|
Women
•
Notebook: Oh, what a night of tennis
Video

•
Weekend madness
•
Henin ready for Sharapova
Day 6
•
Men
|
Women
•
Ford: Stealth Serb pushes Federer to the limit
•
Jensen: Federer's great physical condition
Video

•
Federer defeats Tipsarevic
•
Federer reflects
Day 5
•
Men
|
Women
•
Ford: Mirza's off-court battles
•
Wilansky: Early exit for Roddick
•
Notebook: Henin more confident
Video

•
15 aces for Serena
•
Roddick falls to Kohlschreiber in five sets
Day 4
•
Men
|
Women
•
Ford: Just like home for Americans Down Under
•
Spadea wins and raps

•
Notebook: Top-ranked Huber not on Fed Cup
Video

•
Day 4 highlights
•
Vince Spadea's chicken dance
Day 3
•
Men
|
Women
Video

•
Day 3 highlights
Day 2
•
Men
|
Women
•
Ford: Santoro continues to slice and dice
Day 1
•
Men
|
Women
Video

•
Day 1 highlights
•
2008 Australian Open preview
MOST SENT STORIES ON ESPN.COM