Ferrero tops Nalbandian, Nadal advances to quarters at Australian Open
Updated:
January 20, 2008, 11:34 AM ET
ESPN.com news services
David Nalbandian and Juan Carlos Ferrero stepped back on the Rod Laver Arena court to begin the Sunday schedule little more than 6 hours after Lleyton Hewitt and Marcos Baghdatis walked off.
Former No. 1 Ferrero beat 10th-seeded Nalbandian 6-1, 6-2, 6-3 in a third-round match postponed by rain Saturday.
[+] Enlarge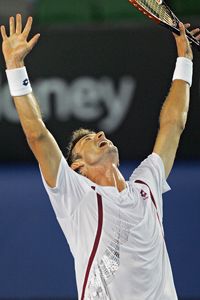 Peter ParksAFP/Getty ImagesAfter his upset over David Nalbandian, former world No. 1 Juan Carlos Ferrero (pictured) will face David Ferrer in a fourth-round match at the Australian Open.
"Right now, I'm trying to go to the court and be very aggressive all the time, be more aggressive than maybe the other guy," Ferrero told reporters after the 1 hour, 44 minute match. "I was trying to be as aggressive as I was before when I was No. 1 or reaching my best results [and] ... that is giving me good results." Nalbandian had suffered muscle spasms in his back the week prior to the tournament, and seemed unable to respond to anything the Spanish baseliner threw at him. Ferrero added he had been particularly pleased with his serve and his ability to convert his break opportunities, though said it should not have been a surprise given his recent form. "I'm playing good tennis since, I don't know, two months, something like this," the 27-year-old said. "At the end of the last year I played good matches against top players. I came [here] playing well." Ferrero made the final of the Auckland Open in New Zealand last week, losing to Germany's
Philipp Kohlschreiber
, which he said had given him confidence coming into the season's first Grand Slam. "When you play matches against the top players like today, you know, you want to make your best.
Australian Open scores
In-progress scores and results from every match from both sides of the draw throughout the event. Complete scores
"I think I did it very well." In another third-rounder, No. 5
David Ferrer
beat American
Vincent Spadea
6-3, 6-3, 6-2. Ferrero will play Ferrer in the fourth round.
No. 24 Jarkko Nieminen beat Kohlschreiber 3-6, 7-6 (7), 7-6 (9), 6-3 and Jo-Wilfried Tsonga edged No. 8 and fellow Frenchman Richard Gasquet 6-2, 6-7 (5), 7-6 (6), 6-3.
In other action, No. 2 seed
Rafael Nadal
eased into the quarterfinals when Paul-Henri Mathieu retired injured in the second set of their fourth-round match on Sunday. The Spaniard was leading 6-4, 3-0 when Mathieu, who had earlier had treatment on a leg injury, was forced to quit. "It's a little disappointing because I was playing a great match," Nadal told reporters. "I felt my best today, but I can't be [that] disappointed because I am in the quarterfinals." Nadal will face Nieminen next, in the last eight, a player he has beaten all three times they have met. "Nieminen is very tough, a fighter," Nadal said. "It's going to be an interesting match. I have to continue to play in this way."
Day 6 at the Australian Open was a long, long journey. About one-third of the 15,000 people with tickets for the Saturday night session didn't leave until Hewitt smacked a forehand past Baghdatis at 4:33 a.m. Sunday.
Roger Federer needed 4 hours, 27 minutes to beat 49th-ranked Janko Tipsarevic 6-7 (5), 7-6 (1), 5-7, 6-1, 10-8 in an extended afternoon match that pushed back the night session at least two hours.
Federer had won 30 straight sets at Melbourne Park since dropping the first in the 2006 final against Baghdatis. The Swiss star had lost only six games in his first two matches this year.
"It's not such a relief -- it's more happiness," Federer told the crowd at Rod Laver Arena, where he has won the last two Australian titles and three overall. "I'm happy I could deliver a five-set thriller. It was good to be part of something like this."
So when Hewitt tossed the ball up for his first serve it was 11:47 p.m. -- the latest start for a singles match in the Australian Open. He broke Baghdatis on his fifth match point 4:45 later to win 4-6, 7-5, 7-5, 6-7 (4), 6-3.
"Obviously, an incredible day of tennis," Hewitt said, sounding hoarse and tired. "I mean, for Roger Federer to go five sets -- how often does that happen?"
Hewitt will play No. 3 Novak Djokovic, who ousted Sam Querrey 6-3, 6-1, 6-3 to leave James Blake as the best U.S. hope at the Open.
Blake rallied from two sets down and then a double-break in the fourth to beat Frenchman Sebastien Grosjean 4-6, 2-6, 6-0, 7-6 (5), 6-2.
Next for Blake is the 6-foot-5 Marin Cilic, a 6-2, 6-7 (4), 6-3, 6-1 winner over last year's losing finalist, Fernando Gonzalez.
Also in fourth-round matches Sunday, Russian No. 4 seed Nikolay Davydenko lost to compatriot No. 14 Mikhail Youzhny 7-6 (7-2), 6-3, 6-1.
Federer said his five-setter would give him a good idea of where he stands as he bids to make an 11th consecutive Grand Slam final. A title would move him within one of Pete Sampras' record 14 majors.
"I don't have them often," said Federer, who needed every one of his personal best 39 aces to fend off Tipsaravic.
Hewitt wasted a match point in the eighth game of the fourth set and ensured he'd pass the record for the latest finishing match at a Grand Slam when he held for a 6-5 lead at 3:34 a.m. -- the same time Italy's Andreas Seppi finished off Bobby Reynolds in a 6-1, 6-7 (4), 6-7 (5), 7-6 (3), 6-3 match in the first round in Australia last year.
The Associated Press and Reuters contributed to this report.
SPONSORED HEADLINES
MORE TENNIS HEADLINES
MOST SENT STORIES ON ESPN.COM
2008 AUSTRALIAN OPEN
2008 ChampionsWomen's singles:
Maria Sharapova
Men's singles:
Novak Djokovic
Men's doubles:
Jonathan Erlich and Andy Ram, Israel
Women's doubles:
Alona and Kataryna Bondarenko, Ukraine
Mixed doubles:
Sun Tiantian, China, and Nenad Zimonjic, Serbia
Official scoreboard:
Real-time scores
---
Day 14
•
Djokovic wins Aussie men's title
•
Ford: Concentration, patience key for Djokovic
•
Report: Women's final likely moving to night
Video

•
Record Aussie Open turnout cracks 600,000
•
Djokovic wins first Slam
•
Return of serve helps Djoker
•
Dick Enberg's tribute
Day 13
•
Sharapova wins Aussie women's crown
•
Ford: Life lessons provoke Sharapova to win
Video

•
Sharapova wins title
•
Men's final preview
Day 12
•
Men
•
Ford: Djokovic ends significant run by Federer
•
McEnroe: Djokovic just too strong for Federer
•
Ford: Tennis in need of a competitive final
•
Ubha: Rivalries that could come to fruition
•
Bodo: Dreamy tennis from Sharapova
Video

•
Federer loses
•
Djokovic looks for first Slam
•
Federer talks about loss
•
Women's final preview
Day 11
•
Men
|
Women
•
Ford: Djokovic confident versus Federer
•
Ford: Tsonga shrink's Nadal down to normal size
•
McEnroe: Tsonga a player who's here to stay
•
Tennis.com: Djokovic's golden opportunity
•
Notebook: Aussie teenager turning heads
Video

•
Sharapova defeats Jankovic
•
Ivanovic downs Hantuchova
•
Tsonga stuns Nadal
Day 10
•
Men
|
Women
•
Ford: Hantuchova, Ivanovic have come along
•
Wilansky: Jankovic could be in for a long day
Video

•
Federer defeats Blake
•
Ivanovic down Venus
•
Djokovic cruises past Ferrer
Day 9
•
Men
|
Women
•
Ford: Blake, Federer two of the classiest players
•
Ford: Jankovic defies odds in defeating Williams
•
Notebook: Is Blake's maturation enough?
Video

•
Serena falls to Jankovic
•
What happened to Serena?
•
Nadal headed to semifinals
Day 8
•
Men
|
Women
•
Ford: Sharapova ready to tackle Henin
•
Notebook: Two surprising quarterfinalists
Video

•
Federer defeats Berdych
•
Nadal advances
•
Blake happy with win and Giants' victory
•
Advantage Luke Jensen
Week 1
•
Photo Gallery: Best of Week 1 from Down Under
Day 7
•
Men
|
Women
•
Notebook: Oh, what a night of tennis
Video

•
Weekend madness
•
Henin ready for Sharapova
Day 6
•
Men
|
Women
•
Ford: Stealth Serb pushes Federer to the limit
•
Jensen: Federer's great physical condition
Video

•
Federer defeats Tipsarevic
•
Federer reflects
Day 5
•
Men
|
Women
•
Ford: Mirza's off-court battles
•
Wilansky: Early exit for Roddick
•
Notebook: Henin more confident
Video

•
15 aces for Serena
•
Roddick falls to Kohlschreiber in five sets
Day 4
•
Men
|
Women
•
Ford: Just like home for Americans Down Under
•
Spadea wins and raps

•
Notebook: Top-ranked Huber not on Fed Cup
Video

•
Day 4 highlights
•
Vince Spadea's chicken dance
Day 3
•
Men
|
Women
Video

•
Day 3 highlights
Day 2
•
Men
|
Women
•
Ford: Santoro continues to slice and dice
Day 1
•
Men
|
Women
Video

•
Day 1 highlights
•
2008 Australian Open preview