Ivanovic, Venus advance to Australian Open quarterfinals
Updated:
January 21, 2008, 10:13 AM ET
ESPN.com news services
MELBOURNE, Australia -- Venus Williams reached the Australian Open quarterfinals for the first time in five years, beating Poland's Marta Domachowska 6-4, 6-4 on Monday at Melbourne Park.
The Wimbledon champion will face fourth-ranked Ana Ivanovic in the quarterfinals.
Williams, in her first tournament since withdrawing from the season-ending champion at Madrid in November due to illness, lost the 2003 Australian final to sister Serena and hadn't gone beyond the fourth round in the season-opening major since.
"I have come close, then this girl named Williams took my dream away," Venus said of her Australian aspirations.
Defending champion Serena Williams moved into the quarterfinals on Sunday along with top-ranked Justine Henin and fifth-seeded Maria Sharapova, a finalist last year.
Australian Open scores
In-progress scores and results from every match from both sides of the draw throughout the event. Complete scores
Serena Williams will play No. 3 Jelana Jankovic, and Henin will face Sharapova.
Ivanovic had a 6-1, 7-6 (2) victory earlier Monday over Denmark's Caroline Wozniacki and was looking forward to her quarterfinal match.
"Definitely a tough opponent. Last two Grand Slams I lost to her. Exactly the time for some revenge," Ivanovic said. "I think I'm a little bit different player than I was last time I played her."
Ivanovic dominated the first set by smashing 15 winners to Wozniacki's none and winning 76 percent of her first service points.
After the pair held for two service games each in the second set, the 17-year-old from Copenhagen finally broke in the fifth game and held two set points in the 10th, but Ivanovic broke to level at 5-5.
[+] Enlarge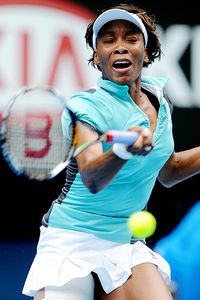 Romeo Gacard/AFP/Getty ImagesVenus Williams marched into the Australian Open quarterfinals for the first time in five years.
The Serb held serve and had a match point on Wozniacki's, but the young Dane managed to force a tiebreak.
However, Ivanovic's experience told and she ran out a 7-2 tiebreak winner when Wozniacki's service return failed to clear the net.
"She had nothing to lose, so she was really dangerous in the second set," Ivanovic said.
"I started fighting a little bit more ... [and] I'm really happy I managed to keep my composure in the end of that second set and be calm on those set points and still manage to win it."
In the adjacent quarter of the draw, No. 9 Daniela Hantuchova needed four match points before finishing off Maria Kirilenko 1-6, 6-4, 6-4. Hantuchova will play Poland's Agnieszka Radwanska, a 1-6, 7-5, 6-0 winner over No. 14 Nadia Petrova.
Radwanska became the first Polish woman to reach a Grand Slam quarterfinal and at 18, Radwanska is the youngest of the eight quarterfinalists.
Petrova led 6-1 3-0 but a groin strain hampered her movement in the third set and Radwanska stormed back to win.
Having upset No. 2 seed Svetlana Kuznetsova in the previous round, Radwanska looked like she might be suffering a reaction as Petrova won nine of the first 10 games.
Radwanska had been struggling in the swirling wind but suddenly she found her game, edging out Petrova in the second set and ripping through the decider for the loss of just four points.
Petrova said she had first felt the injury in the opening game of the deciding set.
"I couldn't do anything because I couldn't run at the end of the third set, so that was it," Petrova said.
With sister Serena shouting encouragement, Williams had her hands full with Domachowska.
Far from being intimidated by Williams' power, Domachowska matched it with her own -- she had aces on three of her first five serves -- along with a variety of spins.
Williams often found herself on the defensive as Domachowska swung for winners at every opportunity.
Williams' right thigh was strapped, and Domachowska gave it a workout, keeping her constantly sprinting from side to side.
"I got a little something going on, but it's not going to hurt anybody," Williams coyly said of the strapping.
Williams had to fight back twice from service breaks in the first set, getting back on serve when Domachowska double-faulted on break point, then took the set when the Polish woman netted a straightforward forehand volley.
Williams got the first break of the second set to pull ahead 5-3. Domachowska fended off a match point before breaking back.
Domachowska set up a second match point for Williams with one error while serving 30-30 in the next game, then netted a forehand to finish it off.
"It's good, it gets me ready for the rounds going forward," Williams said of the close match.
Information from The Associated Press and Reuters was used in this report.
2008 AUSTRALIAN OPEN
2008 ChampionsWomen's singles:
Maria Sharapova
Men's singles:
Novak Djokovic
Men's doubles:
Jonathan Erlich and Andy Ram, Israel
Women's doubles:
Alona and Kataryna Bondarenko, Ukraine
Mixed doubles:
Sun Tiantian, China, and Nenad Zimonjic, Serbia
Official scoreboard:
Real-time scores
---
Day 14
•
Djokovic wins Aussie men's title
•
Ford: Concentration, patience key for Djokovic
•
Report: Women's final likely moving to night
Video

•
Record Aussie Open turnout cracks 600,000
•
Djokovic wins first Slam
•
Return of serve helps Djoker
•
Dick Enberg's tribute
Day 13
•
Sharapova wins Aussie women's crown
•
Ford: Life lessons provoke Sharapova to win
Video

•
Sharapova wins title
•
Men's final preview
Day 12
•
Men
•
Ford: Djokovic ends significant run by Federer
•
McEnroe: Djokovic just too strong for Federer
•
Ford: Tennis in need of a competitive final
•
Ubha: Rivalries that could come to fruition
•
Bodo: Dreamy tennis from Sharapova
Video

•
Federer loses
•
Djokovic looks for first Slam
•
Federer talks about loss
•
Women's final preview
Day 11
•
Men
|
Women
•
Ford: Djokovic confident versus Federer
•
Ford: Tsonga shrink's Nadal down to normal size
•
McEnroe: Tsonga a player who's here to stay
•
Tennis.com: Djokovic's golden opportunity
•
Notebook: Aussie teenager turning heads
Video

•
Sharapova defeats Jankovic
•
Ivanovic downs Hantuchova
•
Tsonga stuns Nadal
Day 10
•
Men
|
Women
•
Ford: Hantuchova, Ivanovic have come along
•
Wilansky: Jankovic could be in for a long day
Video

•
Federer defeats Blake
•
Ivanovic down Venus
•
Djokovic cruises past Ferrer
Day 9
•
Men
|
Women
•
Ford: Blake, Federer two of the classiest players
•
Ford: Jankovic defies odds in defeating Williams
•
Notebook: Is Blake's maturation enough?
Video

•
Serena falls to Jankovic
•
What happened to Serena?
•
Nadal headed to semifinals
Day 8
•
Men
|
Women
•
Ford: Sharapova ready to tackle Henin
•
Notebook: Two surprising quarterfinalists
Video

•
Federer defeats Berdych
•
Nadal advances
•
Blake happy with win and Giants' victory
•
Advantage Luke Jensen
Week 1
•
Photo Gallery: Best of Week 1 from Down Under
Day 7
•
Men
|
Women
•
Notebook: Oh, what a night of tennis
Video

•
Weekend madness
•
Henin ready for Sharapova
Day 6
•
Men
|
Women
•
Ford: Stealth Serb pushes Federer to the limit
•
Jensen: Federer's great physical condition
Video

•
Federer defeats Tipsarevic
•
Federer reflects
Day 5
•
Men
|
Women
•
Ford: Mirza's off-court battles
•
Wilansky: Early exit for Roddick
•
Notebook: Henin more confident
Video

•
15 aces for Serena
•
Roddick falls to Kohlschreiber in five sets
Day 4
•
Men
|
Women
•
Ford: Just like home for Americans Down Under
•
Spadea wins and raps

•
Notebook: Top-ranked Huber not on Fed Cup
Video

•
Day 4 highlights
•
Vince Spadea's chicken dance
Day 3
•
Men
|
Women
Video

•
Day 3 highlights
Day 2
•
Men
|
Women
•
Ford: Santoro continues to slice and dice
Day 1
•
Men
|
Women
Video

•
Day 1 highlights
•
2008 Australian Open preview
MOST SENT STORIES ON ESPN.COM