Blake steps into new territory, set to face Federer in quarters
Updated:
January 21, 2008, 9:00 AM ET
ESPN.com news services
MELBOURNE, Australia -- Roger Federer sure didn't want to put in another 4½ hours.
So he made fast work of Tomas Berdych 6-4, 7-6 (7), 6-3 Monday to continue his march to a third consecutive Australian Open title and narrow his pursuit of Pete Sampras' record 14 Grand Slam titles.
"It throws off your rhythm a little bit, playing a five-setter," said top-ranked Federer, who barely avoided being an upset victim in the previous round, when he survived a 10-8 final set against Janko Tipsarevic.
"I like this one today better," he said after reaching the quarterfinals. "I'm quite pleased with the result, pulling up from a tough match."
Federer next faces American James Blake, a 6-3, 6-4, 6-4 winner over 19-year-old Croatian Marin Cilic, advancing past the fourth round here for the first time and matching his best Grand Slam showing.
Fifth-seeded David Ferrer, who lost to Federer in the Masters Cup final in November, beat fellow Spaniard Juan Carlos Ferrero 7-5, 3-6, 6-4, 6-1. He will play third-ranked Novak Djokovic, who ousted the last Australian hope when he defeated No. 19 Lleyton Hewitt 7-5, 6-3, 6-3.
Australian Open scores
In-progress scores and results from every match from both sides of the draw throughout the event. Complete scores
With his win, Ferrer advanced to the Australian Open quarterfinals for the first time. He proved the more consistent player in a gruelling tussle littered with long baseline rallies.
"I beat Juan Carlos playing very well, it was a very tough match," Ferrer said. "I am very happy. Now I am a little bit tired. I had problems in the fourth set because the match was very tough."
Ferrer, a semifinalist at last year's U.S. Open, twice needed treatment on a leg injury against friend and former French Open champion Ferrero but clinched victory on his first match point to end a contest lasting just over three hours.
"Always playing against David is difficult," Ferrero said. "He doesn't make a lot of mistakes on the court. Physically, he's very complete ... I knew before the match that it was going to be difficult."
Hewitt didn't have his usual high energy level after beating Marcos Baghdatis in five sets in his previous match, which didn't end until 4:33 a.m. Sunday. That match was delayed by the length of Federer's victory over Tipsarevic.
[+] Enlarge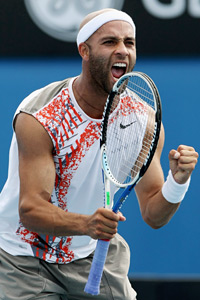 Quinn Rooney/Getty ImagesQuinn Rooney/Getty ImagesWhen American James Blake (pictured) faces Roger Federer in their quarterfinal match, it will match Blake's deepest foray into a Grand Slam event.
Djokovic recovered from a shaky start to clinch victory in 2 hours and 26 minutes.
"I was very, very, very nervous," Djokovic said.
"In the first set I was lucky, but then afterwards I relaxed and tried to be aggressive and take control of the match which I did.
"Of course, Lleyton was very tired from the Baghdatis match a couple of nights ago, so I took my opportunities."
Hewitt showed no signs of fatigue early as he broke to lead 4-2 in the first set, only for Djokovic to hit back and win it. The Australian later admitted that his body clock had been affected by the Baghdatis match, but he did not use fatigue as an excuse.
"I didn't feel too bad," he said. "But probably not quite as sharp as I would have liked to be.
"I felt ready when I had to go on the court. I started pretty well. As the match went on, maybe I lost that sharpness a little bit. But I was ready to go 7:30 p.m. tonight when we went out to play."
Hewitt, in his 12th Australian Open, gave himself hope when he broke early in the second set but Djokovic struck back to win it and he stormed into a 5-2 lead in the third.
"He was too good tonight," Hewitt said. "He's shown in big matches and over best-of-five sets in the big tournaments that he is the worthy world number three at the moment.
"And he's a lot better player than he was 12 months ago, I think, when he lost to Roger [Federer] here last year. He's got a great all-court game.
The Serb squandered two match points as he was broken when serving for the match, but he broke Hewitt in the next game to reach the quarterfinals for the first time.
Djokovic has yet to drop a set in this year's tournament.
For Federer, he played his best under pressure while Berdych faltered.
Berdych, with a strong serve and sharp groundstrokes, had a tendency for poorly executed drop shots at critical times. He dumped one into the net while getting broken for the only time in the first set while serving at 4-4, then again while serving at 6-5 in the second-set tiebreaker after Federer rallied from 2-5.
Berdych squandered a second set point at 7-6 when he flailed a forehand long off an easy short ball, and Federer ran off the last three points.
Always a great front-runner, Federer got an early break in the third set, then held the rest of the way, dropping only four points in his five service games.
He finished in 1 hour and 59 minutes -- 2½ hours less than against Tipsarevic. Still, he said it wasn't as easy as the score indicated.
"This was a tough match today," said Federer, who is going for his 13th Grand Slam title. "Thank God he didn't win that second set because you never know what's going to happen."
Blake's style would seem to match up well with Federer's because of his tendency to take balls early but the Swiss star holds a 7-0 record in head-to-head meetings. Blake has won only one set, but took encouragement from Tipsarevic's near upset.
"Every time I've stepped out on the court with him, I've felt if I play my best, I give myself a shot with anyone in the world," Blake said. "Every time, he stepped up and played better."
The Associated Press and Reuters contributed to this report.
2008 AUSTRALIAN OPEN
2008 ChampionsWomen's singles:
Maria Sharapova
Men's singles:
Novak Djokovic
Men's doubles:
Jonathan Erlich and Andy Ram, Israel
Women's doubles:
Alona and Kataryna Bondarenko, Ukraine
Mixed doubles:
Sun Tiantian, China, and Nenad Zimonjic, Serbia
Official scoreboard:
Real-time scores
---
Day 14
•
Djokovic wins Aussie men's title
•
Ford: Concentration, patience key for Djokovic
•
Report: Women's final likely moving to night
Video

•
Record Aussie Open turnout cracks 600,000
•
Djokovic wins first Slam
•
Return of serve helps Djoker
•
Dick Enberg's tribute
Day 13
•
Sharapova wins Aussie women's crown
•
Ford: Life lessons provoke Sharapova to win
Video

•
Sharapova wins title
•
Men's final preview
Day 12
•
Men
•
Ford: Djokovic ends significant run by Federer
•
McEnroe: Djokovic just too strong for Federer
•
Ford: Tennis in need of a competitive final
•
Ubha: Rivalries that could come to fruition
•
Bodo: Dreamy tennis from Sharapova
Video

•
Federer loses
•
Djokovic looks for first Slam
•
Federer talks about loss
•
Women's final preview
Day 11
•
Men
|
Women
•
Ford: Djokovic confident versus Federer
•
Ford: Tsonga shrink's Nadal down to normal size
•
McEnroe: Tsonga a player who's here to stay
•
Tennis.com: Djokovic's golden opportunity
•
Notebook: Aussie teenager turning heads
Video

•
Sharapova defeats Jankovic
•
Ivanovic downs Hantuchova
•
Tsonga stuns Nadal
Day 10
•
Men
|
Women
•
Ford: Hantuchova, Ivanovic have come along
•
Wilansky: Jankovic could be in for a long day
Video

•
Federer defeats Blake
•
Ivanovic down Venus
•
Djokovic cruises past Ferrer
Day 9
•
Men
|
Women
•
Ford: Blake, Federer two of the classiest players
•
Ford: Jankovic defies odds in defeating Williams
•
Notebook: Is Blake's maturation enough?
Video

•
Serena falls to Jankovic
•
What happened to Serena?
•
Nadal headed to semifinals
Day 8
•
Men
|
Women
•
Ford: Sharapova ready to tackle Henin
•
Notebook: Two surprising quarterfinalists
Video

•
Federer defeats Berdych
•
Nadal advances
•
Blake happy with win and Giants' victory
•
Advantage Luke Jensen
Week 1
•
Photo Gallery: Best of Week 1 from Down Under
Day 7
•
Men
|
Women
•
Notebook: Oh, what a night of tennis
Video

•
Weekend madness
•
Henin ready for Sharapova
Day 6
•
Men
|
Women
•
Ford: Stealth Serb pushes Federer to the limit
•
Jensen: Federer's great physical condition
Video

•
Federer defeats Tipsarevic
•
Federer reflects
Day 5
•
Men
|
Women
•
Ford: Mirza's off-court battles
•
Wilansky: Early exit for Roddick
•
Notebook: Henin more confident
Video

•
15 aces for Serena
•
Roddick falls to Kohlschreiber in five sets
Day 4
•
Men
|
Women
•
Ford: Just like home for Americans Down Under
•
Spadea wins and raps

•
Notebook: Top-ranked Huber not on Fed Cup
Video

•
Day 4 highlights
•
Vince Spadea's chicken dance
Day 3
•
Men
|
Women
Video

•
Day 3 highlights
Day 2
•
Men
|
Women
•
Ford: Santoro continues to slice and dice
Day 1
•
Men
|
Women
Video

•
Day 1 highlights
•
2008 Australian Open preview
MOST SENT STORIES ON ESPN.COM