Commentary
In-form Sharapova ready to make a statement versus world No. 1 player
Finally healthy, Maria Sharapova has dismantled everyone in her path Down Under. Next up is world No. 1 Justine Henin, and the Russian beauty is ready to prove her game is as glamorous as her profile.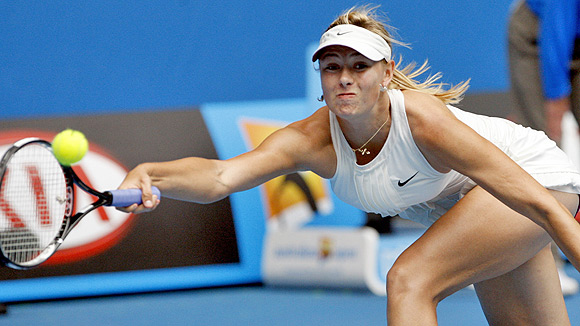 AP Photo/Rob GriffithThough she finally feels confident again, Sharapova has struggled against Justine Henin, defeating her just twice in eight career attempts.
MELBOURNE, Australia -- Maria Sharapova's 2007 season was bookended by two defeats, one eviscerating and one edifying.
Just a few months after reconfirming her place in the game's elite by winning her second Grand Slam event, a businesslike victory over Justine Henin at the 2006 U.S. Open, Sharapova took a 6-1, 6-2 pasting from Serena Williams in the Australian Open final.
With Henin temporarily on leave from the WTA circuit, Sharapova rose to No. 1 after that match despite the loss and remained there for six weeks. Her short stay in the penthouse was only the beginning of a strange seesaw season that ended with a grueling, fascinating skirmish with Henin in the finals of the year-end championships.
Although Sharapova lost that match, as well, she left Madrid uplifted after trading punches with Henin for nearly 3½ hours, feeling certain she belonged in the ring with the No. 1 again.
"The whole week was just a great relief for me," she said. "I was very close to just saying a few weeks before that, 'This was not my year, it's just been really frustrating and difficult.' But I didn't give up. I kept having little setbacks where I would train for a few days and then had to stop for a week.
"You start asking yourself, 'Well, where is this going?' That's not the way to train. That's not the way you're going to become No. 1 again. I just thought of maybe going on vacation. But I kept going. I kept working. And even though I lost that match, I had a really good week. You know, I played really solid tennis. I was able to have a vacation without thinking how the next year's going to start.''
It has started sensationally. The fifth-seeded Sharapova hasn't dropped a set here. She blew past the rejuvenated Lindsay Davenport in what was expected to be a challenging second-round match, and bageled her last two opponents in the second set.
Her coolly clinical dismantling of fellow Russian and 11th seed Elena Dementieva in the round of 16 Sunday was notable given that Dementieva seems to have cured her serving yips for the time being. When Dementieva took a bathroom break, Sharapova spent most of the time on one end of the court bouncing, mimicking serve motions, running laterally and swinging a low-to-high backhand against a shadow opponent. She needed the workout, as Dementieva wasn't putting up much resistance.
Henin is next up on the card, and in what seems like a commonplace occurrence in recent Slams, a match that has final weekend written all over it will be contested in the quarters.
It would be hard to top the drama of the 5-7, 7-5, 6-3 Madrid final that left both women completely spent."It was a big fight," Henin said."It was one of the best matches of my career, I think one of the best matches of last year.
"She's back [at] her best level. I always know to beat her I have to be at my best. She's a real fighter. She never gives up. Very talented. She's a champion. So I know that against her I will have to be a hundred percent all the time."
The Plexicushion surface that replaced the slower Rebound Ace rewards aggressive players in general and Sharapova's thundering, flat ground strokes in particular. She also took judicious chances in the Dementieva match and made good on nine of 14 possible points at the net.
"Right now, her form is more impressive than anyone," said ESPN commentator Mary Carillo."That second-round match against Lindsay was a declaration."
Last year, Sharapova's normally reliable serve deserted her for stretches; she struggled with shoulder and hamstring injuries. But she has the will to muscle her way through trouble, and she did. She rested after a repeat drubbing by Williams in Miami, then reached the semifinals in the French Open, the one Slam where few people give her a chance.
[+] Enlarge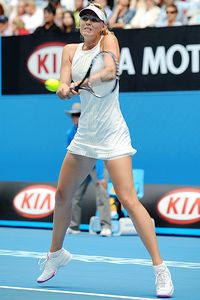 Romeo Gacad/AFP/Getty ImagesAfter an injury-plagued season, Sharapova won just one title last year, her fewest since 2003.
There was a finals appearance on the Wimbledon tune-up in Birmingham, England, followed by a loss to eventual Wimbledon champion Venus Williams in the round of 16, followed by a good U.S. hard-court campaign and a tournament title in San Diego.
But after 18-year-old underdog Agnieszka Radwanska of Poland toppled her in the third round at the U.S. Open, dancing well inside the baseline to pounce on Sharapova's still-vulnerable serve, Sharapova decided she needed a hiatus. She played only one match between the last week of August and the second week of November, a probably ill-advised return in Moscow, where she was evicted in the first match.
No one expected much from her when she showed up in Madrid, and even Sharapova didn't know exactly how she'd react. Now, even though she took weeks off after the championships, she's still riding the momentum the event gave her.
Sharapova has won just two of her eight previous matches with Henin, both on fast hard courts in Miami and New York. Henin has a more diverse bag of tools, and is one of the best in the game at making adjustments on the fly -- solving a problem like Maria, you might say.
"I'm not scared of the long rallies or of the girls hitting the ball hard, because I know I can do it myself," she said. "But I can change the rhythms, can use different things."
Sharapova said she still receives treatment for her shoulder, but she seems extremely solid above the neck right now. She spent her time off late last year working out and doing things she normally can't, like going to a friend's birthday party and buying modern art for her Manhattan Beach, Calif. abode.
Her glamorous profile has been so high for so long that it's hard to remember she's still only 20. The last time Sharapova won a Slam, there was still a girlishness about her. She was so giddy she forgot the U.S. Open trophy had a removable top, and nearly conked herself on the head as it fell off when she was hoisting the cup.
The long, hard stare she delivers in her opponent's direction before the ball toss on her serve -- a ritual made even more famous by Novak Djokovic's cover version -- is mature and predatory. Tuesday's match should be a corker.
Bonnie D. Ford covers tennis and Olympic sports for ESPN.com. E-mail her at bonniedford@aol.com.
Enterprise and Olympic Sports
Bonnie D. Ford is a senior writer for ESPN.com.
SPONSORED HEADLINES
MORE TENNIS HEADLINES
MOST SENT STORIES ON ESPN.COM
2008 AUSTRALIAN OPEN
2008 ChampionsWomen's singles:
Maria Sharapova
Men's singles:
Novak Djokovic
Men's doubles:
Jonathan Erlich and Andy Ram, Israel
Women's doubles:
Alona and Kataryna Bondarenko, Ukraine
Mixed doubles:
Sun Tiantian, China, and Nenad Zimonjic, Serbia
Official scoreboard:
Real-time scores
---
Day 14
•
Djokovic wins Aussie men's title
•
Ford: Concentration, patience key for Djokovic
•
Report: Women's final likely moving to night
Video

•
Record Aussie Open turnout cracks 600,000
•
Djokovic wins first Slam
•
Return of serve helps Djoker
•
Dick Enberg's tribute
Day 13
•
Sharapova wins Aussie women's crown
•
Ford: Life lessons provoke Sharapova to win
Video

•
Sharapova wins title
•
Men's final preview
Day 12
•
Men
•
Ford: Djokovic ends significant run by Federer
•
McEnroe: Djokovic just too strong for Federer
•
Ford: Tennis in need of a competitive final
•
Ubha: Rivalries that could come to fruition
•
Bodo: Dreamy tennis from Sharapova
Video

•
Federer loses
•
Djokovic looks for first Slam
•
Federer talks about loss
•
Women's final preview
Day 11
•
Men
|
Women
•
Ford: Djokovic confident versus Federer
•
Ford: Tsonga shrink's Nadal down to normal size
•
McEnroe: Tsonga a player who's here to stay
•
Tennis.com: Djokovic's golden opportunity
•
Notebook: Aussie teenager turning heads
Video

•
Sharapova defeats Jankovic
•
Ivanovic downs Hantuchova
•
Tsonga stuns Nadal
Day 10
•
Men
|
Women
•
Ford: Hantuchova, Ivanovic have come along
•
Wilansky: Jankovic could be in for a long day
Video

•
Federer defeats Blake
•
Ivanovic down Venus
•
Djokovic cruises past Ferrer
Day 9
•
Men
|
Women
•
Ford: Blake, Federer two of the classiest players
•
Ford: Jankovic defies odds in defeating Williams
•
Notebook: Is Blake's maturation enough?
Video

•
Serena falls to Jankovic
•
What happened to Serena?
•
Nadal headed to semifinals
Day 8
•
Men
|
Women
•
Ford: Sharapova ready to tackle Henin
•
Notebook: Two surprising quarterfinalists
Video

•
Federer defeats Berdych
•
Nadal advances
•
Blake happy with win and Giants' victory
•
Advantage Luke Jensen
Week 1
•
Photo Gallery: Best of Week 1 from Down Under
Day 7
•
Men
|
Women
•
Notebook: Oh, what a night of tennis
Video

•
Weekend madness
•
Henin ready for Sharapova
Day 6
•
Men
|
Women
•
Ford: Stealth Serb pushes Federer to the limit
•
Jensen: Federer's great physical condition
Video

•
Federer defeats Tipsarevic
•
Federer reflects
Day 5
•
Men
|
Women
•
Ford: Mirza's off-court battles
•
Wilansky: Early exit for Roddick
•
Notebook: Henin more confident
Video

•
15 aces for Serena
•
Roddick falls to Kohlschreiber in five sets
Day 4
•
Men
|
Women
•
Ford: Just like home for Americans Down Under
•
Spadea wins and raps

•
Notebook: Top-ranked Huber not on Fed Cup
Video

•
Day 4 highlights
•
Vince Spadea's chicken dance
Day 3
•
Men
|
Women
Video

•
Day 3 highlights
Day 2
•
Men
|
Women
•
Ford: Santoro continues to slice and dice
Day 1
•
Men
|
Women
Video

•
Day 1 highlights
•
2008 Australian Open preview