Federer downs Blake in straight sets, to meet Djokovic in semifinals
Updated:
January 23, 2008, 5:01 PM ET
ESPN.com news services
MELBOURNE, Australia -- Roger Federer has lots of reasons to like James Blake.
The 12th-ranked American has a reputation as a nice guy away from the court and a good sportsman on it. More importantly for Federer, Blake always puts up a good fight against the Swiss star -- then loses.
Top-ranked Federer ran his record against Blake to 8-0 and advanced to the Australian Open semifinals with a 7-5, 7-6 (5), 6-4 victory Wednesday.
Federer is seeking to win here for the third straight year and pull within one of Pete Sampras' record of 14 Grand Slam titles. He's also one step away from his 11th consecutive Grand Slam final and has won 19 matches in a row at Melbourne Park.
Down Under Dominance
Longest winning streaks in the Open Era (post-1968) at the Australian Open.
Player
Wins
Titles
Streak duration
*Andre Agassi
26
2001-01, 2003
2004 semifinal
Ivan Lendl
20
1989-90
1991 final
**Roger Federer
19
2006-07
2008 semifinals
Jim Courier
18
1992-93
1994 semifinal
***Stefan Edberg
17
1985, 1987
1988 semifinal
Mats Willander
17
1983-84
1985 final
* - Agassi did not play in 2002.
** - Current streak.
*** - Open was not held in 1986 (tourney moved to January starting in 1987)
"It's great to be on top of the game for so long and be compared to the greats like Rod Laver and Sampras,'' Federer said.
He's not too worried about younger players stealing a little of the spotlight, either.
"I'm looking at history, looking at my own game,'' Federer said.
He next faces No. 3 Novak Djokovic, who beat No. 5 David Ferrer 6-0, 6-3, 7-5 to join two Serbian women in the semifinals. Ana Ivanovic ousted Venus Williams 7-6 (3), 6-4 on Wednesday, while Jelena Jankovic beat Serena Williams a day earlier.
The same three players reached the French Open semifinals last year on clay, proving they can win anywhere. Djokovic also made the Wimbledon semifinals and was runner-up to Federer at the U.S. Open.
U.S. flags were outnumbered by Swiss ones on a perfect night for tennis, and Federer had to be nearly perfect to beat Blake, who used his powerful forehand to keep the Swiss star from taking control of points as much he prefers.
"Playing against James, it's always great fun,'' said Federer, dressed in all-black again for a night match. "He's dangerous when he's even behind in the game. He made some incredible shots.''
Blake's feelings about Federer were similar -- to a point.
"He seems like one of the guys in the locker room,'' Blake said. "Then you go out there, he beats you. You come back in the locker room and he's one of the guys.''
This was high-quality tennis, and the fans in packed Rod Laver Arena were on the edge of their seats as neither player gave an inch.
[+] Enlarge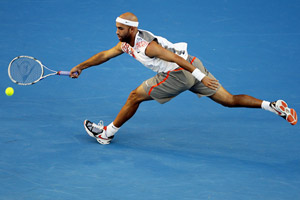 Mark Dadswell/Getty ImagesBlake pushed Federer to the brink in the first two sets of Wednesday's Australian Open quarterfinal, but it wasn't enough.
With a tiebreaker looming in the first set, Federer was at his best as usual under pressure, breaking Blake as he served at 5-6.
Blake saved two set points while serving at 4-5 in the second set and three more after falling behind 6-2 in the tiebreaker. But there are only so many escapes possible against Federer, who finally cashed his sixth set point.
Federer was cruising at 5-1 in the third set when Blake, refusing to yield, ran off three straight games. Federer finally held to finish it off.
"I really went in thinking I had a good chance to win,'' Blake said. "I thought I played pretty well. But he came up with some of his best at the right times, and that was the difference.''
Earlier Wednesday, Djokovic missed four match points and was broken when serving for victory but recovered to set up a semifinal against Federer.
Ferrer had won three of their previous five meetings but a near flawless Djokovic was in a different class early on, racing through the first two sets and taking a 5-3 lead in the third.
As the nerves set in, however, Ferrer saved four match points in the ninth game and broke back for 5-5 but Djokovic broke again and saved a break point before serving out for victory to reach his fourth Grand Slam semifinal in a row.
Toward the end, Djokovic yelled at the crowd for shouting while he tried to serve.
"There's no excuse for that. I was very nervous and was behaving very badly, I'm very sorry about that," he later said. "Sometimes it's hard to control our emotions on the court. I'm very happy to get through."
Djokovic completes a set of Grand Slam semifinals appearances, his best performance remaining his run to the U.S. Open final.
Australian Open scores
In-progress scores and results from every match from both sides of the draw throughout the event. Complete scores
With a group of teenage girls squealing when he won big points, Djokovic was at his best, pounding his big serve and mixing up his baseline game.
Ferrer had only four winners to 11 unforced errors in the 23-minute first set as Djokovic won 28 points to 11.
About the only distraction came early in the first set when it appeared that a wailing baby disrupted Djokovic's concentration during a point. "Please give our crying friend a bottle," Chair umpire Steve Ullrich announced.
Ferrer picked up his game in the second set and had double break point as Djokovic served at 2-2. But the Serbian ripped three aces and another serve that never came back to finish off the threat, then broke in the next game and held serve the rest of the set.
Ferrer fended off four match points while serving at 3-5 in a game that went to deuce seven times, then finally converted a break point for the first time in eight attempts to get back on serve in the third.
Djokovic quickly quashed any thoughts of a comeback, breaking Ferrer to go ahead 6-5. After showing some nerves to fall behind at 30-40, he finished with an ace, an overhead winner and a backhand pass than landed on the baseline.
Information from The Associated Press and Reuters was used in this report.
SPONSORED HEADLINES
MORE TENNIS HEADLINES
MOST SENT STORIES ON ESPN.COM
2008 AUSTRALIAN OPEN
2008 ChampionsWomen's singles:
Maria Sharapova
Men's singles:
Novak Djokovic
Men's doubles:
Jonathan Erlich and Andy Ram, Israel
Women's doubles:
Alona and Kataryna Bondarenko, Ukraine
Mixed doubles:
Sun Tiantian, China, and Nenad Zimonjic, Serbia
Official scoreboard:
Real-time scores
---
Day 14
•
Djokovic wins Aussie men's title
•
Ford: Concentration, patience key for Djokovic
•
Report: Women's final likely moving to night
Video

•
Record Aussie Open turnout cracks 600,000
•
Djokovic wins first Slam
•
Return of serve helps Djoker
•
Dick Enberg's tribute
Day 13
•
Sharapova wins Aussie women's crown
•
Ford: Life lessons provoke Sharapova to win
Video

•
Sharapova wins title
•
Men's final preview
Day 12
•
Men
•
Ford: Djokovic ends significant run by Federer
•
McEnroe: Djokovic just too strong for Federer
•
Ford: Tennis in need of a competitive final
•
Ubha: Rivalries that could come to fruition
•
Bodo: Dreamy tennis from Sharapova
Video

•
Federer loses
•
Djokovic looks for first Slam
•
Federer talks about loss
•
Women's final preview
Day 11
•
Men
|
Women
•
Ford: Djokovic confident versus Federer
•
Ford: Tsonga shrink's Nadal down to normal size
•
McEnroe: Tsonga a player who's here to stay
•
Tennis.com: Djokovic's golden opportunity
•
Notebook: Aussie teenager turning heads
Video

•
Sharapova defeats Jankovic
•
Ivanovic downs Hantuchova
•
Tsonga stuns Nadal
Day 10
•
Men
|
Women
•
Ford: Hantuchova, Ivanovic have come along
•
Wilansky: Jankovic could be in for a long day
Video

•
Federer defeats Blake
•
Ivanovic down Venus
•
Djokovic cruises past Ferrer
Day 9
•
Men
|
Women
•
Ford: Blake, Federer two of the classiest players
•
Ford: Jankovic defies odds in defeating Williams
•
Notebook: Is Blake's maturation enough?
Video

•
Serena falls to Jankovic
•
What happened to Serena?
•
Nadal headed to semifinals
Day 8
•
Men
|
Women
•
Ford: Sharapova ready to tackle Henin
•
Notebook: Two surprising quarterfinalists
Video

•
Federer defeats Berdych
•
Nadal advances
•
Blake happy with win and Giants' victory
•
Advantage Luke Jensen
Week 1
•
Photo Gallery: Best of Week 1 from Down Under
Day 7
•
Men
|
Women
•
Notebook: Oh, what a night of tennis
Video

•
Weekend madness
•
Henin ready for Sharapova
Day 6
•
Men
|
Women
•
Ford: Stealth Serb pushes Federer to the limit
•
Jensen: Federer's great physical condition
Video

•
Federer defeats Tipsarevic
•
Federer reflects
Day 5
•
Men
|
Women
•
Ford: Mirza's off-court battles
•
Wilansky: Early exit for Roddick
•
Notebook: Henin more confident
Video

•
15 aces for Serena
•
Roddick falls to Kohlschreiber in five sets
Day 4
•
Men
|
Women
•
Ford: Just like home for Americans Down Under
•
Spadea wins and raps

•
Notebook: Top-ranked Huber not on Fed Cup
Video

•
Day 4 highlights
•
Vince Spadea's chicken dance
Day 3
•
Men
|
Women
Video

•
Day 3 highlights
Day 2
•
Men
|
Women
•
Ford: Santoro continues to slice and dice
Day 1
•
Men
|
Women
Video

•
Day 1 highlights
•
2008 Australian Open preview