Commentary
Tsonga tsunami continues with rout of Nadal
With an outrageous blend of power and guile, unseeded Jo-Wilfried Tsonga rendered Nadal one of the beat downs of his professional career.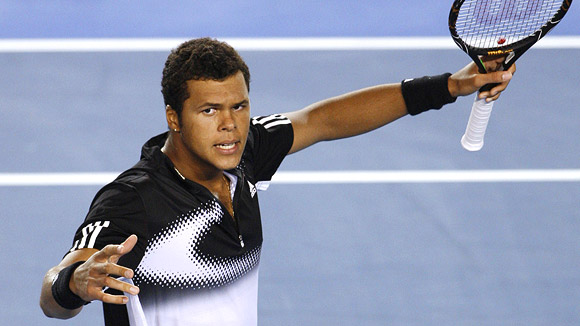 AP Photo/Dita AlangkaraTsonga was cool, calm and collected in his first Grand Slam semifinal. Regardless of what happens in the Aussie final, the Frenchman will break into the top 10.
MELBOURNE, Australia -- Remember the old joke about how you fit an elephant into the glove compartment? The answer: Look at him through the wrong end of the binoculars, pick him up with a tweezers and move him.
No one would ever mistake the swift and agile Rafael Nadal for a lumbering pachyderm, but he is as big an animal as roams the tennis jungle. Thursday night, Jo-Wilfried Tsonga somehow shrunk him down to normal size.
The 22-year-old from France continued his stampede through the Australian Open by outmuscling, outmaneuvering and outwitting the world No. 2 in the semifinal with an outrageous blend of power and touch. Tsonga's creative weaponry was video-game perfect, from lashing groundstrokes to spinning drop volleys to change-of-pace serves to contortionist angled shots at the net.
"He's the real deal," said ESPN analyst Darren Cahill after watching Tsonga's 6-2, 6-3, 6-2 domination of Nadal. "He's not someone who's going to be a flashy finalist here that you never hear from again. He's going to be entrenched in the top 10. And if he plays like this Sunday, it's going to take a hell of an effort to stop him."
There was a reason Nadal only made a dozen unforced errors in the entire match. The man who gets to everything found most of what Tsonga threw at him out of reach Thursday. As one sign in the crowd proclaimed, it was a "Tsonga tsunami" that washed away any chance Nadal would finally get a chance to contest a Grand Slam hard-court final against Roger Federer.
The crowd of 15,000 at Rod Laver Arena didn't seem to mind, giving Tsonga standing ovations at the end of each of the first two sets. But Tsonga stayed self-contained until the very end. His body actually appeared to go limp momentarily after he hit another perfect ace out wide on match point, but he recovered and began skipping around his end of the court with fists held high.
"I felt like I couldn't do anything wrong, like I wasn't going to make any mistakes, like I could put all the strength I wanted into the ball and I wasn't going to blow it," Tsonga told French-speaking reporters, clear-eyed but somewhat shell-shocked by his own prowess. "Today I played the match everyone dreams of having in their life."
Nadal gave Tsonga a tip of the bandana and said there was nothing he could have done. "We have to accept today," he said. "He played unbelievable."
When it was suggested that Tsonga was lucky, Nadal shook his head.
"He's not lucky, no," Nadal said. "Not lucky when he beat [Andy] Murray, when he beat [Richard] Gasquet, when he beat [Mikhail] Youzhny. It's not lucky." But he did add, "Is not his real level. Sure, he can play like this, but not every week."
Tsonga is constantly compared to look-alike Muhammad Ali. But as reporters probed for an explanation of his superlative play, his who-knows shrug was more reminiscent of another icon, Michael Jordan, in his prime.
Asked if he had made an Ali-like statement in the match, Tsonga said, "Maybe in my own way. I said, 'I'm here. I'm not stealing this. You're going to have to beat me.'"
Bonnie D. Ford covers tennis and Olympic sports for ESPN.com. E-mail her at bonniedford@aol.com.
Enterprise and Olympic Sports
Bonnie D. Ford is a senior writer for ESPN.com.
SPONSORED HEADLINES
MORE TENNIS HEADLINES
MOST SENT STORIES ON ESPN.COM
2008 AUSTRALIAN OPEN
2008 ChampionsWomen's singles:
Maria Sharapova
Men's singles:
Novak Djokovic
Men's doubles:
Jonathan Erlich and Andy Ram, Israel
Women's doubles:
Alona and Kataryna Bondarenko, Ukraine
Mixed doubles:
Sun Tiantian, China, and Nenad Zimonjic, Serbia
Official scoreboard:
Real-time scores
---
Day 14
•
Djokovic wins Aussie men's title
•
Ford: Concentration, patience key for Djokovic
•
Report: Women's final likely moving to night
Video

•
Record Aussie Open turnout cracks 600,000
•
Djokovic wins first Slam
•
Return of serve helps Djoker
•
Dick Enberg's tribute
Day 13
•
Sharapova wins Aussie women's crown
•
Ford: Life lessons provoke Sharapova to win
Video

•
Sharapova wins title
•
Men's final preview
Day 12
•
Men
•
Ford: Djokovic ends significant run by Federer
•
McEnroe: Djokovic just too strong for Federer
•
Ford: Tennis in need of a competitive final
•
Ubha: Rivalries that could come to fruition
•
Bodo: Dreamy tennis from Sharapova
Video

•
Federer loses
•
Djokovic looks for first Slam
•
Federer talks about loss
•
Women's final preview
Day 11
•
Men
|
Women
•
Ford: Djokovic confident versus Federer
•
Ford: Tsonga shrink's Nadal down to normal size
•
McEnroe: Tsonga a player who's here to stay
•
Tennis.com: Djokovic's golden opportunity
•
Notebook: Aussie teenager turning heads
Video

•
Sharapova defeats Jankovic
•
Ivanovic downs Hantuchova
•
Tsonga stuns Nadal
Day 10
•
Men
|
Women
•
Ford: Hantuchova, Ivanovic have come along
•
Wilansky: Jankovic could be in for a long day
Video

•
Federer defeats Blake
•
Ivanovic down Venus
•
Djokovic cruises past Ferrer
Day 9
•
Men
|
Women
•
Ford: Blake, Federer two of the classiest players
•
Ford: Jankovic defies odds in defeating Williams
•
Notebook: Is Blake's maturation enough?
Video

•
Serena falls to Jankovic
•
What happened to Serena?
•
Nadal headed to semifinals
Day 8
•
Men
|
Women
•
Ford: Sharapova ready to tackle Henin
•
Notebook: Two surprising quarterfinalists
Video

•
Federer defeats Berdych
•
Nadal advances
•
Blake happy with win and Giants' victory
•
Advantage Luke Jensen
Week 1
•
Photo Gallery: Best of Week 1 from Down Under
Day 7
•
Men
|
Women
•
Notebook: Oh, what a night of tennis
Video

•
Weekend madness
•
Henin ready for Sharapova
Day 6
•
Men
|
Women
•
Ford: Stealth Serb pushes Federer to the limit
•
Jensen: Federer's great physical condition
Video

•
Federer defeats Tipsarevic
•
Federer reflects
Day 5
•
Men
|
Women
•
Ford: Mirza's off-court battles
•
Wilansky: Early exit for Roddick
•
Notebook: Henin more confident
Video

•
15 aces for Serena
•
Roddick falls to Kohlschreiber in five sets
Day 4
•
Men
|
Women
•
Ford: Just like home for Americans Down Under
•
Spadea wins and raps

•
Notebook: Top-ranked Huber not on Fed Cup
Video

•
Day 4 highlights
•
Vince Spadea's chicken dance
Day 3
•
Men
|
Women
Video

•
Day 3 highlights
Day 2
•
Men
|
Women
•
Ford: Santoro continues to slice and dice
Day 1
•
Men
|
Women
Video

•
Day 1 highlights
•
2008 Australian Open preview