Commentary
Unflappable Tsonga puts on the show of his lifetime
Jo-Wilfried Tsonga took advantage of the biggest moment of his life, and now he's an Aussie Open finalist.
Rafael Nadal entered his matchup with Jo-Wilfried Tsonga without conceding a single set. Nadal, a three-time Grand Slam champion, was poised to reach his first major hard court final. Tsonga was making his first foray into a semifinal of this magnitude.
Nadal is one of the quickest, most relentless players on tour, and he had yet to be physically tested. The Spaniard has played in big-time matches at prestigious events, while Tsonga had never experienced pressure like this. Though no one would have ever known after watching this match.
It wasn't so much that Tsonga defeated Nadal as it was the manner in which he deliberately took care of business, executing shot after shot with perfection in his 6-2, 6-3, 6-2 victory.
On the surface, entering the encounter, it was plausible Tsonga could win, but the reality was slim. His shellacking of the world No. 2 was shocking, and how he maintained that level of play throughout the entire match was astonishing.
What is encouraging for Tsonga, aside from the actual match result, is that he did nothing out of his element. He's more than capable of producing these shots. But to play at that level, physically and mentally, is an ominous sign for anyone who steps in his path.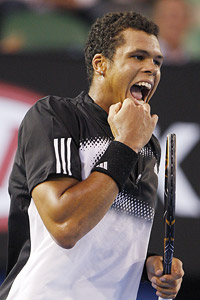 AP Photo/Andrew BrownbillJo-Wilfried Tsonga had never been past the fourth round of a Grand Slam. But he hit 17 aces and dominated No. 2 Rafael Nadal to reach the Australian Open final on Thursday.
The Frenchman has an unflappable disposition. His frame of mind is to go out and dictate play from the onset. It worked to perfection, dismantling a player whose high expectations were dashed in shocking fashion.
Tsonga is an emotional player, but he's able to keep it in check. He is endearing and has an infectious personality, and the crowd was behind him all the way. To maintain the proverbial zone -- physically and mentally -- for that duration is something that happens only once in a while.
He's also extremely fluid, a competitor devoid of any weaknesses. Not only is Tsonga explosive off both wings, but his touch volleys and all-around guile only add to his package. There's no telling how good he can become.
In the past few years, there's been an uncanny run of unheralded players to reach the Australian Open final: Arnaud Clement, Rainer Schuettler, Marcos Baghdatis, even Fernando Gonzalez last year. He was the 10th seed, but there was no indication the Chilean could make that run. Their one commonality, though, is none have ever been back -- to any major final.
Tsonga is different. He may or may not win this title, but it's difficult to fathom he won't be a familiar face deep into Grand Slams as the years go on. He has that X factor: the proficiency to play intelligent, assertive tennis.
The one caveat for the Frenchman is to stay injury-free. He's only 22, but has already been marred by a herniated disc and shoulder and abdominal injuries. If he maintains his health, the newest Australian Open finalist is going to be a perennial top-10 player, at the very least.
As much as Tsonga can now revel in the biggest match of his life, Nadal has to be feeling despondent. His plight in hard court Grand Slams has been dissected for a few years, and his hopes of ridding that monkey were again derailed.
But this encounter was not about Nadal taking a step back. It was the story of a relatively unknown shot-maker who took five steps forward. We saw the emergence of a new star, a guy with a big-time game who took advantage of the grandest moment of his life.
Patrick McEnroe, the U.S. Davis Cup captain, provides analysis for ESPN.com during the tennis season.

Tennis analyst
Patrick McEnroe, who enjoyed success playing tennis on both the collegiate and professional levels for more than 10 years, serves as a tennis analyst for ESPN. He has also called play-by-play for select events.
2008 AUSTRALIAN OPEN
2008 ChampionsWomen's singles:
Maria Sharapova
Men's singles:
Novak Djokovic
Men's doubles:
Jonathan Erlich and Andy Ram, Israel
Women's doubles:
Alona and Kataryna Bondarenko, Ukraine
Mixed doubles:
Sun Tiantian, China, and Nenad Zimonjic, Serbia
Official scoreboard:
Real-time scores
---
Day 14
•
Djokovic wins Aussie men's title
•
Ford: Concentration, patience key for Djokovic
•
Report: Women's final likely moving to night
Video

•
Record Aussie Open turnout cracks 600,000
•
Djokovic wins first Slam
•
Return of serve helps Djoker
•
Dick Enberg's tribute
Day 13
•
Sharapova wins Aussie women's crown
•
Ford: Life lessons provoke Sharapova to win
Video

•
Sharapova wins title
•
Men's final preview
Day 12
•
Men
•
Ford: Djokovic ends significant run by Federer
•
McEnroe: Djokovic just too strong for Federer
•
Ford: Tennis in need of a competitive final
•
Ubha: Rivalries that could come to fruition
•
Bodo: Dreamy tennis from Sharapova
Video

•
Federer loses
•
Djokovic looks for first Slam
•
Federer talks about loss
•
Women's final preview
Day 11
•
Men
|
Women
•
Ford: Djokovic confident versus Federer
•
Ford: Tsonga shrink's Nadal down to normal size
•
McEnroe: Tsonga a player who's here to stay
•
Tennis.com: Djokovic's golden opportunity
•
Notebook: Aussie teenager turning heads
Video

•
Sharapova defeats Jankovic
•
Ivanovic downs Hantuchova
•
Tsonga stuns Nadal
Day 10
•
Men
|
Women
•
Ford: Hantuchova, Ivanovic have come along
•
Wilansky: Jankovic could be in for a long day
Video

•
Federer defeats Blake
•
Ivanovic down Venus
•
Djokovic cruises past Ferrer
Day 9
•
Men
|
Women
•
Ford: Blake, Federer two of the classiest players
•
Ford: Jankovic defies odds in defeating Williams
•
Notebook: Is Blake's maturation enough?
Video

•
Serena falls to Jankovic
•
What happened to Serena?
•
Nadal headed to semifinals
Day 8
•
Men
|
Women
•
Ford: Sharapova ready to tackle Henin
•
Notebook: Two surprising quarterfinalists
Video

•
Federer defeats Berdych
•
Nadal advances
•
Blake happy with win and Giants' victory
•
Advantage Luke Jensen
Week 1
•
Photo Gallery: Best of Week 1 from Down Under
Day 7
•
Men
|
Women
•
Notebook: Oh, what a night of tennis
Video

•
Weekend madness
•
Henin ready for Sharapova
Day 6
•
Men
|
Women
•
Ford: Stealth Serb pushes Federer to the limit
•
Jensen: Federer's great physical condition
Video

•
Federer defeats Tipsarevic
•
Federer reflects
Day 5
•
Men
|
Women
•
Ford: Mirza's off-court battles
•
Wilansky: Early exit for Roddick
•
Notebook: Henin more confident
Video

•
15 aces for Serena
•
Roddick falls to Kohlschreiber in five sets
Day 4
•
Men
|
Women
•
Ford: Just like home for Americans Down Under
•
Spadea wins and raps

•
Notebook: Top-ranked Huber not on Fed Cup
Video

•
Day 4 highlights
•
Vince Spadea's chicken dance
Day 3
•
Men
|
Women
Video

•
Day 3 highlights
Day 2
•
Men
|
Women
•
Ford: Santoro continues to slice and dice
Day 1
•
Men
|
Women
Video

•
Day 1 highlights
•
2008 Australian Open preview
MOST SENT STORIES ON ESPN.COM