Djokovic beats Federer, will play Tsonga for Aussie Open title
Updated:
January 25, 2008, 5:57 PM ET
Associated Press
MELBOURNE, Australia -- Roger Federer is the first to admit he pays a steep price for all his success. One by one, players try to knock him off, and with each match and each victory expectations grow.
"Of course, I've created a monster," he said. "So I know I need to always win every tournament."
For one rare night, the monster was tamed.
Federer lost to Novak Djokovic 7-5, 6-3, 7-6 (5) Friday in the Australian Open semifinals, leaving the top-ranked Swiss one match short of making an 11th consecutive Grand Slam final.
"Winning every other week, you know, lose a set and people say I'm playing bad," Federer said. "So it's my own mistake, I guess."
Djokovic will now play unseeded Frenchman Jo-Wilfried Tsonga on Sunday, setting up one unlikely title match. The women settle their championship Saturday when Maria Sharapova faces Ana Ivanovic.
Djokovic was 1-6 against Federer going into the match, losing most recently in the U.S. Open final. Federer was in his 15th straight Grand Slam semifinal.
[+] Enlarge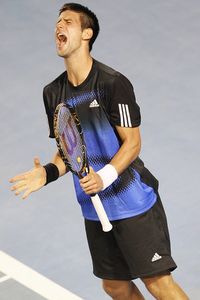 Peter Parks/Getty ImagesNovak Djokovic was down 3-5 in the first set, but roared back to win the set and his Australian Open semifinal with Roger Federer.
"I am just very amazed I coped with the pressure today," Djokovic said. "In the most important moments, I played my best tennis. It's just amazing, indescribable, to beat the No. 1 player of the world, one of the best players this sport has ever had, in straight sets."
Rafael Nadal, the only player to beat Federer in the previous 10 majors, was thumped 6-2, 6-3, 6-2 by Tsonga, whose looks have been likened to Muhammad Ali's and his game with Yannick Noah's.
Djokovic, seeded third, will be a big favorite Sunday after making the semifinals at four straight majors and having been to the U.S. Open final. Tsonga is in his fifth Grand Slam and past the fourth round for the first time.
Djokovic said he drew on his experience in his U.S. Open final loss to Federer, knowing the pressure was mounting on his rival after such an imperious run.
"As one of the top players in the world, you always have a lot of expectations and a lot of pressure on your back," Djokovic said. "He's a special case because he's expected to win everywhere he goes on any surface."
Djokovic went out with the same intent against Federer that Tsonga had against Nadal. The loss for Nadal was his worst since the 2004 U.S. Open -- Federer's was his worst since the 2004 French Open.
Australian Open scores
In-progress scores and results from every match from both sides of the draw throughout the event. Complete scores
Federer had the chance to serve for the first set at 5-3, but missed. His missed some touch volleys and he missed some forehands that usually are his trademark.
Djokovic broke twice to win that set and twice more to get to 5-1 in the second in an 11-game sequence that changed the match.
"I was able to deal with the pressure in the best possible way. And if you do that against the best player in the world, you should get the positive outcome," Djokovic said. "I'm very happy that in crucial moments my serve was serving me, and it was probably my best element in the game."
The 20-year-old Serb said it's important for tennis to shake things up.
"The dominance of Federer and Nadal was just amazing the last couple of years," he said. "So I think it's great for tennis lovers all around the world to see something new."
[+] Enlarge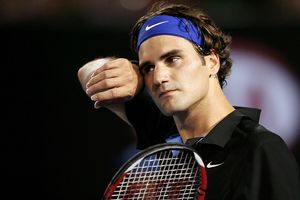 Clive Brunskill/Getty ImagesRoger Federer's loss to Novak Djokovic was his first straight sets defeat at a Grand Slam since his loss to Gustavo Kuerten in the 2004 French Open.
Federer's last straight-sets losses at the Australian Open were in the first rounds in both 2000 and 2001 to Arnaud Clement. Clement and fellow Frenchman Michael Llodra are in the doubles final Saturday against Israelis Jonathan Erlich and Andy Ram.
That doubles final follows the women's championship between No. 5 Sharapova and No. 4 Ivanovic, Djokovic's Serbian compatriot.
Sharapova, who lost last year's final 6-1, 6-2 to Serena Williams, is favored to win a third Grand Slam title. She has not dropped a set in six wins, including a quarterfinal victory that ended top-ranked Justine Henin's 32-match winning streak and a semifinal against No. 3 Jelena Jankovic.
Ivanovic is in her second final in four majors after a three-set win over Daniela Hantuchova, when she rallied after losing the first eight games.
The women's doubles champions were crowned Friday when Ukrainian sisters Alona and Kateryna Bondarenko downed Victoria Azarenka and Shahar Peer a 2-6, 6-1, 6-4.
Federer had been seeking his third consecutive Australian title. A victory would have pulled him within one championship of Pete Sampras' record of 14 majors.
His preparation was hampered by a stomach illness that forced him out of his regular tuneup at the Kooyong exhibition event, and he never appeared at his authoritative best.
He was taken to 10-8 in the fifth set but was able to survive the third round over another Serb, Janko Tipsarevic.
But Djokovic never let the Swiss get settled. He reeled off 13 aces and 50 winners and held serve when a break would have changed momentum.
Not holding serve for the first set "cost me the match," Federer said.
"You can't always play your best," Federer said. "I've won, many, many times when I didn't expect myself to win. So tonight is one of those nights where you're a little bit disappointed. But it's going to go over and I'm going to look forward to the rest of the year."
Federer rubbed his eyes frequently and was subdued in his news conference.
"There is no doubt I have played better before," he said.
Djokovic said he knows he's expected to win the final, based on experience and rankings. Tsonga was ranked No. 43 at the end of last year.
"Tsonga is coming up," he said. "He's just an amazing athlete and has been performing some impressive tennis in these two weeks, as I did. I didn't lose even a set here in Australian Open, which is amazing. Obviously, we will not have anything to lose. It's finals, so anything can happen."

Copyright 2008 by The Associated Press
2008 AUSTRALIAN OPEN
2008 ChampionsWomen's singles:
Maria Sharapova
Men's singles:
Novak Djokovic
Men's doubles:
Jonathan Erlich and Andy Ram, Israel
Women's doubles:
Alona and Kataryna Bondarenko, Ukraine
Mixed doubles:
Sun Tiantian, China, and Nenad Zimonjic, Serbia
Official scoreboard:
Real-time scores
---
Day 14
•
Djokovic wins Aussie men's title
•
Ford: Concentration, patience key for Djokovic
•
Report: Women's final likely moving to night
Video

•
Record Aussie Open turnout cracks 600,000
•
Djokovic wins first Slam
•
Return of serve helps Djoker
•
Dick Enberg's tribute
Day 13
•
Sharapova wins Aussie women's crown
•
Ford: Life lessons provoke Sharapova to win
Video

•
Sharapova wins title
•
Men's final preview
Day 12
•
Men
•
Ford: Djokovic ends significant run by Federer
•
McEnroe: Djokovic just too strong for Federer
•
Ford: Tennis in need of a competitive final
•
Ubha: Rivalries that could come to fruition
•
Bodo: Dreamy tennis from Sharapova
Video

•
Federer loses
•
Djokovic looks for first Slam
•
Federer talks about loss
•
Women's final preview
Day 11
•
Men
|
Women
•
Ford: Djokovic confident versus Federer
•
Ford: Tsonga shrink's Nadal down to normal size
•
McEnroe: Tsonga a player who's here to stay
•
Tennis.com: Djokovic's golden opportunity
•
Notebook: Aussie teenager turning heads
Video

•
Sharapova defeats Jankovic
•
Ivanovic downs Hantuchova
•
Tsonga stuns Nadal
Day 10
•
Men
|
Women
•
Ford: Hantuchova, Ivanovic have come along
•
Wilansky: Jankovic could be in for a long day
Video

•
Federer defeats Blake
•
Ivanovic down Venus
•
Djokovic cruises past Ferrer
Day 9
•
Men
|
Women
•
Ford: Blake, Federer two of the classiest players
•
Ford: Jankovic defies odds in defeating Williams
•
Notebook: Is Blake's maturation enough?
Video

•
Serena falls to Jankovic
•
What happened to Serena?
•
Nadal headed to semifinals
Day 8
•
Men
|
Women
•
Ford: Sharapova ready to tackle Henin
•
Notebook: Two surprising quarterfinalists
Video

•
Federer defeats Berdych
•
Nadal advances
•
Blake happy with win and Giants' victory
•
Advantage Luke Jensen
Week 1
•
Photo Gallery: Best of Week 1 from Down Under
Day 7
•
Men
|
Women
•
Notebook: Oh, what a night of tennis
Video

•
Weekend madness
•
Henin ready for Sharapova
Day 6
•
Men
|
Women
•
Ford: Stealth Serb pushes Federer to the limit
•
Jensen: Federer's great physical condition
Video

•
Federer defeats Tipsarevic
•
Federer reflects
Day 5
•
Men
|
Women
•
Ford: Mirza's off-court battles
•
Wilansky: Early exit for Roddick
•
Notebook: Henin more confident
Video

•
15 aces for Serena
•
Roddick falls to Kohlschreiber in five sets
Day 4
•
Men
|
Women
•
Ford: Just like home for Americans Down Under
•
Spadea wins and raps

•
Notebook: Top-ranked Huber not on Fed Cup
Video

•
Day 4 highlights
•
Vince Spadea's chicken dance
Day 3
•
Men
|
Women
Video

•
Day 3 highlights
Day 2
•
Men
|
Women
•
Ford: Santoro continues to slice and dice
Day 1
•
Men
|
Women
Video

•
Day 1 highlights
•
2008 Australian Open preview