Commentary
Federer loss significant, but what are long-term effects?
Roger Federer inexplicably lost Down Under, but is his No. 1 ranking in jeopardy?
After the shocking semifinal just 24 hours prior, where Jo-Wilfried Tsonga stunned the No. 2 player in the world, Rafael Nadal, it seemed nothing could have upstaged that spectacle -- or could it?
Novak Djokovic outplayed, outhustled and outmaneuvered Roger Federer in every facet, ending a remarkable run by the world's top player Down Under. Djokovic's growth and maturity from last September's U.S. Open final was palpable. He counterpunched intelligently and was aggressive from the onset.
He also attacked Federer's second serve consistently, applying relentless pressure on the two-time defending champion, not allowing him easy games. The Serb took advantage of the slightly slower Plexicushion Courts -- just introduced this season -- which subsequently neutralized Federer's always-aggressive game. A frustrated Federer was flustered when his game did not have the same effect on Djokovic as it does with other players.
The slow surface hindered his attacking style and that manifested itself throughout the encounter.
This was one of the few times the Swiss looked like the slower player on the court. And that, in large part, is due to Djokovic's phenomenal court coverage.
Federer tried to get himself motivated in this match. His second-set letdown really hurt after forfeiting a break, and eventually the set, in the first. By the time the third rolled around, though looking rejuvenated, it was too late for the two-time defending champ.
[+] Enlarge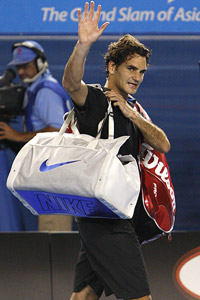 AP Photo/Rick StevensRoger Federer was broken four times in three sets in succumbing to Novak Djokovic.
The ramifications of this match are significant: For the first time in five years, there's doubt as to who the year-end No. 1 player is going to be. Federer will unquestionably win more Grand Slam titles and likely break Pete Sampras' all-time record of 14 majors, but it's going to be an arduous process.
Federer, though, now has time to sit back, take it in and adjust. He's rarely in this position. In 2005, he lost to Marat Safin in the exact same situation: the Australian Open semifinals. The Swiss won two Slams that year. He'll enter Wimbledon as the predominant favorite and the U.S. Open will suit his game far better than the Aussie did.
It's going to be an exciting year. Players realize that beating Federer at prestigious events is no longer a myth. Nadal is likely to dominate on clay again and will be a heavy favorite at the French. Djokovic has shown he's adept on any surface -- proven by four consecutive Slam semifinals. The emergence of Tsonga is intriguing along with other players: Andy Roddick, Nikolay Davydenko, David Ferrer, et al who occupy the top 10.
The idea that Federer will dominate as he has the last four years is far-fetched. He's still the dominant player on tour, but his competitors now have confidence he is beatable and capable of off days.
So then, who is the most likely player to pose as Federer's most significant threat to his stranglehold atop the rankings? That's the $54,000 question.
Because there are more hard-court tournaments, the slight edge has to go to the Serb. But the clay season is not far behind and Nadal can make up ground -- especially if Federer goes out early in any of these events. The Spaniard is a viable player on hard courts, too, and had a shot at the Australian Open until running into the buzz saw, Tsonga.
For now, though, Federer is No. 1 and there's no reason to think that's going to change in the immediate future. There are myriad reasons to explain why he didn't play up to his standard level of excellence versus Djokovic -- the courts, the fact that he came in to the tournament just getting over a virus -- but it was the manner in which the Serb handled the pressure and then handled his opponent that produced this stunning upset.
Patrick McEnroe, the U.S. Davis Cup captain, provides analysis for ESPN.com during the tennis season.

Tennis analyst
Patrick McEnroe, who enjoyed success playing tennis on both the collegiate and professional levels for more than 10 years, serves as a tennis analyst for ESPN. He has also called play-by-play for select events.
2008 AUSTRALIAN OPEN
2008 ChampionsWomen's singles:
Maria Sharapova
Men's singles:
Novak Djokovic
Men's doubles:
Jonathan Erlich and Andy Ram, Israel
Women's doubles:
Alona and Kataryna Bondarenko, Ukraine
Mixed doubles:
Sun Tiantian, China, and Nenad Zimonjic, Serbia
Official scoreboard:
Real-time scores
---
Day 14
•
Djokovic wins Aussie men's title
•
Ford: Concentration, patience key for Djokovic
•
Report: Women's final likely moving to night
Video

•
Record Aussie Open turnout cracks 600,000
•
Djokovic wins first Slam
•
Return of serve helps Djoker
•
Dick Enberg's tribute
Day 13
•
Sharapova wins Aussie women's crown
•
Ford: Life lessons provoke Sharapova to win
Video

•
Sharapova wins title
•
Men's final preview
Day 12
•
Men
•
Ford: Djokovic ends significant run by Federer
•
McEnroe: Djokovic just too strong for Federer
•
Ford: Tennis in need of a competitive final
•
Ubha: Rivalries that could come to fruition
•
Bodo: Dreamy tennis from Sharapova
Video

•
Federer loses
•
Djokovic looks for first Slam
•
Federer talks about loss
•
Women's final preview
Day 11
•
Men
|
Women
•
Ford: Djokovic confident versus Federer
•
Ford: Tsonga shrink's Nadal down to normal size
•
McEnroe: Tsonga a player who's here to stay
•
Tennis.com: Djokovic's golden opportunity
•
Notebook: Aussie teenager turning heads
Video

•
Sharapova defeats Jankovic
•
Ivanovic downs Hantuchova
•
Tsonga stuns Nadal
Day 10
•
Men
|
Women
•
Ford: Hantuchova, Ivanovic have come along
•
Wilansky: Jankovic could be in for a long day
Video

•
Federer defeats Blake
•
Ivanovic down Venus
•
Djokovic cruises past Ferrer
Day 9
•
Men
|
Women
•
Ford: Blake, Federer two of the classiest players
•
Ford: Jankovic defies odds in defeating Williams
•
Notebook: Is Blake's maturation enough?
Video

•
Serena falls to Jankovic
•
What happened to Serena?
•
Nadal headed to semifinals
Day 8
•
Men
|
Women
•
Ford: Sharapova ready to tackle Henin
•
Notebook: Two surprising quarterfinalists
Video

•
Federer defeats Berdych
•
Nadal advances
•
Blake happy with win and Giants' victory
•
Advantage Luke Jensen
Week 1
•
Photo Gallery: Best of Week 1 from Down Under
Day 7
•
Men
|
Women
•
Notebook: Oh, what a night of tennis
Video

•
Weekend madness
•
Henin ready for Sharapova
Day 6
•
Men
|
Women
•
Ford: Stealth Serb pushes Federer to the limit
•
Jensen: Federer's great physical condition
Video

•
Federer defeats Tipsarevic
•
Federer reflects
Day 5
•
Men
|
Women
•
Ford: Mirza's off-court battles
•
Wilansky: Early exit for Roddick
•
Notebook: Henin more confident
Video

•
15 aces for Serena
•
Roddick falls to Kohlschreiber in five sets
Day 4
•
Men
|
Women
•
Ford: Just like home for Americans Down Under
•
Spadea wins and raps

•
Notebook: Top-ranked Huber not on Fed Cup
Video

•
Day 4 highlights
•
Vince Spadea's chicken dance
Day 3
•
Men
|
Women
Video

•
Day 3 highlights
Day 2
•
Men
|
Women
•
Ford: Santoro continues to slice and dice
Day 1
•
Men
|
Women
Video

•
Day 1 highlights
•
2008 Australian Open preview
MOST SENT STORIES ON ESPN.COM