Commentary
Hard work, dedication and life perspective aid Sharapova
The outside world sees her as merely the combination of ability and beauty. But there's more to Maria Sharapova, who just won her third career Grand Slam at the Australian Open, than meets the eye. Life lessons, loss and scrutiny have pushed her to dig deep and conquer.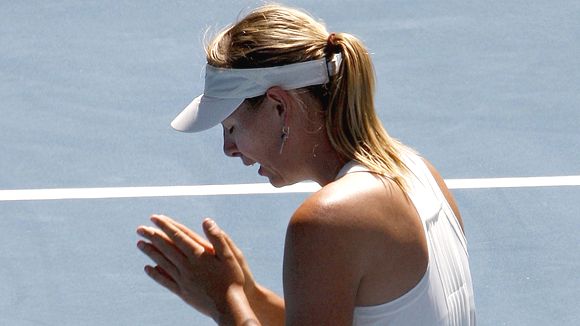 AP Photo/Dita AlangkaraMaria Sharapova has a lot more to be thankful for than the three Grand Slam trophies she now owns.
MELBOURNE, Australia -- At 20 years old, with a third Grand Slam trophy in hand and a platinum-level endorsement portfolio, it may look as if Maria Sharapova is capable of insulating herself from life's run-of-the-mill turbulence.
But moments after her win in the Australian Open final, Sharapova chose to dwell on the losses that affected her deeply last year.
"I gained a whole new perspective on life," said the statuesque Russian, the color still high in her cheeks after a convincing 7-5, 6-3 defeat of Serbia's Ana Ivanovic.
Sharapova didn't lose a set during her march to the title, and Ivanovic was the only player to push her to seven games in a set. It was a striking return to top form in the season's first major after a year in which Sharapova struggled with a shoulder injury, wounded confidence and a death in her athletic family.
Her loyal inner circle is tight, and few are closer to her than her coach, former ATP touring pro Michael Joyce, who first hit with her when she was a gangly 10- or 11-year-old doing drills under the supervision of famed tennis technician Robert Lansdorp in southern California.
It was only natural that Sharapova would come to know Joyce's family. After Joyce quit playing, he was reluctant to continue the nomadic lifestyle coaching requires, but he said his parents helped persuade him to work with Sharapova. His mother, Jane, was already fighting ovarian cancer. Even as her condition worsened, Joyce said she encouraged him to keep devoting time to helping the rising star.
"Every time she would be better, all of a sudden in six months she'd get it back again," Sharapova said. "For the last two months of her life she was just a different person and not herself. All that suffering and everything that she went through, it was hard to deal with. I can only imagine how hard it was for Michael and his family.
"During the time when I was practicing, the days I could practice without being injured, it was hard to motivate myself because tennis just didn't seem important in those moments whatsoever, at all."
When Joyce's mother died last May at age 59 after a six-year battle with the disease, Sharapova learned perhaps for the first time that even the most iron will can't overcome everything. She attended the funeral, and the next day, she and Joyce were back on the practice court. Everything was the same, but it wasn't.
"I think it affected her more than she let on," Joyce said. He made an offhand comment one day that he was concerned about Christmas shopping, which his mother had always done for the whole family. Sharapova quietly went out and bought dozens of presents for Joyce's sister, then came to his house to wrap them.
[+] Enlarge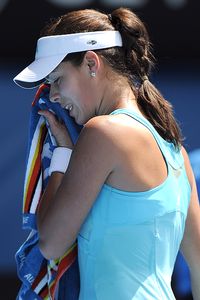 AP Photo/Rob GriffithDespite a tough day for Ivanovic, she will move up to No. 2 in the world after reaching her second career Grand Slam final.
Top athletes talk so much about learning from jolts like this that it can be numbing, but there's evidence that Sharapova really meant it. She's used to bashing her way through low periods -- "She has that Lansdorp mentality of wanting to go out and hit a million balls," Joyce said -- or feeling that if she just bears down, she can get out of trouble, as she did Saturday when she was two points away from losing the first set to Ivanovic.
"I didn't get impatient," Sharapova said. "I was just steady. I knew that it was for her to take. I mean, she's two points away from winning the first set in a Grand Slam final. … If you want it, take it. And she didn't."
Yet late last season, when Sharapova couldn't practice for long stretches because of a strained shoulder and a ganglian cyst on one wrist, she found out what it was like to stop attacking a problem and simply live with it. Her laser-like focus in this tournament is a direct result of that bumpy year.
When she entered the year-end championships in Madrid, "for the first time in a long time, she had no pressure," Joyce said. "She played an unbelievable final [in which she lost to Justine Henin], took a couple of weeks off, and then from the first day we started working in the offseason, she was ready to go."
Sharapova somewhat revealingly referred to Ivanovic as "a great young girl" during the trophy ceremony even though she's just seven months older than the new world No. 2.
There are some similarities about their journeys, but Sharapova has a lot more mileage under her belt. It comes from four-plus years of dealing with the intense scrutiny provoked by the combustible combination of ability, beauty, and her father's occasionally eccentric courtside behavior.
"I achieved success so early in my career, winning Wimbledon at 17, it automatically makes you older," Sharapova told a small group of reporters as she wound down a couple hours of non-stop analysis of her victory.
"I didn't have it the easy way. I've worked for every single little thing. When I see other 20-year-olds driving around in their Range Rovers, I know that I worked for mine. I have that satisfaction, when you get those dirty looks, 'Who is that spoiled brat, her father probably bought her that Range Rover.' I'm like, 'No honey, I bought that myself.'
"In those moments you feel mature. You have a wonderful career. Doing something that you love to do and being good at it, there's no greater gift."
Ivanovic performed far better Saturday than she did in her Grand Slam finals debut in Paris last year. She had two draining matches going into the final as she beat Venus Williams for the first time and overcame a comatose first set against Daniela Hantuchova.
There will doubtless be a lot more opportunities for her to test her nerve, her potentially lethal forehand and the timing of her drop shots against the best. But no one was going to pass Sharapova in this tournament after she steered herself back into the far left lane of women's tennis with the windows down and the radio cranked up.
Bonnie D. Ford covers tennis and Olympic sports for ESPN.com. E-mail her at bonniedford@aol.com.
Enterprise and Olympic Sports
Bonnie D. Ford is a senior writer for ESPN.com.
2008 AUSTRALIAN OPEN
2008 ChampionsWomen's singles:
Maria Sharapova
Men's singles:
Novak Djokovic
Men's doubles:
Jonathan Erlich and Andy Ram, Israel
Women's doubles:
Alona and Kataryna Bondarenko, Ukraine
Mixed doubles:
Sun Tiantian, China, and Nenad Zimonjic, Serbia
Official scoreboard:
Real-time scores
---
Day 14
•
Djokovic wins Aussie men's title
•
Ford: Concentration, patience key for Djokovic
•
Report: Women's final likely moving to night
Video

•
Record Aussie Open turnout cracks 600,000
•
Djokovic wins first Slam
•
Return of serve helps Djoker
•
Dick Enberg's tribute
Day 13
•
Sharapova wins Aussie women's crown
•
Ford: Life lessons provoke Sharapova to win
Video

•
Sharapova wins title
•
Men's final preview
Day 12
•
Men
•
Ford: Djokovic ends significant run by Federer
•
McEnroe: Djokovic just too strong for Federer
•
Ford: Tennis in need of a competitive final
•
Ubha: Rivalries that could come to fruition
•
Bodo: Dreamy tennis from Sharapova
Video

•
Federer loses
•
Djokovic looks for first Slam
•
Federer talks about loss
•
Women's final preview
Day 11
•
Men
|
Women
•
Ford: Djokovic confident versus Federer
•
Ford: Tsonga shrink's Nadal down to normal size
•
McEnroe: Tsonga a player who's here to stay
•
Tennis.com: Djokovic's golden opportunity
•
Notebook: Aussie teenager turning heads
Video

•
Sharapova defeats Jankovic
•
Ivanovic downs Hantuchova
•
Tsonga stuns Nadal
Day 10
•
Men
|
Women
•
Ford: Hantuchova, Ivanovic have come along
•
Wilansky: Jankovic could be in for a long day
Video

•
Federer defeats Blake
•
Ivanovic down Venus
•
Djokovic cruises past Ferrer
Day 9
•
Men
|
Women
•
Ford: Blake, Federer two of the classiest players
•
Ford: Jankovic defies odds in defeating Williams
•
Notebook: Is Blake's maturation enough?
Video

•
Serena falls to Jankovic
•
What happened to Serena?
•
Nadal headed to semifinals
Day 8
•
Men
|
Women
•
Ford: Sharapova ready to tackle Henin
•
Notebook: Two surprising quarterfinalists
Video

•
Federer defeats Berdych
•
Nadal advances
•
Blake happy with win and Giants' victory
•
Advantage Luke Jensen
Week 1
•
Photo Gallery: Best of Week 1 from Down Under
Day 7
•
Men
|
Women
•
Notebook: Oh, what a night of tennis
Video

•
Weekend madness
•
Henin ready for Sharapova
Day 6
•
Men
|
Women
•
Ford: Stealth Serb pushes Federer to the limit
•
Jensen: Federer's great physical condition
Video

•
Federer defeats Tipsarevic
•
Federer reflects
Day 5
•
Men
|
Women
•
Ford: Mirza's off-court battles
•
Wilansky: Early exit for Roddick
•
Notebook: Henin more confident
Video

•
15 aces for Serena
•
Roddick falls to Kohlschreiber in five sets
Day 4
•
Men
|
Women
•
Ford: Just like home for Americans Down Under
•
Spadea wins and raps

•
Notebook: Top-ranked Huber not on Fed Cup
Video

•
Day 4 highlights
•
Vince Spadea's chicken dance
Day 3
•
Men
|
Women
Video

•
Day 3 highlights
Day 2
•
Men
|
Women
•
Ford: Santoro continues to slice and dice
Day 1
•
Men
|
Women
Video

•
Day 1 highlights
•
2008 Australian Open preview
MOST SENT STORIES ON ESPN.COM