Commentary
How Djokovic responds to pressure will dictate match
Stand up if your crystal ball had Novak Djokovic and Jo-Wilfried Tsonga emerging from their halves of the draw. It's safe to assume the prescient culprits are few, which is what makes this final so unpredictable.
MELBOURNE, Australia -- The Australian Open famously produces surprises in late rounds, but Sunday's matchup in the final is one of the most unpredictable in years. Third-seeded Novak Djokovic of Serbia and France's Jo-Wilfried Tsonga have never met before, and both are looking for their first Grand Slam title.
Tsonga, who will crack the top 20 next week whether or not he's the victor, has never won an ATP-level tournament. The 22-year-old could become only the third man in the post-1968 Open era to win his first-ever title at a Slam, along with Mats Wilander of Sweden and Brazil's
Gustavo Kuerten
, who did it at the French Open in 1982 and 1997, respectively. Tsonga beat three top-10 players -- including No. 2
Rafael Nadal
-- to reach the finals. Djokovic has not lost a set on his way to the final, a relatively uneventful path until he shocked
Roger Federer
in straight sets in the semifinals -- the second time in six months that he has upset the world No. 1. He lost to Federer in last year's U.S. Open final. Given the novel matchup, we decided to ask some veteran tennis writers for their opinions on how things might shake out.
Christopher Clarey, New York Times/International Herald Tribune (United States):
The key to the match is how well Djokovic returns Tsonga's serve. If Tsonga has a great serving day and keeps Djokovic off him, he has a chance. Tsonga has beaten a lot of different kinds of players in this tournament, but Djokovic hits the ball really flat, and his groundstrokes are so precise. Tsonga is going to have to get down really low to get them back, whereas against Nadal, the balls were bouncing high. Since he's fast, he was able to get to them and hit them at a nice angle. It's going to be fun -- I have no idea how Tsonga is going to react.
[+] Enlarge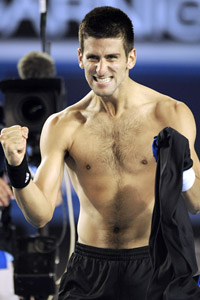 AP Photo/Rob GriffithNovak Djokovic enters the Australian Open final as a favorite -- but can he live up to the lofty expectations after taking down the world No. 1?
Barry Flatman, Sunday Times of London (England):
The key is Tsonga's mind, whether he thinks he can do the same thing he did against Nadal. I think Djokovic will be more varied in his approach, and he won't leave the ball as short as Nadal did. Djokovic in four sets.
Philippe Bouin, L'Equipe (France):
The mentality of both men will be the key. If Tsonga starts well, then Djokovic will feel the pressure of being the one who's supposed to win. He likes to be the underdog. I think the crowd will be more on Tsonga's side, and that could get to Djokovic. If Tsonga comes out feeling relaxed, it should be an entertaining match.
Ubaldo Scanagatta, La Nazione (Italy):
I don't think Tsonga can play twice in a row as well as he played in the semis. Djokovic plays inside the baseline and Nadal plays far behind, and especially on hard court, that makes a huge difference. Plus, I have a feeling that Djokovic is so acrobatic and athletic and elastic that he can reach the kinds of serves Tsonga will deliver. Then you add Djokovic's experience. The only little advantage Tsonga has is that right now, he has nothing to lose, and so he will be loose.
Tom Perrotta, Tennis Magazine and Tennis.com (United States):
To me, the key is Tsonga's nerves. I don't expect Djokovic to be nervous, and he's a fearsome competitor. I think he expected to beat Roger the other night -- the kid is amazing that way -- while Tsonga thinks what he did against Nadal is amazing. Tsonga's offense is good enough to beat Djokovic's defense if he can play like he did the other night, but the odds of that are not good. Then again, Djokovic has never been the favorite in a match like this. It's an odd situation, a tricky situation.
Bonnie D. Ford covers tennis and Olympic sports for ESPN.com. E-mail her at bonniedford@aol.com.
Enterprise and Olympic Sports
Bonnie D. Ford is a senior writer for ESPN.com.
2008 AUSTRALIAN OPEN
2008 ChampionsWomen's singles:
Maria Sharapova
Men's singles:
Novak Djokovic
Men's doubles:
Jonathan Erlich and Andy Ram, Israel
Women's doubles:
Alona and Kataryna Bondarenko, Ukraine
Mixed doubles:
Sun Tiantian, China, and Nenad Zimonjic, Serbia
Official scoreboard:
Real-time scores
---
Day 14
•
Djokovic wins Aussie men's title
•
Ford: Concentration, patience key for Djokovic
•
Report: Women's final likely moving to night
Video

•
Record Aussie Open turnout cracks 600,000
•
Djokovic wins first Slam
•
Return of serve helps Djoker
•
Dick Enberg's tribute
Day 13
•
Sharapova wins Aussie women's crown
•
Ford: Life lessons provoke Sharapova to win
Video

•
Sharapova wins title
•
Men's final preview
Day 12
•
Men
•
Ford: Djokovic ends significant run by Federer
•
McEnroe: Djokovic just too strong for Federer
•
Ford: Tennis in need of a competitive final
•
Ubha: Rivalries that could come to fruition
•
Bodo: Dreamy tennis from Sharapova
Video

•
Federer loses
•
Djokovic looks for first Slam
•
Federer talks about loss
•
Women's final preview
Day 11
•
Men
|
Women
•
Ford: Djokovic confident versus Federer
•
Ford: Tsonga shrink's Nadal down to normal size
•
McEnroe: Tsonga a player who's here to stay
•
Tennis.com: Djokovic's golden opportunity
•
Notebook: Aussie teenager turning heads
Video

•
Sharapova defeats Jankovic
•
Ivanovic downs Hantuchova
•
Tsonga stuns Nadal
Day 10
•
Men
|
Women
•
Ford: Hantuchova, Ivanovic have come along
•
Wilansky: Jankovic could be in for a long day
Video

•
Federer defeats Blake
•
Ivanovic down Venus
•
Djokovic cruises past Ferrer
Day 9
•
Men
|
Women
•
Ford: Blake, Federer two of the classiest players
•
Ford: Jankovic defies odds in defeating Williams
•
Notebook: Is Blake's maturation enough?
Video

•
Serena falls to Jankovic
•
What happened to Serena?
•
Nadal headed to semifinals
Day 8
•
Men
|
Women
•
Ford: Sharapova ready to tackle Henin
•
Notebook: Two surprising quarterfinalists
Video

•
Federer defeats Berdych
•
Nadal advances
•
Blake happy with win and Giants' victory
•
Advantage Luke Jensen
Week 1
•
Photo Gallery: Best of Week 1 from Down Under
Day 7
•
Men
|
Women
•
Notebook: Oh, what a night of tennis
Video

•
Weekend madness
•
Henin ready for Sharapova
Day 6
•
Men
|
Women
•
Ford: Stealth Serb pushes Federer to the limit
•
Jensen: Federer's great physical condition
Video

•
Federer defeats Tipsarevic
•
Federer reflects
Day 5
•
Men
|
Women
•
Ford: Mirza's off-court battles
•
Wilansky: Early exit for Roddick
•
Notebook: Henin more confident
Video

•
15 aces for Serena
•
Roddick falls to Kohlschreiber in five sets
Day 4
•
Men
|
Women
•
Ford: Just like home for Americans Down Under
•
Spadea wins and raps

•
Notebook: Top-ranked Huber not on Fed Cup
Video

•
Day 4 highlights
•
Vince Spadea's chicken dance
Day 3
•
Men
|
Women
Video

•
Day 3 highlights
Day 2
•
Men
|
Women
•
Ford: Santoro continues to slice and dice
Day 1
•
Men
|
Women
Video

•
Day 1 highlights
•
2008 Australian Open preview
MOST SENT STORIES ON ESPN.COM