Commentary
Djokovic backs up bravado with Aussie Open title
He bid farewell to Roger Federer, then blunted giant-killer Jo-Wilfried Tsonga's remarkable run. In the end, Novak Djokovic was left kissing the blue Plexicushion courts, a first-time Grand Slam champion.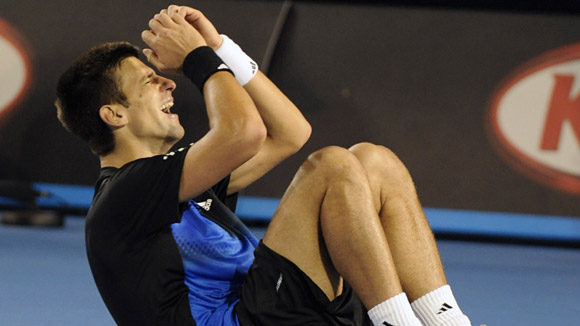 AP Photo/Rob GriffithJust 20 years old, Novak Djokovic became the youngest Aussie Open winner since Stefan Edberg in '85.
MELBOURNE, Australia --
Novak Djokovic
was always confident he would be The Next Big Thing. He just didn't count on the fact that to win his first Grand Slam event, he would have to beat The Latest Big Thing.
After ousting the impeccable Roger Federer in the semifinals, Djokovic suddenly found himself in the unaccustomed role of favorite against France's unseeded Jo-Wilfried Tsonga, who had done his own giant-killing on the other side of the draw with a stunningly one-sided upset of Rafael Nadal.
The third-seeded Djokovic had never owned that privileged territory, and for a set and a half, it looked as if he wasn't sure how to stake his claim to it. But this ropy 20-year-old is singularly fierce.
He grew up in a family of skiers on a mountainside in Serbia, yet as a hard-headed child, he picked out a flat, rectangular space in which to assert himself. He has since become one of the best defenders in tennis, and Sunday evening, he found a way to blunt Tsonga's brilliant, unexpected run and win the Australian Open championship, 4-6, 6-4, 6-3, 7-6 (2).
Djokovic broke up the two-headed Federer-Nadal dynasty that had ruled tennis for three full years. He did it with speed, elasticity, concentration and patience that became sharper after his loss to Federer in last year's U.S. Open final. He also did it before a crowd that, predictably, rooted for the most recent newcomer in a string of unlikely finalists in the season's first Slam.
"I knew that I'm playing against a big server, and I have to wait for my chances," Djokovic said of the 22-year-old Tsonga. "And, you know, he started the match really well. You could see that in the first set. And he was obviously a better player in that first set."
The two men traded breaks to begin the match, then went toe-to-toe until Tsonga took the racket out of Djokovic's hands when the Serbian was serving down 4-5. Tsonga, who defeated four top-15 players on his way to the final, bullwhipped a sharp cross-court forehand winner to earn a break point, floated a lob behind Djokovic on set point, then went down on one knee and pumped his fist emphatically.
From a courtside seat, Tsonga's father, Didier, threw a few shadow uppercuts to punctuate the moment, a gesture that resonated on several levels. The former international team handball player from the Congo attended Muhammad Ali's famous "Rumble in the Jungle" championship fight against George Foreman in 1974 in Zaire. About 10 years later, he and his wife, Evelyne, had a son whose uncanny resemblance to the young Ali emerged early on.
"I can assure you I'm not related [to Ali]," said the-soft spoken, dignified Didier Tsonga. "But I think [Jo-Wilfried] does look like him, and there's also a similarity in the way he carries himself on the court."
"It's very flattering," his wife said with a gentle smile and eyes red-rimmed with fatigue and emotion. The Tsongas, both teachers, boarded a plane from France at their son's request after he won the semifinal and arrived in Australia early Sunday morning. Surrounded by cameras and microphones looking for an explanation of their son's seemingly sudden prowess, they showed as much poise and grace as he did.
But Tsonga was not fated to win this bout. Djokovic lost only 10 points on his serve in the second and third sets. Meanwhile, the superlative forehand Tsonga used to pick apart Nadal slowly wilted under pressure from Djokovic, and his backhand was vulnerable.
[+] Enlarge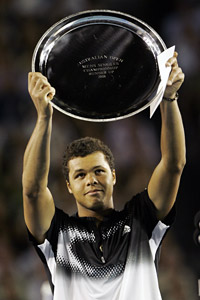 AP Photo/Rick StevensTsonga wasn't able to pull through, but he far exceeded expectations considering this was just his fifth career Grand Slam appearance.
"He took the ball early and played it deep," Tsonga told French-speaking reporters. "I didn't have time to get into position. He didn't give me any angles.
"But I have no regrets. I gave everything, and I had the right attitude to win a match like this."
Both men took a physical pounding, scrambling and sliding around the court during numerous long rallies. Djokovic took a medical timeout midway through the fourth set to have his left thigh massaged after feeling a twinge in his hamstring. Tsonga twice cramped up during his service motion but contended he would have been the fresher player if the match had been extended to a fifth set.
Djokovic warded off that possibility when he faced a break point -- his only one after the first set -- serving at 5-5 in the fourth. He correctly guessed Tsonga was coming down the line and was in perfect position to crack a backhand volley winner.
The decisive tiebreak was merely a formality, as Djokovic played flawlessly and Tsonga finally ran out of steam. After one more errant Tsonga forehand, Djokovic flopped on his back in elation and relief, got up, then fell to his knees and kissed the blue Plexicushion surface that was so good to his game over the past two weeks.
When he loped to the edge of the court to greet his family, the first person to grasp his arms was his younger brother Marko, who competed last week at the junior Australian Open. Tsonga, meanwhile, sat on his bench, drained and overcome at last by the moment. "I had to grit my teeth to keep from crying," he said.
The Djokovics were ever-present and visible at their son's matches, wearing white adidas track suits with his nickname, Nole, spelled out in block letters. His parents, Srdjan and Dijana, somehow found a way to make the proceeds of their modest pizza and pancake restaurant stretch to pay for his training, which began at age 8 under Jelena Gencic, former coach of Monica Seles and Goran Ivanisevic.
Gencic later tipped off her old friend, accomplished ex-pro Niki Pilic, about the driven youngster, and that was how 12-year-old Djokovic wound up at Pilic's Munich tennis academy, where he progressed enough to become a pro. It might seem as if this party-crasher streaked onto the scene suddenly in the past year, but as Dijana Djokovic said firmly, "This is not a miracle."
Nor is Tsonga's emergence, according to his mother -- it's just that it was postponed by two years of injuries. "He didn't surprise everyone," Evelyne Tsonga said. "Lots of people who had followed him for a long time believed in him and thought he had the qualities of a champion.''
That delay might end up helping Tsonga with the avalanche of attention that's about to hit him in his native country and around the world. "I know about all of this already," he said. "When I was winning as a junior, I had a lot of people around me. Then when I got hurt, that's when I was able to see who was there for me and who wasn't."
Djokovic has said many times that he never wavered from his boyhood conviction that he would win Slams and become No. 1 in the world, but in the wee hours Monday, he said he wasn't ''in a rush" for the latter. He talked about maintaining balance now that he has backed up his bold talk.
He might not have pictured that he would earn his first title quite this way, before a crowd that viewed him as the guy in the black hat. But Djokovic is talking about playing for another 10 or 15 years and seems to sense that his persona is likely to have its ups and downs. "It's all right," he told the fans at Rod Laver Arena, his high cheekbones lit up by a mischievous grin. "I still love you guys."
As Tsonga noted in his postmatch comments, tennis is not like soccer. "It's never 0-0," he said. "There's always a winner." And after a scintillating final between two charismatic players who refused to genuflect to the sport's reigning royals, we'll call this a win for tennis as a whole.
Bonnie D. Ford covers tennis and Olympic sports for ESPN.com. E-mail her at bonniedford@aol.com.
Enterprise and Olympic Sports
Bonnie D. Ford is a senior writer for ESPN.com.
2008 AUSTRALIAN OPEN
2008 ChampionsWomen's singles:
Maria Sharapova
Men's singles:
Novak Djokovic
Men's doubles:
Jonathan Erlich and Andy Ram, Israel
Women's doubles:
Alona and Kataryna Bondarenko, Ukraine
Mixed doubles:
Sun Tiantian, China, and Nenad Zimonjic, Serbia
Official scoreboard:
Real-time scores
---
Day 14
•
Djokovic wins Aussie men's title
•
Ford: Concentration, patience key for Djokovic
•
Report: Women's final likely moving to night
Video

•
Record Aussie Open turnout cracks 600,000
•
Djokovic wins first Slam
•
Return of serve helps Djoker
•
Dick Enberg's tribute
Day 13
•
Sharapova wins Aussie women's crown
•
Ford: Life lessons provoke Sharapova to win
Video

•
Sharapova wins title
•
Men's final preview
Day 12
•
Men
•
Ford: Djokovic ends significant run by Federer
•
McEnroe: Djokovic just too strong for Federer
•
Ford: Tennis in need of a competitive final
•
Ubha: Rivalries that could come to fruition
•
Bodo: Dreamy tennis from Sharapova
Video

•
Federer loses
•
Djokovic looks for first Slam
•
Federer talks about loss
•
Women's final preview
Day 11
•
Men
|
Women
•
Ford: Djokovic confident versus Federer
•
Ford: Tsonga shrink's Nadal down to normal size
•
McEnroe: Tsonga a player who's here to stay
•
Tennis.com: Djokovic's golden opportunity
•
Notebook: Aussie teenager turning heads
Video

•
Sharapova defeats Jankovic
•
Ivanovic downs Hantuchova
•
Tsonga stuns Nadal
Day 10
•
Men
|
Women
•
Ford: Hantuchova, Ivanovic have come along
•
Wilansky: Jankovic could be in for a long day
Video

•
Federer defeats Blake
•
Ivanovic down Venus
•
Djokovic cruises past Ferrer
Day 9
•
Men
|
Women
•
Ford: Blake, Federer two of the classiest players
•
Ford: Jankovic defies odds in defeating Williams
•
Notebook: Is Blake's maturation enough?
Video

•
Serena falls to Jankovic
•
What happened to Serena?
•
Nadal headed to semifinals
Day 8
•
Men
|
Women
•
Ford: Sharapova ready to tackle Henin
•
Notebook: Two surprising quarterfinalists
Video

•
Federer defeats Berdych
•
Nadal advances
•
Blake happy with win and Giants' victory
•
Advantage Luke Jensen
Week 1
•
Photo Gallery: Best of Week 1 from Down Under
Day 7
•
Men
|
Women
•
Notebook: Oh, what a night of tennis
Video

•
Weekend madness
•
Henin ready for Sharapova
Day 6
•
Men
|
Women
•
Ford: Stealth Serb pushes Federer to the limit
•
Jensen: Federer's great physical condition
Video

•
Federer defeats Tipsarevic
•
Federer reflects
Day 5
•
Men
|
Women
•
Ford: Mirza's off-court battles
•
Wilansky: Early exit for Roddick
•
Notebook: Henin more confident
Video

•
15 aces for Serena
•
Roddick falls to Kohlschreiber in five sets
Day 4
•
Men
|
Women
•
Ford: Just like home for Americans Down Under
•
Spadea wins and raps

•
Notebook: Top-ranked Huber not on Fed Cup
Video

•
Day 4 highlights
•
Vince Spadea's chicken dance
Day 3
•
Men
|
Women
Video

•
Day 3 highlights
Day 2
•
Men
|
Women
•
Ford: Santoro continues to slice and dice
Day 1
•
Men
|
Women
Video

•
Day 1 highlights
•
2008 Australian Open preview
MOST SENT STORIES ON ESPN.COM