Commentary
Sharapova, Djokovic emphatic statements set the bar for 2008
The curtains have come down on the first Slam of the year, but not before leaving behind a flurry of intriguing story lines. Thankfully, tennis maven Patrick McEnroe was here to shed some light.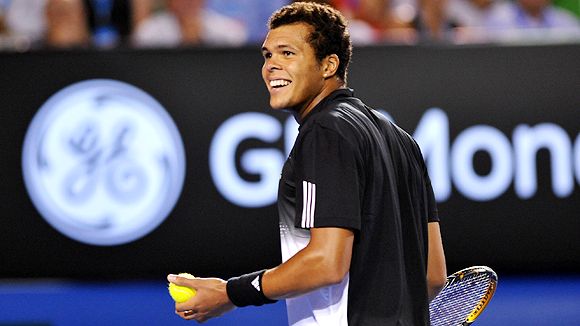 Virginie Bouyer/Icon SMIOn-court determination and flare aside, Jo-Wilfried Tsonga captured the hearts of the Aussie contingent with his magnetizing demeanor.
MELBOURNE, Australia -- The first Grand Slam event of the season has concluded -- but not without its share of triumphs, upsets and, in some cases, cliffhangers. The 2008 Australian Open witnessed the emergence of a charismatic Frenchman the world knew little of and a stalwart performance by a Russian woman the universe has been entranced by for years. After two weeks of grueling, grinding and punishing tennis on a rookie playing surface, the top five story lines from Down Under wrote themselves.
2008 champions have set the tone
Maria Sharapova made a monstrous statement, not just winning the Australian Open, but the fashion in which she clawed her way through the tournament. Her draw was replete with upper-echelon players throughout the two weeks, beginning in Round 2 versus comeback mom Lindsay Davenport. Sharapova relinquished four games to the American, setting the tenor for the remainder of the event. In the quarterfinals she emphatically dismantled world No. 1 Justine Henin, 6-4, 6-0. Though the '08 champion remains the fifth-ranked player in the world, realistically she wouldn't be an underdog anywhere other than a clay-court encounter versus Henin.
Venus and Serena Williams -- if they continue to stay focused and motivated -- will be formidable, and the one-two Serbian punch of Ana Ivanovic and Jelena Jankovic left their marks. It's no guarantee Sharapova will end the year atop the rankings, but her statement was made vociferously. She now is the proud owner of three of the four career Grand Slam trophies, but her latest effort was as superior as we've seen her.
[+] Enlarge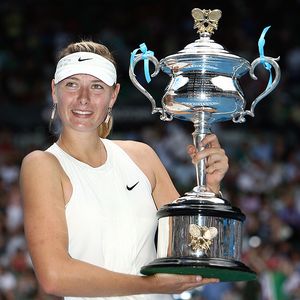 Clive Brunskill/Getty ImagesMaria Sharapova, winner of the 2004 Wimbledon and 2006 U.S. Open, captured her third Grand Slam title Saturday in Melbourne, Australia.
For the first time since the Federer domination began four years ago, there are lingering questions as to who the men's No. 1 player will be at the conclusion of the year after
Roger Federer
's semifinal loss to eventual champion
Novak Djokovic
. It's difficult to fathom anyone but the Swiss Maestro hovering over the field, but his reign is in jeopardy. The French Open -- the next major -- will be the only Slam he is not favored to win, thereby implying Federer may be devoid of a major title heading into Wimbledon.
Djokovic's brass demeanor is sometimes not viewed favorably by his opponents, but he backed up the bravado with an Australian Open title. His prowess on all surfaces is irrefutable, having just completed his fourth consecutive Slam semifinal appearance. The Serb is motivated and unthreatened by Federer's aura. He's a menacing presence and will be in the mix for the year-end No. 1 ranking all season.
Emergence of a star
Jo-Wilfried Tsonga is tantalizing. His game is predicated on huge serves and thunderous groundstrokes off both wings, but furthermore, he's engaging. Tsonga handled his newfound stardom with joy and class. His polarizing persona captured the hearts of tennis fans everywhere -- just ask Djokovic who the crowd was siding with in the final. The Frenchman's copious smile was memorizing even after his loss in the title match.
There's nothing feign about the way he carries himself on or off the court. After a couple years marred by injury, Tsonga made instrumental strides towards joining the elite players in the game. His ranking leaped 20 spots to a career-high No. 18 in the world.
How Tsonga handles the pressure of fame will dictate the rest of the season. He's still relatively unseasoned and expectations will be considerably greater than anything he's ever had to manage. The next Grand Slam event is in France and understandably Tsonga is going to feel the weight of the country's jingoistic fans clamoring for someone to fill the void of a 25-year title drought.
Tsonga's style of game isn't necessarily suited for the red clay of Roland Garros, but his attacking style, coupled with deft hands at net, will make him a top-five favorite to render damage at Wimbledon.
Serbian domination
The tournament-ending results look like this for the Serbians: Novak Djokovic, men's singles champion; Ana Ivanovic, women's singles runner-up; Jelena Jankovic, women's singles semifinalist. Could this country accomplish anymore? Actually, yes -- Serb Nenad Zimonjic, along with Chinese partner Tiantian Sun won the mixed-doubles crown.
Tennis has set the international bar for excellence. For the past 10 years, Eastern Europe has exalted countries like Russia, Serbia and Croatia for evolving into heavyweights. The Serbian triumvirate, in particular, has joined others like Federer, Nadal and Sharapova as the elite faces in the game today.
Their emergence has manifested worldwide. Even countries lacking infrastructure believe that they, too, can groom young, athletic talent to become stars. Tennis has become more global than it has ever been. In 2006, we paid homage to Cyprus after Marcos Baghdatis' remarkable run to the Aussie Open finals. Two years prior, the Russian regime left an indelible mark in the game with Anastasia Myskina, Sharapova and Svetlana Kuznetsova winning three of four Slams on the women's side. Now the Serbs have captured the imagination of fans all over.
Nos. 1 and 2 fashionably falling
The top two players in the world, Federer and Rafael Nadal, were outmatched and outwitted by their respective opponents in the semifinals.
[+] Enlarge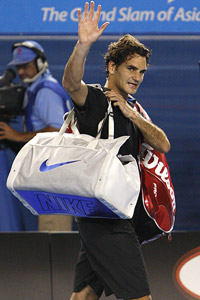 AP Photo/Rick StevensRoger Federer failed to win the Australian Open for the first time since 2005.
Federer's loss is less disconcerting than Nadal's for three reasons: He entered the Australian Open with lingering effects from a stomach virus, ergo having no preparation. He had previously never entered the season's first major without any competitive matches under his belt.
In the semifinals, the Swiss ran into a buzz saw in Djokovic. The brash Serb had beaten him previously and his maturation since last year's U.S. Open was apparent. Granted, Federer certainly wasn't playing the type of tennis that carried him to 12 Grand Slams, but the credit belongs to Djokovic for the smart, unflappable game he employed.
Lastly, the hard-court season continues for Federer. He'll have ample opportunity to flash his muscle in Indian Wells and Miami to get back on track. There's little reason to believe one semifinal loss will set the tone for the rest of his season.
Conversely, Nadal's loss to Tsonga magnified his continued struggles to win on hard courts. Tsonga played the match of his life, but the Spaniard's résumé remains without a major title off dirt.
The longer Nadal goes without triumphing at a Slam aside from the French, the more difficult and onerous the task will become.
American disappointment
Andy Roddick's Australian Open bracket was favorable. He also came in with confidence after a title in Kooyong a week prior. He marched through his first two opponents, but versus Philipp Kohlschreiber, a passive-laden approach cost him the match. If Roddick attacked the way he did against Federer in last year's U.S. Open quarterfinal -- despite losing -- he would likely have advanced to the fourth round.
Like Roddick, Venus and Serena Williams did their offseason work. Serena surprised us all with her title a season ago. Her expectations and pressure were far greater this year with a trimmed-down figure and favorable seeding. The Williams sisters, though, were both casualties of the Serbian duo in the quarterfinals -- neither was able to conjure up a single set.
These losses are a testament to the deeper field in the women's game. No longer do Venus and Serena wear the once palpable intimidation label they once did. Both are capable of winning Slams, but it won't be the seamless ride from their respective heydays earlier this century. It's going to take hard work and some luck.
Patrick McEnroe, the U.S. Davis Cup captain, provides analysis for ESPN.com during the tennis season.

Tennis analyst
Patrick McEnroe, who enjoyed success playing tennis on both the collegiate and professional levels for more than 10 years, serves as a tennis analyst for ESPN. He has also called play-by-play for select events.
SPONSORED HEADLINES
MORE TENNIS HEADLINES
MOST SENT STORIES ON ESPN.COM
2008 AUSTRALIAN OPEN
2008 ChampionsWomen's singles:
Maria Sharapova
Men's singles:
Novak Djokovic
Men's doubles:
Jonathan Erlich and Andy Ram, Israel
Women's doubles:
Alona and Kataryna Bondarenko, Ukraine
Mixed doubles:
Sun Tiantian, China, and Nenad Zimonjic, Serbia
Official scoreboard:
Real-time scores
---
Day 14
•
Djokovic wins Aussie men's title
•
Ford: Concentration, patience key for Djokovic
•
Report: Women's final likely moving to night
Video

•
Record Aussie Open turnout cracks 600,000
•
Djokovic wins first Slam
•
Return of serve helps Djoker
•
Dick Enberg's tribute
Day 13
•
Sharapova wins Aussie women's crown
•
Ford: Life lessons provoke Sharapova to win
Video

•
Sharapova wins title
•
Men's final preview
Day 12
•
Men
•
Ford: Djokovic ends significant run by Federer
•
McEnroe: Djokovic just too strong for Federer
•
Ford: Tennis in need of a competitive final
•
Ubha: Rivalries that could come to fruition
•
Bodo: Dreamy tennis from Sharapova
Video

•
Federer loses
•
Djokovic looks for first Slam
•
Federer talks about loss
•
Women's final preview
Day 11
•
Men
|
Women
•
Ford: Djokovic confident versus Federer
•
Ford: Tsonga shrink's Nadal down to normal size
•
McEnroe: Tsonga a player who's here to stay
•
Tennis.com: Djokovic's golden opportunity
•
Notebook: Aussie teenager turning heads
Video

•
Sharapova defeats Jankovic
•
Ivanovic downs Hantuchova
•
Tsonga stuns Nadal
Day 10
•
Men
|
Women
•
Ford: Hantuchova, Ivanovic have come along
•
Wilansky: Jankovic could be in for a long day
Video

•
Federer defeats Blake
•
Ivanovic down Venus
•
Djokovic cruises past Ferrer
Day 9
•
Men
|
Women
•
Ford: Blake, Federer two of the classiest players
•
Ford: Jankovic defies odds in defeating Williams
•
Notebook: Is Blake's maturation enough?
Video

•
Serena falls to Jankovic
•
What happened to Serena?
•
Nadal headed to semifinals
Day 8
•
Men
|
Women
•
Ford: Sharapova ready to tackle Henin
•
Notebook: Two surprising quarterfinalists
Video

•
Federer defeats Berdych
•
Nadal advances
•
Blake happy with win and Giants' victory
•
Advantage Luke Jensen
Week 1
•
Photo Gallery: Best of Week 1 from Down Under
Day 7
•
Men
|
Women
•
Notebook: Oh, what a night of tennis
Video

•
Weekend madness
•
Henin ready for Sharapova
Day 6
•
Men
|
Women
•
Ford: Stealth Serb pushes Federer to the limit
•
Jensen: Federer's great physical condition
Video

•
Federer defeats Tipsarevic
•
Federer reflects
Day 5
•
Men
|
Women
•
Ford: Mirza's off-court battles
•
Wilansky: Early exit for Roddick
•
Notebook: Henin more confident
Video

•
15 aces for Serena
•
Roddick falls to Kohlschreiber in five sets
Day 4
•
Men
|
Women
•
Ford: Just like home for Americans Down Under
•
Spadea wins and raps

•
Notebook: Top-ranked Huber not on Fed Cup
Video

•
Day 4 highlights
•
Vince Spadea's chicken dance
Day 3
•
Men
|
Women
Video

•
Day 3 highlights
Day 2
•
Men
|
Women
•
Ford: Santoro continues to slice and dice
Day 1
•
Men
|
Women
Video

•
Day 1 highlights
•
2008 Australian Open preview