Commentary
Verdasco fit to join inner sanctum
No longer satisfied lurking on the edges of the top 10, Fernando Verdasco's decision to follow in the footsteps of one of the all-time greats, Andre Agassi, has him flying high.
MELBOURNE, Australia -- Some teenaged boys like action flicks. Some prefer Westerns or science fiction. Fernando Verdasco's favorite film was the 1995 Australian Open final, which he watched over and over, memorizing each point and momentum swing in Andre Agassi's four-set victory over Pete Sampras.
Verdasco idolized Agassi, who won four titles in Australia. Now, in one of those time-bending coincidences that crop up sometimes in tennis, the suave Spanish lefty is working with one of the architects of those championships, Agassi's dear friend and longtime strength and conditioning trainer, Gil Reyes.
The 25-year-old Verdasco credits Reyes for giving him the incremental punch he needed to crash through the cinder-block wall that has kept him one room away from tennis' inner sanctum. Reyes returns the favor, saying the 14th-seeded Verdasco's run to the Australian Open semifinals is all about his willingness to be sentenced to hard labor.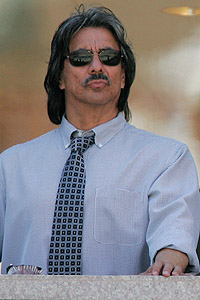 Ezra Shaw/Getty ImagesIf you're seeking help in Gil Reyes, expect nothing short of laborious workouts.
"His learning curve has been unbelievable,'' Reyes said by telephone from his training center in Las Vegas. "He's a profound guy, and even though he's no kid, his hunger and readiness reminds me of a certain teenager that walked into my gym 20 years ago. He has the exact same look in his eye.''
Verdasco has been working with Reyes for about six months under the auspices of his apparel sponsor, adidas. The German sportswear giant has Reyes under contract to work with athletes who want to take advantage of his expertise, and players like up-and-coming American Sam Querrey have reaped the benefits.
Armed with a precise serve, whip-cracking groundstrokes and a tenacious baseline game, Verdasco has shown versatility on all surfaces. Last year, he was a finalist on grass at Nottingham, advanced to the round of 16 at both the French Open and Wimbledon, and reached a career-high No. 11. He said he's always felt comfortable on hard courts, having grown up playing on them in Madrid, a city with an altitude that makes the ball fly a little faster.
The articulate, gracious Verdasco is the son of prominent restaurant owners in Spain's capital. One of their establishments, La Bola, is situated in the upscale Opera neighborhood and has been in the family since 1870; it's known for its deep-red exterior walls and the traditional Madrid dish called cocido, a chickpea-and-pork stew simmered on an old-fashioned charcoal stove.
Some of Verdasco's female fans made reference to a different kind of dish during this tournament, holding up a banner that read, "You Put the Chorizo in My Paella.'' He famously posed nude for Cosmopolitan magazine last year in a spread intended to draw attention to men's cancer education, and his status as a world-class heartthrob was confirmed a few months ago when he and Serbia's Ana Ivanovic began dating. They broke up not long ago, an event he endearingly acknowledged by saying, "My romance is a little bit over now.''
Verdasco has the air of someone who knows how to enjoy life, but he's also grown increasingly dissatisfied with lurking on the edges of the top 10. Entering 2008, he found himself in mid-career with just one minor ATP title to his name. He added another on clay in Umag, Croatia, last summer, but had his first truly transformative experience in the Davis Cup finals in November.
Spain, playing without a gimpy and fatigued Rafael Nadal, was considered an underdog to Argentina, despite the host country's controversial decision to play on hard court rather than clay. Verdasco and his good buddy Feliciano Lopez won the pivotal doubles point, and Verdasco sealed his place in Spain's heart by prevailing over Jose Acasuso in the third singles match.
Verdasco didn't rest on those laurels. Two weeks later, he flew to Las Vegas to spend his Christmas holidays with Reyes, who immersed him in lower-body workouts. His stamina and returning ability were already exceptional, but Reyes wanted him to be able to "go those extra four, six, 10 shots,'' the trainer said.
"This generation has raised the bar, and the court coverage is unreal,'' Reyes said. "You're sprinting, slamming on the brakes, sprinting back, starting and stopping violently. Weak legs command and strong legs obey.''
[+] Enlarge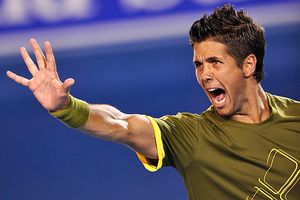 WILLIAM WEST/Getty ImagesAfter 22 appearances in majors, Fernando Verdasco is in his first semifinal.
The fortnight stint also gave Verdasco a chance for a two-hour, one-on-one conversation with Agassi, who gave him advice on everything from his tournament schedule to philosophy of life.
"After these two weeks, I realize much more how I can play and how I can be [a] harder player for the other players,'' Verdasco said.
What happened in Vegas did not stay in Vegas. Reyes arranged for Verdasco to visit gyms with specialized equipment when he played his first event of the year in Brisbane -- where he reached the final -- and again in Melbourne when he played the tune-up exhibition in suburban Kooyong. "Then, I told him to pack it up and just play,'' Reyes said.
Verdasco blitzed through his first three matches here in straight sets, losing just 12 games in the process, and avenged his Brisbane loss to 22nd seed Radek Stepanek with a crushing 6-4, 6-0, 6-0 rout in the third round. The Spaniard wasn't given much of a shot against pre-tournament favorite Andy Murray in the round of 16 and looked overmatched when he went down two sets to one. He came back from that deficit in one of the most efficient yet fiery displays of the tournament, then knocked off 2008 finalist Jo-Wilfried Tsonga in four sets in the quarterfinals.
Commentator and two-time Australian Open champion Jim Courier noticed Verdasco's eyes welling with emotion during the on-court interview after the Tsonga match and cut his queries short. "I had at least two more questions I could have asked, but I knew he didn't need to be breaking down in front of 15,000 people,'' Courier said.
Verdasco's physical and psychological limits surely will be tested against No. 1 Nadal on Friday evening, but Courier said he thinks the gap between the two has narrowed in the last 10 days. "I do think it's hard for these guys to play a countryman in the semis, but Fernando is playing a different kind of tennis than we've ever seen from him,'' Courier said.
Nadal doesn't seem inclined to underestimate Verdasco despite their relative positions in the national pecking order. "Always is good to play against another Spanish player in semifinals of Grand Slam, no?'' Nadal told inquiring reporters. "Is very good news for us. One player [is] going to be in the final. But, you know, Fernando is playing at his best level. I never played against him when he's playing at the level like right now … beating Tsonga, beating Murray.
"Sometimes in the past he had some mistakes in important moments and he lost a little bit of concentration. But right now he's changing these things.''
Reyes said Verdasco called him after the Tsonga match and told him he felt great. "I told him, 'Why not you? Why not now? Empty the holster,'" Reyes said. "Moments like this are special. Of course it's him on the other side, but it's you on this side.''
The trainer said he has been living on Australian time, 19 hours ahead of Las Vegas, following Verdasco's matches live in the middle of the night. Little did Verdasco know, all those years after he watched Agassi box his way through the draw in Melbourne, that he'd have the same man in his corner. It sounds like something that would only happen in the movies.
Bonnie D. Ford covers tennis and Olympic sports for ESPN.com. She can be reached at bonniedford@aol.com.
Enterprise and Olympic Sports
Bonnie D. Ford is a senior writer for ESPN.com.
SPONSORED HEADLINES
MORE TENNIS HEADLINES
MOST SENT STORIES ON ESPN.COM
2009 AUSTRALIAN OPEN

2009 championsWomen's singles:
Serena Williams, United States
Men's singles:

Rafael Nadal, Spain
Men's doubles:
Bob and Mike Bryan, United States
Women's doubles:
Serena and Venus Williams, United States
Mixed doubles:
Sania Mirza and Mahesh Bhupathi, India
Official scoreboard:
Scores
Slam Central:
Follow all the Slam action
---
Aussie Open key coverage
More from Oz