Commentary
Murray's loss a giant win for Spain
The wait continues for Andy Murray, the trendy pick to dominate Down Under, after his surprising five-set loss to Fernando Verdasco on Monday. But what was Murray's day of doom was Spain's gain.
Updated:
January 26, 2009, 6:09 PM ET
By
Kamakshi Tandon
| Special to ESPN.com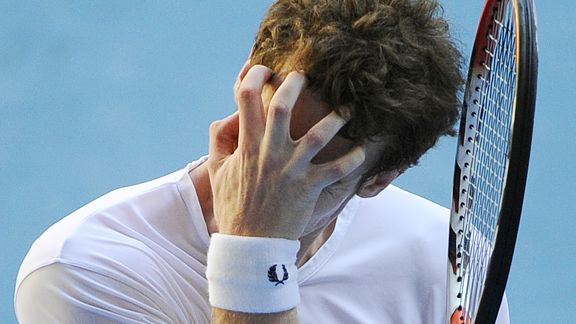 AP Photo/Andrew BrownbillFrustration was palpably mounting for Andy Murray during his unexpected tussle.
MELBOURNE --
Andy Murray
may or may not have been the favorite for the Australian Open, but he will not be the champion. The fourth seed went out of the tournament in the fourth round on Monday, losing 2-6, 6-1, 1-6, 6-3, 6-4 to
Fernando Verdasco
. It was a big loss for Murray but a giant victory for Spain, putting Verdasco through to the quarterfinals of a Grand Slam for the first time and removing a major hurdle from
Rafael Nadal
's path to the final. Unlike Murray, world No. 1 Nadal was in fearsome form on Monday afternoon, bulldozing former finalist
Fernando Gonzalez
with a 6-3, 6-2, 6-4 win. Murray had been the trendy pick to win the event going into Melbourne, with Australia's ubiquitous sports bookmakers putting him at shorter odds than Nadal, three-time winner
Roger Federer
or defending champion
Novak Djokovic
.
Lessons from a luminary
Fernando Verdasco spent last December working in Las Vegas with Andre Agassi's former trainer Gil Reyes, whose services are available to adidas players as part of the company's player development program.
Verdasco has struck up something of a friendship with Agassi, whom he admired growing up. But work came first for the Spaniard during the offseason, as he related after his upset of Andy Murray at the Australian Open:
"The 24th of December, everybody was leaving Las Vegas because it was Christmas time. Agassi came to say hi to me, and I was speaking with him. I don't want to say what he told me, because that's secret, but really helped me so much.
I was speaking with him two hours before he left for the mountains. He was leaving with Steffi [Graf, Agassi's wife] to enjoy Christmas. He was going to ski.
I love to ski. I was there in the gym working hard, so I was a little bit jealous. But I was just thinking to be ready for the season and start good the year."
The players generally slammed this view, finding it presumptuous to put a player who had never won a major ahead of Federer or Nadal.
After Monday's loss, Murray drily noted that the issue had been laid to rest for the foreseeable future. "I don't know if I'll be the favorite for a Slam in the next year or so after today," he said.
Even as debate raged over Murray's position in the pecking order, a complication developed: The Scot was hit by flu-like symptoms midweek and spent most of Friday in bed. Still, it did not seem to have affected him during his straight-sets win over
Jurgen Melzer
the next day, and he also insisted that it had not played a pivotal role in Monday's defeat to Verdasco. "It wasn't a physical thing, why I lost," said Murray. "Even after being sick for the last few days, I thought I still came through the match well." Even if it had made a difference, Murray seemed to suggest, he wouldn't want to say so. "If you're sick, there's some things you can't do as well as you might like," he admitted. "But, again, if I say that I'm sick and it affected me, I know it's going to be like, 'Well, he's making excuses for losing.' I don't feel that was the reason why I lost. I definitely did have my chances, and he played too well." Only Murray can really know whether there were any lingering effects from the illness. Even if the weakness was slight, it may have played a role in the turning point of the match. It came at 3-3 on Verdasco's serve, with Murray holding break point. A good serve from the Spaniard allowed him to take charge of the rally with his big forehand -- a common pattern during the match -- and he ran Murray from sideline to sideline in a 21-stroke exchange before putting away an overhead.
Murray bent over afterwards, breathing hard, and was broken in the next game. Verdasco told Spanish reporters after the match that even he noticed Murray seemed tired following that point. Overall, however, Verdasco agreed with Murray that physical condition was not a huge factor in the match. "I think that he was really fit also. But, I don't know, I think I just have better day than him today," said Verdasco. The mental boost of winning the Davis Cup for Spain, coupled with the physical training he did with Andre Agassi's trainer Gil Reyes during the offseason, appears to have taken Verdasco's game to a new level. Verdasco's brief relationship with Ana Ivanovic between September and January also greatly increased his profile, and he has told others privately that it has made him more determined to earn fame through his results. Reminded of Ivanovic's recent run of bad results, Verdasco said, "I don't think that is my fault." He did, however, credit his friend and compatriot Nadal with a role in Monday's victory. "I didn't speak with Rafa about anything about the match of today -- I just saw something that he said yesterday or two days ago in the press conference," said Verdasco. "They ask him about my match, and he said I should take the forehand and try to move him and try to take the rhythm of the match. I saw that, I didn't need to speak with him." The upset has created the possibility of an all-Spanish meeting between Verdasco and Nadal in the semifinals. Murray may be down and out, but Spain's stock is rising.

Kamakshi Tandon is a freelance tennis writer for ESPN.com.
SPONSORED HEADLINES
MORE TENNIS HEADLINES
MOST SENT STORIES ON ESPN.COM
2009 AUSTRALIAN OPEN

2009 championsWomen's singles:
Serena Williams, United States
Men's singles:

Rafael Nadal, Spain
Men's doubles:
Bob and Mike Bryan, United States
Women's doubles:
Serena and Venus Williams, United States
Mixed doubles:
Sania Mirza and Mahesh Bhupathi, India
Official scoreboard:
Scores
Slam Central:
Follow all the Slam action
---
Aussie Open key coverage
More from Oz