Commentary
Nadal faces stiff test in Simon
Here's a look at the remaining quarterfinal matchups Down Under.
MELBOURNE, Australia -- Here's a look at the remaining quarterfinal matchups Down Under:
Men

No. 1 Rafael Nadal vs. No. 6 Gilles Simon
Once his playing days are over, Simon should venture into comedy. A mischievous grin never far away, the Frenchman replied thusly when asked about his tactics against Nadal: "I have to run five hours to win," he said. "I have no choice."
[+] Enlarge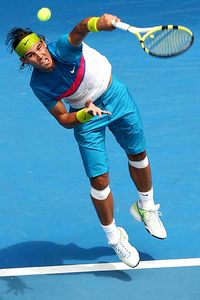 Greg Wood/Getty ImagesRafael Nadal is the only player left in the men's draw who has yet to concede a set.
All kidding aside, he's not far from the truth.
In their last meeting, in the semifinals of the Madrid Masters in Nadal's extended backyard, Simon prevailed 3-6, 7-5, 7-6 (6) in a grueling 3 hours, 23 minutes. Not one to antagonize, he handled the crowd beautifully and beat Nadal at his own game.
Simon hung with Nadal from the baseline, winning all the key points. Indeed, the stats made for interesting perusing -- Nadal registered a higher winning percentage behind first and second serves, and did the same returning first and second serves. However, he went a paltry 5-for-22 on break points, and it cost him.
Nadal was dealing with a knee injury, no doubt provoked by a hectic schedule, and the Madrid appearance turned out to be his final 2008 event. He is better now, and the world No. 1 has eased into the quarters despite having a tough draw.
Nadal blitzed dangerous German Tommy Haas in the third round and Fernando Gonzalez in the fourth. (OK, so Gonzalez had to be a little weary after his five-set exertion Saturday.)
"I have to be ready for everything," Nadal said. "But I am playing well."
Prediction: Nadal in four.
No. 5 Jo-Wilfried Tsonga vs. No. 14 Fernando Verdasco
After Marcos Baghdatis, Fernando Gonzalez and Tsonga, could Verdasco be the next unlikely finalist in Melbourne?
If the Spaniard plays the way he did against Murray on Monday, there's no reason he couldn't. Verdasco dictated with his forehand and let rip on serve rather than simply spinning in his first delivery -- as he has done in the past. Equally as vital, he didn't fold when it mattered, another knock on the lefty in the past.
Verdasco said clinching the Davis Cup title last month in Argentina boosted his confidence, and he put in ample offseason training in Las Vegas with the larger-than-life figure of Gil Reyes (Andre Agassi's former conditioning coach) while others enjoyed the season of good will.
Agassi produced a few words of wisdom before embarking on a skiing holiday with the family, wife Steffi Graf included.
"I don't want to say what he told me because that's secret," Verdasco said. "But he really helped me so much. Right now, I'm so happy that I took the decision to go to Las Vegas and practice with Gil."
Tsonga is proving last year's sprint to the final was no fluke. Coping with a back injury suffered in the buildup to the tournament, he has overcome blips by making the big shots when needed. "Fear," at least on the court, doesn't seem to be in his vocabulary.
Prediction: Verdasco in four.
-- Ravi Ubha
Women

Carla Suarez Navarro vs. No. 4 Elena Dementieva
What a difference a year can make -- Suarez Navarro couldn't muster qualification at last year's Australian Open. Her final-eight result in Melbourne this year is leaving the Spanish media scratching their heads with no answers as to why the 20-year-old clay-court lover is doing so well.
One reason could be that the courts are playing slow, so she's able to cover territory from the baseline with a little extra time. Many players have a letdown after posting a big upset, but Suarez Navarro handled her second-round win over Venus Williams with maturity.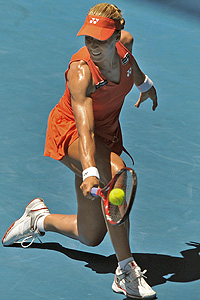 Paul Crocl/Getty ImagesElena Dementieva has not lost a match this season, winning two titles en route to the Australian Open quarterfinals.
The question now is whether Suarez Navarro can post a second top-10 upset by beating the in-form Dementieva. The Russian is in position to possibly become No. 1 for the first time if the remainder of the tournament plays out in her favor. Dementieva has a history of choking away matches and a penchant for double-faulting because of a skimpy second serve. But she seems to have developed a sturdier game and greater confidence since capturing the Olympic gold medal in Beijing.
Dementieva arrived in Melbourne having already won two titles this year -- Auckland and Sydney -- and appears surprisingly fresh. The trickiest part of this first career matchup for Dementieva is that she knows little about her stealth opponent.
Prediction: Dementieva in two.
No. 8 Svetlana Kuznetsova vs. No. 2 Serena Williams

Williams has to be feeling fortunate to be in her hunt for a fourth Australian Open title. The nine-time Grand Slam champion was less than precision perfect against Victoria Azarenka in the fourth round. When she offered Azarenka a break point to take the first set, Williams uncharacteristically shouted an obscenity, which quickly elicited a warning from the umpire.
Six games later, a gastrointestinal disorder and dizziness had Azarenka heading to the locker room in retirement and Williams heading to the quarterfinals. When Williams gets into the later rounds at Slams, she is in her element, and that's bound to be worrisome for Kuznetsova, especially considering that Williams has won four of their five career meetings.
Kuznetsova is a master at court coverage, but despite owning the 2004 U.S. Open title and finalist appearances at the '06 French Open and '07 U.S. Open, she lacks self-assuredness. Unless Williams, who is mentally tougher than Kuznetsova, fails to get her act together, the Russian will be heading home after Tuesday.
Prediction: Williams in three.
-- Sandra Harwitt
Sandra Harwitt is a freelance tennis writer for ESPN.com.
SPONSORED HEADLINES
MORE TENNIS HEADLINES
MOST SENT STORIES ON ESPN.COM
2009 AUSTRALIAN OPEN

2009 championsWomen's singles:
Serena Williams, United States
Men's singles:

Rafael Nadal, Spain
Men's doubles:
Bob and Mike Bryan, United States
Women's doubles:
Serena and Venus Williams, United States
Mixed doubles:
Sania Mirza and Mahesh Bhupathi, India
Official scoreboard:
Scores
Slam Central:
Follow all the Slam action
---
Aussie Open key coverage
More from Oz