Nadal tops Federer for first Aussie title
Updated:
February 2, 2009, 8:05 AM ET
ESPN.com news services
MELBOURNE, Australia -- Rafael Nadal thwarted tennis history on Sunday while opening a new chapter of his own.
Nadal won his sixth Grand Slam tournament and first in Melbourne, keeping Roger Federer from claiming a record-tying 14th major with a five-set triumph at Rod Laver Arena.
Nadal beat Federer 7-5, 3-6, 7-6 (3), 3-6, 6-2 in a nearly four-and-a-half hour match. It lasted well past midnight locally into a simmering Monday morning in this southeast Australian metropolis.
Federer couldn't hold back tears at the trophy presentation.
"Maybe I'll try later. God, it's killing me," the 27-year-old Swiss star said, sobbing. He returned to congratulate Nadal within minutes, saying: "You deserved it. You played a fantastic final."
[+] Enlarge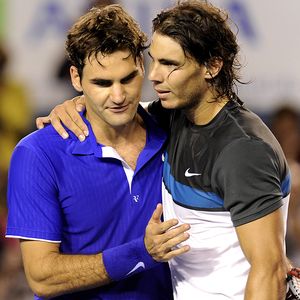 AP Photo/Andrew BrownbillRafael Nadal's five-set triumph on Sunday put Roger Federer's quest for a record-tying 14th Grand Slam title on hold.
Nadal collected the trophy and put his arm around Federer.
"Roger, sorry for today. I really know how you feel right now," Nadal said. "Remember, you're a great champion, you're one of the best in history."
He accepted the cup from Rod Laver, who was in Australia to mark the start of the 40th anniversary of the last career Grand Slam season.
"To receive this trophy from Rod Laver is a dream for me," Nadal said.
Federer, who fell to Nadal for the third straight time in a Grand Slam final after French Open and Wimbledon losses last year, turned in a routine service game to open the fifth set.
But the Spaniard responded with four straight wins en route to taking the championship.
Federer saved two championship points from 15-40 in the set's eighth game but sent a forehand long on the third match point.
Nadal flopped onto his back, then got up and raced to shake hands.
The players put their arms around the other's shoulders at the net as they walked off the court.
Drenched in sweat, Nadal raised his fist, applauded the crowd's standing ovation, then went over to shake hands with his coach and other supporters.
Federer had a straight-sets win over Andy Roddick the previous night, but said the difference in preparation had no influence on the final.
He said the fact he'd missed the Pete Sampras record at a tournament he's won three times didn't make the loss any worse or easier to take.
"Honestly, no," he said. "I mean, it's more like, in the first moment you're disappointed, you're shocked, you're sad, you know, then all of a sudden it overwhelms you.
"The problem is you can't go in the locker room and just take it easy and take a cold shower. You're stuck out there. It's the worst feeling. ... it's rough."
Worldly Efforts
Rafael Nadal's last 365 days:
• Won 3 Grand Slams, including French Open, Wimbledon and Australian Open
• Won gold medal at Beijing Olympics
• Helped Spain win Davis Cup

Federer, so dominant when he won three of the four majors in 2006 and 2007, has now lost finals on three different surfaces to Nadal.
He hasn't given up hope of beating the 22-year-old.
"For sure," he said. "I didn't spend 4 1/4 hours out there [not] believing it."
Nadal said his leg started to hurt during the third set and he called for a trainer to help him out.
"I ended the match against [Fernando] Verdasco with the right leg, the quadriceps and hamstring very tight," Nadal said.
"In the third set it started to [hurt]... I wasn't cramping but it was scary."
Nadal asked the trainer to massage his leg during the change of ends but was reluctant to call for a medical timeout in case he needed it later in the match.
The powerful left-hander said the pain never subsided.
"I was a little bit tired. I was little bit worried about my physical performance because [when] I trained, it was tough to keep up the concentration," Nadal said. "I spoke with my coach before the match and he told me to go out there and fight all the time and believe in the victory."
Although Federer actually won one more point -- 174-173 -- his serve let him down all too frequently. He connected on only 51 percent of his first serves, and it seemed as if all of his six double-faults came at critical times.
[+] Enlarge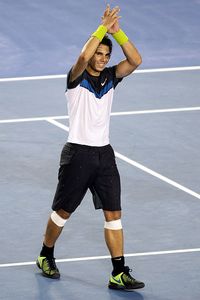 Mark Dadswell/Getty ImagesRafael Nadal won his sixth Grand Slam trophy, beating Roger Federer for the third straight time in a major final.
And as the pressure ratcheted up in the fifth set, it was Federer who wilted, not Nadal. Federer had six winners and 14 unforced errors in the set, while Nadal had just two unforced errors and dropped only three points in four service games.
Federer kept alive his hopes when he matched Nadal at two-sets all.
Federer blazed through the fourth set, breaking the world No. 1 to seal it 6-3 before Nadal dominated the fifth.
Nadal had snatched a 7-5, 3-6, 7-6 lead after taking the third set tiebreak 7-3 when Federer double-faulted after more than three hours on court.
The Swiss second seed, however, rocketed through the fourth set in 44 minutes to send the men's final into a decider for the first time since 1988.
He had broken Nadal in the second game of the fourth set to take a 2-0 lead before the Spaniard fought back to level it at 2-2.
Federer, however, managed to save five break points in an astonishing fifth game, when both players produced outrageous winners from improbable angles.
Staving off Nadal added to Federer's confidence and he immediately broke in the next game to take a 4-3 lead.
The Swiss served out for the set when Nadal was unable to return a wide serve on set point.
Nadal, showing no signs of fatigue despite his 5 hour, 14 minute victory over compatriot Verdasco in the semifinals, sealed the first set after an enthralling tussle that highlighted the burgeoning gap between the pair and the rest of the men's field.
While Federer overhit two backhands that ballooned past the baseline to give Nadal the early break, he rectified the problem in the next game, holding three break points as the pair engaged in an intense baseline battle.
Nadal's salacious topspin forehands were negated by Federer's returns that allowed the Swiss to break back.
They both held serve until the sixth game before Federer slammed a forehand return off Nadal's second serve past the flat footed Spaniard to seal his second break of the set.
But Nadal would not let up and an audacious angled backhand cornered Federer, who double faulted on break point in the next game.
Instant Classic:
Watch Nadal-Federer again

ESPN Classic will show the Australian Open men's final between No. 1 Rafael Nadal and 13-time Grand Slam winner Roger Federer as an Instant Classic on Monday, Feb. 2 from 3-8 p.m.


The stage was set for the world's top two players to collide once again in a Grand Slam final. Watch Nadal and Federer battle for five dramatic sets Down Under. Replay
Nadal earned two further break points in the 11th game and capitalized by conjuring a topspin forehand pass that left the Swiss flatfooted at the net.
Nadal withstood a challenge from Federer on his serve to seal the first set with a forehand winner.
In the second set, Federer, was first to crack when he mistimed a forehand over the baseline to drop his serve.
The 13-times Grand Slam winner, however, broke straight back to level at 3-3.
Federer, seemingly aware he had to exploit what few opportunities he had before Nadal took over in the fifth set, piled on the pressure in the eighth game and finally took it on his fifth break point when Nadal's backhand smacked into the top of the net.
Federer levelled the match after Nadal's forehand return sailed well past the baseline.
Federer had numerous chances to take the third set but each time he let Nadal off the hook.
The Swiss squandered three break points in the ninth game of the third set to hand Nadal a 5-4 lead.
After levelling for 5-5, Federer held three more break points in the 11th game but the Spaniard produced some battling tennis to dig himself out of a hole.
The Swiss held to send the match into the tiebreak.
While Nadal lost the first point on his serve, it was the only time he seemed under pressure in the tiebreak and he clinched it when Federer's second serve on set point bounced long.
It was the first men's final to go to five sets since Mats Wilander beat Pat Cash in 1988, the first at Melbourne Park.
Information from Reuters and The Associated Press was used in this report.
2009 AUSTRALIAN OPEN

2009 championsWomen's singles:
Serena Williams, United States
Men's singles:

Rafael Nadal, Spain
Men's doubles:
Bob and Mike Bryan, United States
Women's doubles:
Serena and Venus Williams, United States
Mixed doubles:
Sania Mirza and Mahesh Bhupathi, India
Official scoreboard:
Scores
Slam Central:
Follow all the Slam action
---
Aussie Open key coverage
More from Oz
MOST SENT STORIES ON ESPN.COM