Issues between the ears as Blake struggles
James Blake intends to draw on past experiences to help get him out of the two-month slump he's currently enduring. Bonnie DeSimone explains.
Updated:
March 24, 2007, 7:15 PM ET
By
Bonnie DeSimone
| Special to ESPN.com
KEY BISCAYNE, Fla. -- James Blake came to his news conference Friday wearing a Davis Cup T-shirt, thereby promoting his next match, two weeks from now.
That's much longer than he'd like to be idle and more time than is ideal to rehash his recent results, especially since that tilt against Spain will probably pit him against No. 2 Rafael Nadal before a full house in Winston-Salem, N.C.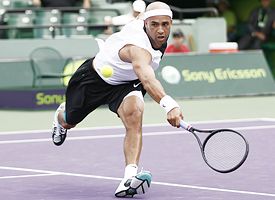 AP Photo/Jon WaySince starting the year 11-1 with a title in Sydney, Blake has dropped six of nine matches.
The layoff comes courtesy of Blake's second-round loss to France's Florent Serra, confirming that a recent backslide has become a bona fide slump for the No. 8 player in the world. Blake is too smart and too candid to pretend it's anything other than that, although he said he'd do his best.
"Sometimes the only other thing that can help is trying to trick yourself," Blake said, trying to muster a smile. "Hopefully I can count on being a dumb jock, and I can fool myself into thinking that I can play confidently next time."
Blake's face was as glum as it gets under the brim of his Mets cap. He was gracious, as he nearly always is, but the professional transcription of his remarks didn't even cover both sides of a single page. That tells you all you need to know about the current mind-set of this habitually chatty player who has worked so hard to hike to high altitude from base camp, only to find oxygen scarce at the top.
His season began auspiciously with a win in Sydney, and he reached the final in Delray Beach. But suddenly it's been six weeks since Blake won two matches at the same event, which is not going to help him keep his footing in the top 10. He made numerous unforced errors against Serra, a player he beat fairly easily at Indian Wells 10 days ago, but Blake said his issues are between the ears more than between the lines.
On the final shot of the first-set tiebreak, Blake stepped up to make what looked like a dead-sure winner of an approach shot into a largely open court, then hesitated infinitesimally when he saw Serra ranging around where Blake had planned to go. He lost the dueler's edge in that instant and hit the ball long.
| | | |
| --- | --- | --- |
| Opponent | Event | Result |
| F. Serra | Key Biscayne | Lost |
| J. Benneteau | Indian Wells | Lost |
| F. Serra | Indian Wells | Won |
| J.M. del Potro | Las Vegas | Won |
| E. Korolev | Las Vegas | Lost |
| I. Karlovic | San Jose | Lost |
| I. Kunitsyn | San Jose | Won |
| T. Berdych | Davis Cup | Lost |
| X. Malisse | Delray Beach | Lost |
"When I'm playing well, I don't even look up and I don't notice what he's doing," Blake said. "I just hit my shot to where I want to go, and if they can come up with something good, good."
As Blake made his way back to the locker room, his longtime coach Brian Barker and fitness coach Mark Merklein leaned against the cinder-block wall in the hallway, talking quietly.
Barker agreed that there's very little chance the Harvard-educated Blake will be able to turn off his intellect, nor should he. "I've never felt he overanalyzed things to the point where it hurts him," Barker said.
If Blake had too short a memory, he might not remember the other times when he floundered and fought to get off a competitive plateau. Barker does. In the summer of 2005, when Blake was still being graded on the comeback curve after injury, illness and the death of his father, he lost four matches in a row, won one in a walkover, then lost again.
"I remember calling you and saying, 'Well, that's five,'" Barker said, looking knowingly at Merklein. "Then it was, boom! Finals at Washington. Boom! He wins New Haven. Boom! Quarters of the [U.S.] Open.
"So often on the tour, guys win matches in bunches. Every time James has busted through to the next level, he's done it in tremendous leaps."
Thing is, staying in the top 10 or the top five doesn't require leaps so much as the ability to run -- fast -- in place and not get fatigued. You solve a problem here or there, you make inroads and you consistently rise to the occasion.
"It's different walking out on court knowing that people expect more of you and you're the same guy you always were," Barker said.
Blake said he's lucky to have past success to draw on. What he might have added, in one of his characteristic elaborations, is that he can draw on past disappointment followed by success. It's a deep well for a deep guy. Much as he might long to get solace from a dunce cap, it's more likely that he'll put his thinking cap on instead.
Bonnie DeSimone is a freelancer who contributes frequently to ESPN.com.
EDITORS' PICKS
CiCi Bellis rolled into the third round of the Miami Open.
Wilansky »

Serena Williams' numbers at the Miami Open are simply insane.
Bodo »

Andy Murray beats Donald Young in straight sets.
Scores »
MOST SENT STORIES ON ESPN.COM