Off-court issues haven't affected Henin on court
Divorce caused Justine Henin to miss the Australian Open. However, as Bonnie DeSimone writes, the world's No. 1 player has not missed much since her return to the court.
Updated:
March 30, 2007, 1:02 PM ET
By
Bonnie DeSimone
| Special to ESPN.com
KEY BISCAYNE, Fla. -- Despite her considerable athletic talent, it's always been clear that Justine Henin regards her body as an entity that could betray her at any moment and her mind as her most crucial muscle. She's proud of her ability to scrap her way back into a match when she is down, or maintain her concentration through a long rally.
So it's admirable, but shouldn't be terribly surprising, that the world No. 1 has figured out how not only to survive but excel during a difficult emotional stretch.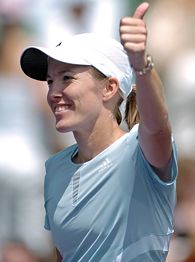 AP Photo/David AdameHenin has now reached the final in each of her last three events.
Henin ended 2006 atop the rankings, having won the season-ending championships and appeared in all four Grand Slam finals, but her accomplishments were footnoted. She was understandably disparaged for her midmatch withdrawals in the Australian Open and Fed Cup finals. She reinforced her image as a player a little too ready with an excuse. Her lyrical all-court game was accompanied by a perpetual take-me-or-leave-me shrug.
Then Henin skipped this year's Australian Open, citing personal reasons. Word leaked out that she and her husband of four years, Pierre-Yves Hardenne, were separating.
Wrestling with the decision to break up a marriage, often in secret, can be harder than dealing with the fallout. We're watching the 24-year-old Henin emerge from that cocoon, and it's an arresting sight.
Henin returned to the tour and went on a tear. She made the semifinals in Paris, won in Dubai and Doha, passed on Indian Wells and arrived at the Sony Ericsson Open 10-1 this season. She's now 15-1, despite the fact that she made it clear from the start how ill at ease she felt in South Florida, an admission that was a departure from her usual guardedness.
Twice, Henin lost her first match here. She hadn't made it past the quarterfinals in five tries. This is also the time of the year when, at age 12, she lost her mother to cancer, an echo she touched on obliquely in several interview sessions.
"At the beginning of the match, a little bit nervous, first match in Miami; it's not my favorite event," she said following a routine win over Vania King in the second round. "March is a tough month for me."
It looked as if Henin would revert to form in her next match, against France's Virginie Razzano on a breezy outer court. Henin was having respiratory problems -- allergies, or perhaps an infection -- and went down 5-1 in the third set. But she began to think point by point rather than allowing her Miami malaise to overtake her.
"I finally was really calm for the first time in the match," she said afterward. "You don't care anymore what could happen. You start to be a little bit tired. You just try to play your game, and it worked pretty good."
As the days and the wins ticked by in Key Biscayne, Henin repeatedly referred to finding her balance, her rhythm and her "place on the circuit." It marked a change for someone who used to seem disinterested in fitting in and simply wanted to show up, do her job well and go home.
What happened to Henin as a child was beyond her control. Now the home life she built as an adult has crumbled, and the dust is still settling. She has learned -- as so many of us have -- that well-intentioned personal game plans sometimes unravel.
Henin apparently has decided that the best coping tactic is to immerse herself in the present. As a rule, the smarter and more serious you are, the harder that is. But Henin has the advantage of great, blinders-on focus to begin with. She put the past in her rearview mirror and flipped the headlights back from bright to normal, illuminating only the road immediately ahead.
| | | |
| --- | --- | --- |
| Year | Event | Winner |
| 2003 | Wimbledon | Williams |
| 2003 | French Open | Henin |
| 2003 | Charleston | Henin |
| 2002 | Leipzig | Williams |
| 2002 | Rome | Williams |
| 2002 | Berlin | Henin |
| 2001 | Sanex | Williams |
| 2001 | U.S. Open | Williams |
"I was expecting to have difficulties when I came back," she said in French after the regular interview session was over Thursday. "I'm not at the end of the path, and the path looks like it's going to be very long.
"What I'm trying to do now is live right now, without being concerned about what will happen in two days."
There's a Zen concept called "beginner's mind." As a beginner, you're receptive and see everything fresh. You're amenable to suggestion. You take things at face value. Conversely, the more you know, the more opinions and habits you form and the more you close yourself off. As one famous teacher puts it: In the beginner's mind there are many possibilities; in the expert's mind there are few.
Henin is certainly expert at what she does for a living, but now she's back at work while navigating a new reality. Perhaps she's taking a beginner's look around and seeing things she blocked out before. She seems more relaxed. She smiles more readily. She might still be too wary to reveal her mantra, but there's a lot less barbed wire around her. It must be interesting to compete without it.
The media asked her to elaborate Thursday after she cruised by Anna Chakvetadze of Russia to reach the final.
"I don't know, 2007 is different for me," Henin said. "I just try to enjoy every moment of my life. Not try to project myself too far in the future, and forget a little bit of what happened in the past. Just, I feel lucky to do what I love so much. I feel lucky to take my decisions and try to move forward. I feel very happy about that now."
Can Henin retain this new serenity against the rampaging Serena Williams in Saturday's final? This is truly the battle of the back stories. Williams, too, said she needed a break from the tour last year to process an emotional trauma, the violent death of her sister. She, too, has become a more accessible personality with her recent comments about her bootylicious body type. She, too, has lost only once this season.
Oddly, the two haven't played in nearly four years. That's probably a fortuitous cooldown period given the conflagration of the 2003 French Open semifinal, when Williams endured a hostile crowd, accused Henin of unsportsmanlike conduct and wept at her news conference.
Williams won the rematch that summer in the Wimbledon semis. Thursday, she pointedly said she hoped for "an honest match" against Henin this time.
That's something a lot of people will root for. Since last they met, both champions have acquired an extra dimension -- a measure of sympathy, whether willing or grudging -- that comes from looking at them anew.
Bonnie DeSimone is a freelancer who contributes frequently to ESPN.com.
EDITORS' PICKS
Roger Federer beats Novak Djokovic to win Dubai Championships.
Wilansky »

Lucie Safarova beats Victoria Azarenka to win the Qatar Open.
Story »

A look at tennis players and their delicious endorsement deals.
Tandon »
MOST SENT STORIES ON ESPN.COM