Commentary
The distress of a root canal easier than facing Santoro
A wily 20-year veteran, Fabrice Santoro has the same passion and determination he had as a 16-year-old neophyte. Wielding a textured mix of spin and tactics, the Frenchman is still more than capable of putting his opponents through agony.
Updated:
July 23, 2008, 12:06 PM ET
By
Joel Drucker
| Special to ESPN.com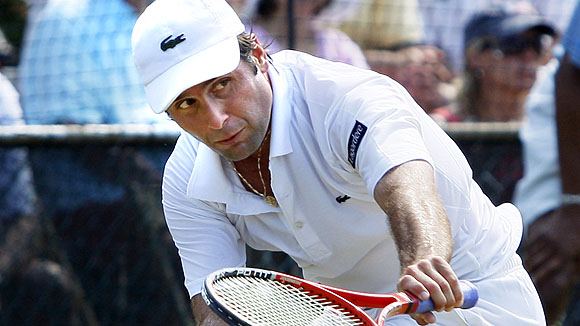 AP Photo/Elise AmendolaWith his unorthodox style, Fabrice Santoro has been inflicting damage on opponents for two decades.
In most cases, a tennis player's legacy is best shaped by his or her results. Grand Slam wins, of course, carry the most impact, followed by notable efforts in Davis Cup, tournament titles and, to a lesser degree, compelling losses.
Then there's Fabrice Santoro. He is 35 years old and has never been ranked higher than 17 in the world. In 64 Grand Slam singles tournaments, only once has he made it to the quarterfinals. In 108 tries, he has only twice reached the semifinals of an ATP Masters Event.
All of which means little in assessing this man's impact on tennis.
Santoro recently won his sixth career singles title, earning a grass-court victory at Newport. That win also was his 451st career singles win, a mark exceeded among active players only by Roger Federer, Carlos Moya and Lleyton Hewitt.
"When you start a career at 16, never can you imagine that you will win a tournament 20 years later," Santoro said. "I played my first French Open in 1989. I have the same passion for the game as 15 years ago, maybe more."
But even then, Santoro's value to tennis has less to do with longevity and more to do with his approach to the game -- an approach that has profound implications for that tricky topic known as player development.
The sad truth is that tennis players often develop their games under the rubric of a home nation and an inherently provincial approach to stroke production and tactics (but not always, particularly at Nick Bollettieri's Florida-based academy, a veritable yellow-balled Ellis Island).
As tends to happen amid a top-down institutional environment, many players from current tennis powerhouses Spain and Russia appear to be issued a particular style -- in both cases, a technically proficient, power baseline game based heavily on repetition, with scarcely an emphasis on nuance, variety or alternative game plans. In many cases, players from these nations are the equivalent of a college student who knows a great deal about composition but little of literature. Certainly they are proficient, but how well such a playing style ages is a lively debate topic.
Then there's France. As you might expect, creativity is valued -- and no one personifies this more than Santoro. "A player may learn the fundamentals in France, but he is encouraged to build his own kind of playing style," said George Goven, a former pro and current French Fed Cup captain. "Tennis is something you play."
Santoro's double-double-handed playing style -- that is, he hits his backhand and forehand with two hands -- is a textured mix of spin, pace and assorted tactics. His nickname is The Magician, but even that underestimates his true genius.
Many years ago the all-time great player Bill Tilden wrote a book titled, "Match Play and the Spin of the Ball." The work is often considered a bible for understanding how to win tennis matches. Tilden wrote: "Let me open this discussion by a sound tennis maxim: Never give your opponent a chance to make a shot he likes."
[+] Enlarge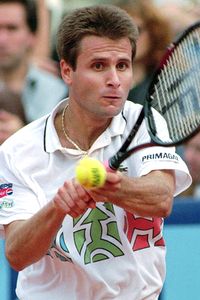 AP Photo/Massimo SambucettiSantoro didn't win first ATP title until 1997, but he has won in Newport, R.I. the last two years.
Santoro has applied this principle with a vengeance. He is a disrupter par excellence; whether in victory or defeat, he puts his opponents through agony.
Marat Safin
-- 2-7 lifetime versus Santoro -- was once asked his biggest fear. "Going to the dentist," Safin said. "On second thought, I would rather have a root canal than play Santoro."
There's no question, of course, that Santoro's genius has taken him only so far. In many ways, he's the equivalent of the crafty veteran at a local park, a riddle that must be answered if a player is to advance to a higher level. And now, at 35, it's apparent that many players have the goods to hit through him. It's also notable, alas, that many French players veer more towards form over function. The likes of Richard Gasquet and Jo-Wilfried Tsonga have yet to match the results of their Spanish and Russian counterparts.
But the lesson to be learned from Santoro is vivid. Players such as Santoro and, at a higher level, the multifaceted Federer, did far more when they were coming up than obediently nod their heads at instructors and merely keep cracking crosscourt drives. Such has also been the case in recent years for Rafael Nadal. Having declined the chance to work at a national training center in his youth, Nadal in recent years has added new tools to his game, including a beefed-up serve and a useful slice backhand.
What's even clearer is that the variety and thought that go into Santoro's game keep him continually engaged. His body might betray him, but it's hard to see his mind ever burning out. No one more eloquently personifies the notion of tennis as a sport for a lifetime.
Joel Drucker is based in Oakland, Calif., and writes for Tennis Magazine and Tennis Channel.
SPONSORED HEADLINES
MORE TENNIS HEADLINES
MOST SENT STORIES ON ESPN.COM
EDITORS' PICKS
Here are your top stories of the 2014 season.
Tandon »

Serena's Wimbledon saga most mystifying moment of 2014.
Tandon »

No one is more fiery than Fabio Fognini.
Tandon »