Commentary
No shortage of spectacular moments from Federer
From the watershed 2004 Australian Open, where he became the world's No. 1 player, to his epic battles versus Rafael Nadal, Roger Federer has had many memorable moments.
Updated:
August 5, 2008, 1:01 PM ET
By
Joel Drucker
| Special to ESPN.com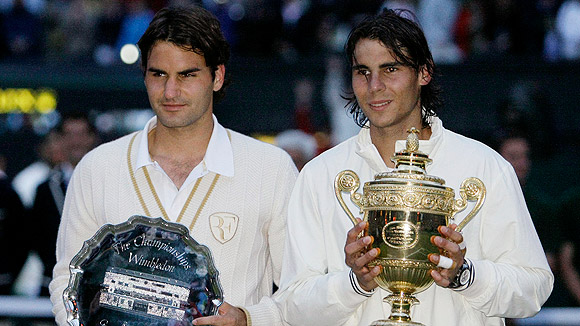 AP Photo/Anja NiedringhausParadoxically, Roger Federer's loss at Wimbledon this year manifested his greatness.
1. 2008 Wimbledon final: Loser and still champion
How can you put a loss as the most memorable moment of a regal reign? Simple: Play a match of exquisite drama and quality on the world's biggest stage, Centre Court at Wimbledon. Just as Muhammad Ali's 1971 loss to Joe Frazier revealed how great a fighter Ali really was, this five-set epic conclusively showed how much over the last four years Federer has raised the bar -- and how much respect he has generated through his excellence. Just three years earlier, Rafael Nadal had stumbled badly on the grass. But in large part due to the high standards set by Federer, Nadal had enhanced his game. Federer on this day was forced to dig deep and fight as he never had in a Grand Slam final. Rallying from two sets to love down, fending off two championship points in the fourth, Federer threw himself boldly into this match. And though he came up empty, the brilliant ballstriking, tenacity and sportsmanship shown by both players was at once gladiatorial, theatrical and enchanting. What more could you ask from a tennis match?
2. 2007 Wimbledon final: Five for five
Federer had lost the previous two French Open finals and been surprisingly tested by Nadal in the '06 Wimbledon final. So it was likely the '07 Wimbledon final would be an even tougher test. Taking two of the first three sets, Federer appeared ready to drop the hammer. But Nadal fought back in trademark style -- and Federer grew surprisingly rattled, in the fourth even verbalizing his chagrin with the electronic instant replay system. Nadal's 6-2 fourth-set victory meant Federer would have to play a fifth set in a Grand Slam final for the first time. It wasn't easy. Nadal held break points in two of Federer's opening service games. But it was Federer who pulled away, winning the final set 6-2.
3. 2007 Australian Open semis: Long live the King
An enthused Roddick entered this semifinal feeling optimistic. He'd strongly tested Federer four months earlier in the final of the U.S. Open and later held three match points versus the Swiss at the season-ending Masters Cup. With the legendary Jimmy Connors in his corner, Roddick marched his way through five victories and figured he'd have a good shot versus Federer. No way. Federer emphatically bludgeoned Roddick, his 6-4, 6-0, 6-2 rout a consummate demonstration of power, movement and airtight play. He'd go on to win the title, becoming the first man since Bjorn Borg at the '80 French Open to win a Slam singles tournament without the loss of a set.
4. 2004 U.S. Open final: A pair of goose eggs
Less than a year prior to taking on Lleyton Hewitt in the U.S. Open final, Federer had suffered a meltdown versus the tenacious Australian in a Davis Cup match, blowing a two sets-to-love and 5-3 lead. At this point Hewitt had won seven of their 12 matches. Hewitt, a past U.S. champ, felt quite comfortable in New York, while 2004 had marked the first time Federer had ever advanced past the fourth round. But as he pursued his first U.S. Open title, the quality of Federer's play was nearly flawless. He pummeled Hewitt 6-0, 7-6, 6-0. The notion of winning two love sets versus a competitor of Hewitt's caliber is staggering.
[+] Enlarge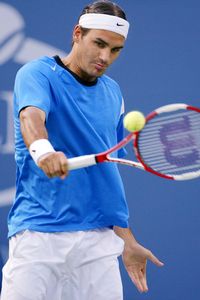 AP Photo/Kathy WillensThe 2004 U.S. Open final was one of Roger Federer's most dominating performances.
5. 2005 U.S. Open final: No mercy
All sentiment was in Agassi's corner, and when the 35-year-old American icon took a 4-2, 30-love lead in hopes of going up two sets to one, Federer seemed about to enter a deep hole. But a superb down-the-line backhand earned him the next point and soon enough the two commenced a tiebreaker for the set -- which Federer won handily 7-1. A deflated Agassi had nothing left, losing the fourth 6-1.
6. 2004 Australian Open final: Top of the world
Federer has been dominant for so long that it's hard to recall a time when he wasn't ranked No. 1. But at the end of 2003 he was ranked No. 2 in the world behind Andy Roddick. At the 2004 Australian Open, though, the man making headlines was not Federer but Marat Safin, who earned impressive five-set victories in the quarters over Roddick and in the semis versus Andre Agassi. Quietly reaching the finals, Federer by this point had earned only one Slam -- as many as Safin -- so was obviously eager to prove himself an enduring champion. After a tight first set, he handled Safin easily, winning 7-6, 6-4, 6-2 -- and also notching enough points to commence his reign as the world's No.1-ranked player.
7. 2004 Wimbledon final: The best defense is a good offense
Defending a title is a major test. In this instance Federer had to contend with a flame-throwing Roddick, who at this point was the defending U.S. Open champion and out to prove that he, not Federer, was indeed the world's best player. Roddick shot out of the blocks, pounding big serves and forehands to snap up the first set. Though Federer squeaked out the second to even the match, in the third Roddick went up 4-2 -- before a rain delay gave the Swiss time to rethink his strategy. Returning to Centre Court, Federer began to serve and volley -- and won the next two sets.
8. 2005 Australian Open semis: Dethroning the King
Defeats usually don't rank as highlights, but one year into Federer's reign, this semifinal match validated just how much Federer had raised the bar. Nothing but the very best tennis would do -- supreme all-court play on both sides of the net. Playing his heart out on his 25th birthday, Safin fought off a match point in a scintillating fourth-set tiebreak and won the fifth 9-7. It was only fitting that Safin went on to win the title.
9. 2006 Tennis Masters Rome: A compelling loss
The best match of 2006, this one too showed that those who hoped to beat Federer in a long match had better bring out their best stuff. Variety and attack put him on the verge of earning his first clay-court victory over his primary nemesis, Rafael Nadal. Federer led 4-1 in the fifth and even held two match points. But it wasn't enough. Nadal won this 5-hour, 5-minute epic in a fifth-set tiebreak.
10. 2004 Tennis Masters Cup
In the semis of the year's season-ending competition, Federer and Safin, the mercurial Russian, played an incredible second-set tiebreak -- one that lasted an epic 38 points. Federer won it 20-18. The next night, he dispatched Hewitt 6-3, 6-2 to win his second straight Tennis Masters Cup title.
Bonus: Federer's finest: A medley
Featuring 10 of Federer's finest shots, topped off by a nearly 50-shot exchange with Hewitt in the finals of the 2005 Pacific Life Open that Federer called the best rally of his career -- a rally he lost, but a match he won.
Joel Drucker is based in Oakland, Calif., and writes for Tennis Magazine and Tennis Channel.
SPONSORED HEADLINES
MORE TENNIS HEADLINES
MOST SENT STORIES ON ESPN.COM
EDITORS' PICKS
Here are your top quotes from the 2014 season.
Tandon »

Take our 2014 tennis holiday quiz.
Kamakshi Tandon »

Here's why Goran Ivanisevic is your supercoach of the year.
Bodo »