Commentary
Winning ugly: There's nothing prettier
Originally Published:
July 22, 2010
By
Joel Drucker
| Special to ESPN.com
Leave it to tennis to invoke notions of beauty -- and in the process divert itself from its essence. Did Joe Montana ever appraise the aesthetics of a fourth-quarter drive? Does Kobe Bryant apologize for the awkwardness of a tip-in?
Tennis seduces and deceives itself. Perhaps its country club roots confer notions of elegance. In an era dominated by the liquid-smooth Roger Federer -- probably the first male tennis player to inspire a swoon from the editor of Vogue -- it's even more tempting to regard tennis as less a rough-and-tumble sport and more an art form.
[+] Enlarge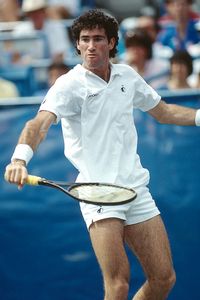 Trevor Jones/Getty ImagesBrad Gilbert exemplified the term "grinder" during his playing days, but why do some tennis fans seem to regard it as a four-letter word?
Which leads us to a concept coined two decades ago as a backhanded compliment: winning ugly. Back in the late '80s, as Brad Gilbert made himself a top-10 mainstay, he continually surprised opponents by helping them become accomplices in their demise -- that is, by undermining their ability to hit the ball the way they wanted to. The notion of "winning ugly" was hung on Gilbert, in time triggering a book that is one of the finest guides to tennis tactics ever written -- and a macro concept that greatly aided Gilbert in coaching Andre Agassi and Andy Roddick to Grand Slam titles and the world No. 1 ranking.
So 20 years later, what is the nature of winning ugly? More important, why when it comes to tennis is the quality of form invoked? Since when did tennis become figure skating?
Ex-pro and psychologist Allen Fox, who also coached Gilbert at Pepperdine, believes there's a misleading contradiction built into the sport's settings and its nature. Said Fox, "Tennis takes place in these pretty venues, but at heart the sport is a confrontational, one-on-one battle."
"People have this idea of what the perfect match is," said Gilbert, who now works as an analyst for ESPN. "The perfect match is finding a way to win that match. People are so preoccupied with thinking if they make a stroke perfect, they'll win more. Even pros talk themselves into thinking they were playing badly even when they won. Sure, sometimes it's easier than other times. But it's when you don't have everything working great that you really learn to compete. That's what winning ugly is: competing, trying, paying attention to what's really happening on the court between you and your opponent."
In the same way a pitcher seeks to undermine the batter in baseball, it's the other guy's mission to help you not play so well in tennis. As all-time great Bill Tilden wrote more than 50 years ago, "many players are said to be 'off their game' against me. I set out to put them 'off their game.'"
Tactical awareness shrivels every time a pro utters such platitudes as "I've got to play my game" or "I wasn't going for my shots" or "He was just too good." None of these phrases acknowledges tennis' interactive qualities. Even beyond the pro level, court savvy spirals downward at clinics and group lessons when instructors repeatedly yell, "Hit it! Go after it!" to their hormonal students, rather than encourage them to aim for consistency and variety.
Tweet, tweet
Don't miss a moment of the latest tennis coverage from around the world. Follow us on Twitter and stay informed. Join »
Said ESPN analyst and Syracuse women's coach Luke Jensen, "Sure, you might want to open the match with your strengths -- a serve to a particular spot, a big cross-court forehand, coming to net, whatever. But you've got to be ready to adjust. If the opponent can hit three or four really good returns right away off your favorite serve, try something else. If he's slow, maybe you don't have to hit so hard and close to the lines. If he's fast, maybe it's better to approach down the middle."
"Winning ugly means not worrying about how it looks and leaving no resource unearthed in order to accomplish the goal of winning," said Tennis Channel analyst and ex-pro Justin Gimelstob. "When a player isn't willing to work through adversity and bails when things get tough, that is the anti-winning ugly. Winning ugly at the pro level is the same as any other level. Just finding a way, doing whatever it takes, outside of your comfort zone, recognizing your opponent's strengths and flaws and being relentless in exposing the flaws."
There's one man in particular Gilbert finds exemplary in all of these categories. According to Gilbert, "He's slicing his backhand, he's returning short, he's varying spins and paces. He does a lot of subtle things -- just a great executor of tactics."
His name is Roger Federer. Call it winning ugly pretty.
Joel Drucker is based in Oakland, Calif., and writes for Tennis Magazine and Tennis Channel.
EDITORS' PICKS
Victoria Azarenka is slowly starting to show old form.
Garber »

Don't forget about little David Ferrer.
Racket Response »

Just like the old days for Roger Federer, Rafael Nadal .
Bodo »
MOST SENT STORIES ON ESPN.COM