Commentary
More penalties to come for new No. 1?
Serena Williams regains the WTA's No. 1 ranking Monday, albeit narrowly. A mere five points separate her and Russia's Dinara Safina, and the top slot could change hands again before the end of the season.
There's reason to hope it doesn't. It has been painful to watch Safina gasp for breath at the summit these past few months, and one can only wish her well in her quest to rebuild her shattered confidence. In Williams, by contrast, the tour has a queen bee with unassailable competitive credentials and one who will embrace rather than be unnerved by her standing.
However, Williams' latest reinstatement to the throne is clouded by the question of whether the International Tennis Federation will further sanction her for an uncharacteristically vicious outburst directed at a line judge in the U.S. Open semifinal.
Tweet, tweet
Don't miss a moment of the latest tennis coverage from around the world. Follow us on Twitter and stay informed. Join »
The rankings dance has upped the stakes in that process. If the ITF announces that Williams is suspended for the next Grand Slam event in Australia -- one of the possible punishments -- tennis' international governing body will have beheaded the defending tournament champion and prevented a No. 1 from protecting the rankings points she has on the line.
Bill Babcock, head of the Grand Slam committee charged with this judicial duty, is just going by the books, but it's frustrating that the ITF's process is designed this way. An incident like Williams' tirade calls for timely action while the circumstances and the impact are still fresh in everyone's minds, not an inquest that takes months (and could be appealed by Williams if she doesn't like the outcome).
The more the episode recedes in memory, the greater the natural tendency to sigh and move on and not blow up the crate of dynamite sitting beneath one of tennis's marquee celebrities. It's much more pleasant to picture Williams' next big match against Kim Clijsters or Justine Henin than to think about her absence from a major, or how she and her camp might react to suspension from one or more Slams.
A month to the day since Williams snapped after a foot-fault call, costing her a code violation and the match, she doesn't seem to have suffered much collateral damage. She has been touring to support her autobiography; she has debuted in a frank commercial campaign for Tampax; she has said she will make a rare appearance for the U.S. Fed Cup team in the final against Italy next month if she's healthy. (That humming sound you hear in the corner is Fed Cup captain Mary Joe Fernandez, turning blue with the effort of holding her breath.)
Looking back on that September weekend, there was a lot going on. There was the compelling, competing storyline of Clijsters' comeback. There was the soap opera of Williams' successive apologies. There was the debatable nature of the foot-fault call that lit her fuse, and the U.S. Open's odd refusal to name the line judge who made it.
We have been told repeatedly that line judges at that level have earned their spots through years of experience and thorough evaluation. If so, the sport and the individuals should have the confidence of that conviction. Anyone who has the power to influence the outcome of a match being played before millions of people is a public figure for that evening. If you're still unconvinced, name one big-league sport that shields the identity of an official.
[+] Enlarge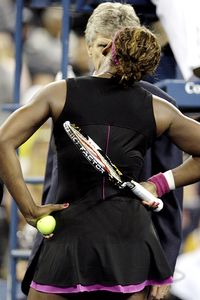 AP Photo/Darron CummingsWill Serena Williams face any serious punishments stemming from her U.S. Open tirade?
As for the call itself, we'll probably never see any détente between those who say it was justified in an absolute sense and those who say it was an egregious one under the circumstances. Let's face it -- tennis can't formally instruct line judges to be subjective at some junctures and not others. What the foot-fault flap underscores is that the advent of Cyclops and Hawk-Eye has created an environment in which top players are used to having recourse to dispute potentially crucial calls. This is one of the few they can't. Baseball umpires don't enforce the phantom tag at second base on a double play, but they might if they could be overruled by infield replays -- especially during the World Series.
Too much effort has been invested in dissecting Williams' apologies. Yes, it would have been nice to hear more remorse from her on the spot. That might have spared us the prolonged agony of trying to decipher two written statements issued under Williams' name before she addressed reporters again after winning the U.S. Open doubles title with her sister. But it's not exactly breaking news that famous people struggle when they have to say they're sorry -- they don't get a lot of practice at it. Whatever sentiments Williams did or didn't express, the bottom line is that we have no idea how she really feels. To a large extent, her on-court acts need to be judged independently of what came after.
There's almost no question that the ITF will emerge from its ruminations with some penalty in addition to the $10,500 fine Williams was slapped with in the immediate aftermath. Some think no monetary penalty would really ding Williams' fenders, given her accumulated prize money, endorsement income and future earning potential, but it's hard to believe the ITF won't assess one anyway.
A suspension from a Slam event would hurt Williams far more, especially if the ITF opted for the delayed action of barring Williams from playing in next year's U.S. Open. The one certitude about her is that she loves to compete, and her relish for the big stage has been constant since her return to form at the 2007 Australian Open. A suspension also would be highly divisive both inside and outside the industry. Tennis is truly in a bind on this one. Treading lightly with Williams would hamstring the sport in trying to police any subsequent incident.
Williams has boycotted a premier event, Indian Wells, for eight years running now, refusing to be swayed by tournament organizers or tour executives who would like her to put a racially tinged episode behind her. That is her prerogative, but she may now find herself on the other side of a situation in which regret may not be quite enough.
Bonnie D. Ford covers tennis and Olympic sports for ESPN.com. She can be reached at bonniedford@aol.com.
Enterprise and Olympic Sports
Bonnie D. Ford is a senior writer for ESPN.com.
EDITORS' PICKS
The clay season can't come fast enough for Rafael Nadal.
Bodo »

Serena Williams takes care of CiCi Bellis in straight sets.
Story »

Eugenie Bouchard suffered a straight-sets loss at the Miami Open.
Story »
MOST SENT STORIES ON ESPN.COM