Commentary
WTA's Roadmap hoping to avoid roadblocks
Although the WTA's Roadmap has turned out to be more evolution than revolution, significant changes still will alter the women's tour next year. But are the players about to put up some last-minute roadblocks?
Originally Published:
October 29, 2008
By
Kamakshi Tandon
| Special to ESPN.com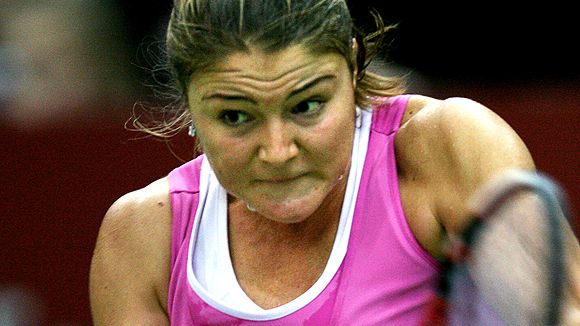 YuriI Kadobnov/AFP/Getty ImagesDinara Safina is among a handful of players skeptical and confused with the Roadmap restrictions.
Details, details.
For well more than two years, the leadership of the Sony Ericsson WTA Tour has been working toward its overhaul of the tour for 2009. The Roadmap has bumped forward, and although it has been roughed up in negotiations and beaten back in some areas, it has managed to get through the approval process in some kind of recognizable shape.
Now, just a couple of months before it officially goes into effect, the players finally are taking a close look at the Roadmap and realizing they don't like some of what they see.
"Many players probably didn't look deep into it and kind of let it go, and all of a sudden you're there with the change, so it's a little bit hard," Ana Ivanovic told reporters in Linz last week.
Two weeks ago, Dinara Safina said, "No one seems to understand which tournaments you can play and which you can't." As proof, Safina and Svetlana Kuznetsova both voiced concerns about not being able to play at home in Moscow next year, although Moscow will be exempt from restrictions because of its spot in the calendar.
Agnieszka Radwanska voiced "hate" for the limits on the number of low-level events she would be able to play next year. Maria Sharapova isn't sure about the number of matches the new schedule could involve. (Venus and Serena Williams long ago made it clear they will continue not to play Indian Wells next year, although playing there is what the new rules mandate.)
With at least half the top 10 expressing late concerns about the schedule, WTA officials have to be worried -- particularly because the changes all rest on whether the stars play where they're supposed to.
WTA president Stacey Allaster believes some teething troubles are inevitable because of the scope of the restructuring. "This is the most comprehensive set of reforms in the tour's history," she said. "The principles of the Roadmap are well understood. Now we're into the procedures -- the understanding of exactly how it will work.
"It's new, and it's complicated even for those of us that are working and managing it on a day-to-day basis, so it doesn't surprise us that players don't know all the intricacies of it, but the fundamentals of the Roadmap they're aware of."
The irony is that the current version of the Roadmap already incorporates significant compromises to the original, more radical version that intended to make drastic cuts to the number of tournaments. Aside from the four Grand Slams, there were to be 15 big-money WTA tournaments featuring the top 10, as well as 18 small events with just a handful of the top 50.
The current version calls for 20 "premier" events and 30 smaller "international" events -- not a huge cry from the 24 upper-level and 30 lower-level tournaments on this year's calendar. The U.S. Open series events, which were fiercely protected by the USTA, remain intact.
But although the Roadmap hasn't managed to create a revolution in those respects, in other ways it represents a significant evolution in the structure of the tour. Top players will now have the majority of their schedule decided for them, and there will be a far larger gulf in the quality of fields between big and small tournaments. In effect, the cream is being skimmed for an elite tour within the tour, with a diluted, milky version left below.
The tour also is bringing in a form of revenue sharing linked to prize money increases and increasing correlation with the ATP tour -- nearly half of next year's tournaments are combined or back-to-back men's and women's events. There also is a geographic shift, with more big Asian events than before.
In a nutshell, top players are giving up flexibility in return for more prize money and a neater calendar. Tournaments are investing more into their events in return for the promise of more stars to sell tickets. Fans will get the opportunity to see the big names clash more often but less chance to see them in their own backyard.
Will it work? Again, it all depends on whether players meet their commitments. If they do indeed show up at big events with more frequency, the streamlined structure and increased marquee value likely will boost the profile of the women's game. But if the trend of injuries and absences continues, the pain will only be felt more deeply.
There will be more meetings between tour officials and players at the Sony Ericsson Championships in Doha, Qatar, next week to hammer out the final details. Perhaps the players should take the opportunity to make their objections known, because another new rule will take effect next year -- one that "expressly prohibits" them from making "public comments that a player knows or should reasonably know will harm the reputation or financial best interests of a tournament player, sponsor, official or the WTA."
There's no need to panic: The ATP has had a similar rule for years -- complete with a potential $100,000 fine -- but that fine has almost never been invoked.
Still, a bit like the Roadmap itself, it might give the women of the WTA some reason to pause.
Kamakshi Tandon is a freelance tennis writer for ESPN.com.
SPONSORED HEADLINES
MORE TENNIS HEADLINES
MOST SENT STORIES ON ESPN.COM
EDITORS' PICKS
Here are your top quotes from the 2014 season.
Tandon »

Take our 2014 tennis holiday quiz.
Kamakshi Tandon »

Here's why Goran Ivanisevic is your supercoach of the year.
Bodo »