Commentary
Verbal volleys: Most memorable quotes of 2008
Tennis players didn't just let their rackets do the talking in 2008. From the fierce to the funny, we take a look back at some of the year's memorable zingers and verbal swipes.
Originally Published:
December 19, 2008
By
Kamakshi Tandon
| Special to ESPN.com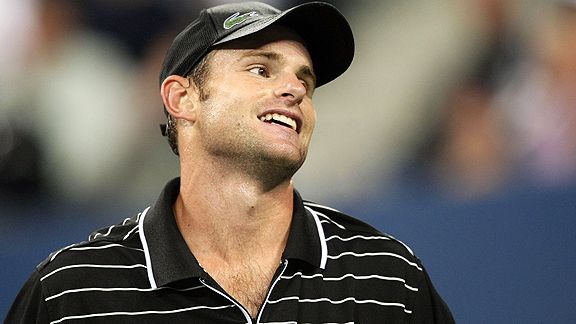 Nick Laham/Getty ImagesRoddick wasn't buying Novak Djokovic's perceived litany of injuries before their U.S. Open encounter.
Editor's note: The 2008 tennis season left us with indelible memories. ESPN.com recounts the top 10 highs and lows from Monday through Friday this week.
Who says there's no trash-talking in tennis? Here are the highlights from a season with plenty of verbal sparring:
Fighting words

1. "I've got to feel good, he's got about 16 injuries right now … back and hip … cramp … bird flu … anthrax, SARS."
-- Andy Roddick, adding insult to Novak Djokovic's injuries before their quarterfinal match at the U.S. Open.
2. "Andy was saying I have 16 injuries last match, so obviously I don't, right?"
-- Djokovic returns fire after his U.S. Open quarterfinal win over Roddick.
Top 10 week -- 2008 season
3.
"I just despise her to the maximum level, right below hate. I think she falls into the Marcelo Rios scumbag category."
--
Justin Gimelstob
, getting himself into hot water talking about Anna Kournikova on a Washington, D.C., radio show. Gimelstob, who also made sexual remarks about Kournikova and some current Sony Ericsson WTA players, later issued a written apology.
4. "I don't like her outfit. … It was one of the motivations to beat her."
-- Alla Kudryavtseva, after defeating Maria Sharapova at Wimbledon. Not used to the limelight, Kudryavtseva later said she was "surprised" by the headlines she generated.
5. "They just do whatever they want and tell us what to do and how to do it. And on top of that walk around like they're the stars."
-- Sharapova on WTA officials, protesting her required appearance at a WTA photo shoot at Rome in May.
6. "I don't have nothing to speak with this man."
-- Rafael Nadal, signaling his exasperation with departing ATP executive chairman Etienne de Villiers over this year's crowded clay season.
Civil Conflict
Nothing stirs passions like national competition, but many of the year's fiercest team battles were internal wars of words:
1. Argentine Davis Cup team

After battling with the Argentine tennis federation over the choice of site for the Davis Cup final,
David Nalbandian
also rounded on teammate
Juan Martin del Potro
during the tie. Afterwards, captain Alberto Mancini said both the team and the country had to learn to pull together.
2. Spanish Davis Cup team

Tension already was simmering between many of the Spanish players and Spanish tennis federation president Pedro Munoz, but the gloves really came off this year. Triggered by conflict over the chosen site of the Davis Cup semifinal, the tangled saga featured some virulent private battles between Munoz and the likes of
Carlos Moya
, Toni Nadal and
Juan Carlos Ferrero
. Discredited yet defiant, Munoz nevertheless stuck to his choice of Madrid to host the semifinal, despite the players' desire to play nearer sea level.
3. French Fed Cup team

Marion Bartoli
and
Aravane Rezai
already were on the sidelines because of various disputes, and
Amelie Mauresmo
joined their ranks this year. Mauresmo was named to the Fed Cup team for February's tie against China despite telling captain Georges Goven that she would not be available, and both sides criticized the other during the controversy that followed. Mauresmo then was left off the Olympics singles squad in favor of 34-year-old Mary Pierce. By the time Pierce predictably pulled out, Mauresmo already had declined to make the trip, and the French were left scraping for a replacement.
4. British Davis Cup team

The season began with
Jamie Murray
criticizing his brother Andy Murray's decision to skip the first-round tie against Argentina. It ended with Andy walking off during Alex Bogdanovic's reverse singles match against Austria because he felt his teammate was not putting in enough effort. "If I'm going to make the sacrifices to play in the Davis Cup, then I want every single person in the team making that sacrifice and saying they will give everything they've got," said Andy, who also clashed with Austrian No. 1
Jurgen Melzer
during the tie.
5. French Davis Cup team

Expected to be the hero of the quarterfinal Davis Cup tie against the United States,
Richard Gasquet
told French captain Guy Forget he would not be available for France's elimination tie against
Andy Roddick
. Forget was forced to play
Paul-Henri Mathieu
, who had gone five sets in the opening day's singles. "I felt that Guy had confidence in me," Mathieu said. "Apparently, Guy didn't have a choice."
6. Olympic squads

Several players such as
Dudi Sela
,
Tamira Paszek
, Denis Gremelayr and
Michael Berrer
were shut out of the Olympics because their national Olympic committees declined to send them because they were not serious medal contenders. Almost all of them had an angry word or two with officials, and Paszek even briefly considered no longer representing Austria. The situation was reversed in the case of Rainer Schüttler, who was nominated by the Germans despite not being ranked high enough to make the original cutoff. He filed an appeal with the Court of Arbitration for Sport for the right to play.
-- Kamakshi Tandon
7.
"The king is dead."
-- Djokovic's mother, Dijana, speaking to a tennis reporter after her son's Australian Open victory, which included a win over
Roger Federer
in the semifinals.
8. "My world ranking of No. 13 may not be my best of all time, but it's nothing compared to your world ranking of No. 1 in lying and swindling."
-- Carlos Moya, in the midst of a bitter text-message war with Spanish tennis federation president Pedro Munoz. The incident was part of a wider battle between Munoz and the Spanish players, triggered by conflict over the location chosen for the Davis Cup semifinal against the United States.
9. "Roddick is not here at Roland Garros, but we know the reason why. I mean, clay is not his best surface, so he just wanted to buy time and to be ready for Wimbledon. That's my personal comment. That's all."
-- French federation doctor Bernard Montalvan, nonchalantly accusing Roddick of skipping the French Open with an exaggerated injury. By his own account, Roddick was particularly disappointed to miss the tournament this year after posting some encouraging wins during the clay season.
10. "You want to speak about my mum again? Huh?"
-- Andy Murray, bristling during a heated exchange with Juan Martin del Potro during a changeover in their first-round match in Rome. After Murray accused del Potro of deliberately aiming the ball at him in the previous game, del Potro said Murray and his mother, Judy, were "always the same."
Cute quips

1. "It's a little disappointing that we're behind a sport that you turn left for four hours."
-- Andy Roddick, on NASCAR's greater popularity in the United States.
2. "Of course it's fair. We're waiting for the men to finish five sets. God, we should get paid more for waiting around all day long."
-- Maria Sharapova, on equal prize money.
3. "I've created a monster."
-- Roger Federer, on being expected to win every tournament.
4. "I [got] a pretty big cut on my hand when I was celebrating with my team. I was bleeding during the ceremony, I didn't know what to do. I called the trainer a couple of times. I wanted to retire."
-- Novak Djokovic, showing he can have a sense of humor when it comes to his penchant for medical timeouts and retirements.
5. "I thought, 'White girls can't play.'"
-- Jelena Jankovic, playing a roller-coaster final against Serena Williams in Miami, on noticing that actor Woody Harrelson was sitting courtside. Harrelson's credits include the film "White Men Can't Jump."
6. "A second accident."
-- Gilles Simon, asked how he would describe his second victory over Roger Federer this year given that some people described his first win as an accident.
7. "Before we left to come to Germany, we had a bit of a fight because he said I was doing everything wrong. … But look, brother -- I'm on the right path."
-- Dinara Safina, after winning the Berlin title the same day that big brother Marat Safin was playing in Hamburg qualifying.
8. "His height."
-- 6-foot-10 Ivo Karlovic, on what he found most difficult about 6-6 Sam Querrey's serve. A week earlier, Karlovic played 6-9 John Isner and reported, "Now I know how everybody else feels when they play me."
9. "That's not my goal, to be the best in Luxembourg."
-- Gilles Muller at the U.S. Open, playing down his achievement of being the first player from Luxembourg to reach the second week of a Grand Slam. The country has a population of just more than 480,000, and after No. 95 Muller, its second-highest-ranked ATP player is No. 1,395.
10. "I've got a big mattress."
-- Roger Federer, on how he's coping with the financial crisis.
Kamakshi Tandon is a freelance tennis writer for ESPN.com.
EDITORS' PICKS
Serena Williams cruises in her WTA Finals opener.
Story »

Garber: Serena has been shaky, but Maria Sharapova is ready for the WTA finals.
Garber »

Roger Federer peaking for year-end championships.
Garber »