Commentary
Annual American clay crucible begins
Originally Published:
April 14, 2009
By
Kamakshi Tandon
| Special to ESPN.com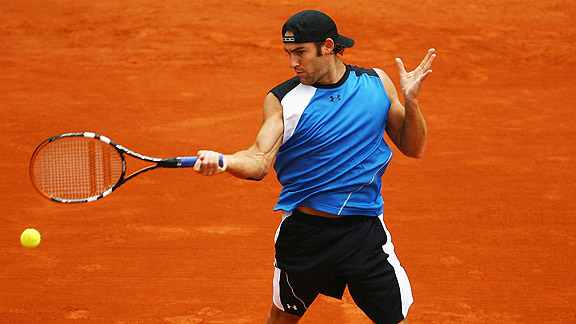 Julian Finney/Getty ImagesRobby Ginepri is one of the few American men adept at clay-court tennis.
For hard-court natives, playing on clay can be like playing on another planet. The ball travels more slowly, bounces higher and spins wildly, as if a different force of gravity were at work. The surface is alien -- slippery and granular, depositing little poofs of red dust on white socks.
It's no secret that the recent generation of American men, raised on asphalt, have usually struggled to adjust. The opening day of the U.S. Clay Court Championships in Houston last week provided a stark reminder: Top seed James Blake and second-seeded Mardy Fish both lost their first-round matches shortly after fifth seed Sam Querrey pulled out with a hamstring injury.
Wayne Odesnik did salvage some national pride by reaching the final, helping keep alive the tradition of home success at the United States' lone ATP event on clay -- an American player has won Houston or reached the final for eight of the past nine years.
But it has been a very different story at the more prestigious clay events in Europe, particularly the French Open. After the unusually prosperous period between 1989 and 1999, bookended by the triumphs of Michael Chang and Andre Agassi with Jim Courier's back-to-back titles in between, only three American men -- Agassi, Michael Russell and Robby Ginepri -- have made the second week of Paris during the past decade.
Clay Tennis for Americans

Clay guru Jose Higueras presents tips for translating a hard-court-oriented game to the dirt.
What to do with:
Your big serve: Use it, but remember that you are not rewarded for a big serve as much as on a hard court, so mix the spin and the placement and look to gain positioning for the next shot.
Your big forehand (or backhand): Resist the temptation to shorten points with overambitious blasts. Aim deeper with more spin for safety and look to open up the court with angles so you can gain positioning.
Your conscientious volleys: Use them selectively. Attacking tennis is still possible on clay, but the higher bounce gives opponents more time and options with their passing shots. It's essential to think ahead and come in off a strong approach.
Your slipping feet: Learn to slide. It's not easy to get the hang of, but it improves momentum and balance during shots and allows faster recovery for the next ball.
Your disoriented positioning: Adjust so the ball still comes into your strike zone. Whether on clay or hard, you need to adjust according to what your opponent gives you and try to get your feet in the best possible spot for the shot you get. On clay, that means you may have to stay around longer in the point.
Your apprehensive mindset: Accept that more balls are going to come back and rallies are going to be a few shots longer. Be prepared to work the points, using angles and spins as well as power to get into a winning position. And try to enjoy having that little extra time to hit your shots and try different things!
-- Kamakshi Tandon
The nadir came in 2007, when a collective 0-9 showing at the French Open marked the first time in Grand Slam history that no Americans in the men's draw managed to win a match.
Last year saw a slight uptick -- "We set the bar low enough," Blake joked -- producing an 8-10 match record that included third- and fourth-round showings by Odesnik and Ginepri, respectively. There were also some surprises during the major lead-up events: Querrey made the quarterfinals of the Monte Carlo Masters, and at the Rome Masters, Blake made the quarterfinals and Andy Roddick made the semifinals.
Clay time

Will the positive trend continue this year? There won't be any answer for a while yet: Though the European clay circuit kicked off at the Rolex Masters in Monte Carlo this week, there are no Americans in the draw.
Andy Roddick's wedding may be a slight factor in that, but the situation is hardly unusual. Querrey was the lone U.S. representative in Monte Carlo last year, and there were again none in 2007. The sparse attendance usually stems from a reluctance to spend too many consecutive weeks in Europe, where fluent English is rare and the steaks even rarer.
Despite delaying their arrival, most of the top Americans do seem to be planning more than a cursory appearance on European clay this year. Blake, Mardy Fish, and Querrey have all signed up for a tournament between the Rome and Madrid Masters, indicating a solid three-week commitment to match play ahead of the French Open. (Ginepri, who continues to be sidelined after an emergency appendectomy last month, was also scheduled to play three events in a row starting a week earlier in Barcelona.)
Perhaps an extended stretch of tournaments will help break what has become the vicious cycle of limited American participation on clay: lack of comfort, leading to avoiding the surface, leading in turn to a continued lack of comfort.
Paying your dues is essential for success on a foreign surface, says coach Jose Higueras, who guided Chang and Courier to their French Open victories and worked with both Roger Federer and Ginepri in Paris last year.
"Jumping on the clay year to year, I think it's pretty tough," said Higueras, who is now director of coaching for the USTA's elite player development program. "You just need to spend time, experience it and really understand it, and that only happens with time."
Getting the dirt

Higueras also stresses that players have to know what to do before they can do it. "We don't play enough on clay here nor practice enough on clay, so understanding of how to play on the surface obviously is not great," he said. "I don't think you have to change your game 100 percent, but you do have to adapt to the surface so the surface doesn't hurt you as you play. On the clay, you play a lot more from the back, you use a lot more spins, you have more angles because of the time you have."
Ginepri gave credit to Higueras' tactical insights during his run to the fourth-round in Paris last year: "Before I really had no clue how to construct points or what type of shots to hit when I was in trouble or how to serve, what sets up what."
Many players who prefer faster surfaces admit that they can also develop a mental block about playing on the dirt. "If you understand what you want to do, then obviously your mind is a lot more at ease," Higueras added. "[It] will take away quite a bit of the anxiety and the psychological negativity that gets into our players normally."
In the end, however, there's no getting away from the fact that clay dilutes the traditional strengths of most of the top American players. "When I'm not playing my best, finding a way to get through the matches is more challenging on this surface than on hard courts," Roddick remarked after getting bundled out in the first round during his last appearance at Paris.
Is it worth the effort? After all, the spring clay season is only two months long, and some of the time could be used to rest up for more promising events on grass and hard courts.
But increasingly, the answer to that question is yes. The next eight weeks on dirt present a ranking-points bonanza equivalent to winning the Australian Open, Wimbledon and the U.S. Open combined. With more and more clay natives from Europe and South America finding success on faster surfaces, hard-court players are less able to write off this part of the season without giving up significant ground to those who can be successful year-round.
And the general slowing down of surfaces across the game means many of the skills learned in trying to master the clay can pay dividends back on hard.
"My theory is that the better you play on your worst surface, it's going to help you play better on your best surface," said Higueras. "[If on hard courts] you're on the baseline and you're still hitting a half-volley then you will step back, which is the right way to do it no matter where you play. [You get] a better understanding of the percentages and different heights of the ball."
Kamakshi Tandon is a freelance tennis writer for ESPN.com.
SPONSORED HEADLINES
MORE TENNIS HEADLINES
MOST SENT STORIES ON ESPN.COM
EDITORS' PICKS
Caroline Wozniacki sails after split with Rory.
Tandon »

Here's what celebrity coaches and players would give each other for the holidays.
Bodo »

Martina Navratilova just part of coaching carousel.
Bodo »