Commentary
Verbal volleys: Quotes of the year
Originally Published:
December 17, 2010
By
Kamakshi Tandon
| Special to ESPN.com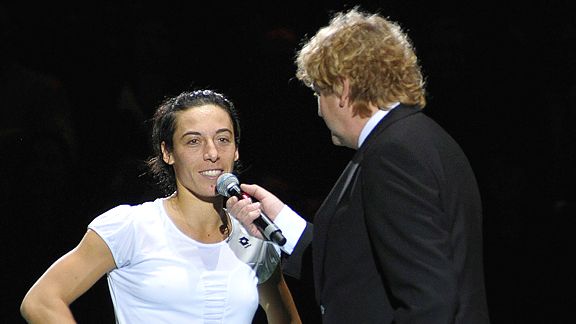 Didier Messens/Getty ImagesFrancesca Schiavone did some of her best work on the court -- and while holding court -- in 2010.
Funny quips and memorable observations from the players this season:
1. "I've got the quarterfinals streak going, I guess."
-- Roger Federer, after having his record of 23 straight Grand Slam semifinals broken by Robin Soderling at the French Open.
2. "I had hit too many aces."
-- Serena Williams, on the cause of her rumored shoulder niggles at Wimbledon.
Quotable men
Player of the year: Novak Djokovic
Most improved: Rafael Nadal
Future promise: Ernests Gulbis
Too little occasion: Andy Roddick, Dmitry Tursunov

Novak Djokovic
"We're just waiting on DHL to give us a canister of oxygen that I will put next to me on the changeovers."
-- poking fun at his frequent breathing problems in the heat.
"It was like sleeping with my girlfriend."
-- on how he felt as the shadows came down during his opening U.S. Open match, the cooler conditions helping him win in five sets.
"I was just closing my eyes and hitting forehands as hard as I could. If it goes in, it goes in. If it goes out, another loss to Federer in the U.S. Open."
-- on hitting a winner when facing match point against Federer at the U.S. Open. Djokovic had lost to Federer at the tournament three straight years.
"He's my father. If he wants to wear this shirt, he can wear this shirt."
-- on his father sitting courtside wearing a T-shirt with Djokovic's face on it.
"I would never wear the shirt."
"He's actually doing coaching. ... We're working on some specifics, like how to play with hands -- high balls."
-- on Diego Maradona watching his match at the ATP World Tour Finals.
3. "I've seen it live, last year, passing next to me."
-- Novak Djokovic, on whether he had watched replays of Roger Federer's between-the-legs winner at the U.S. Open this year. Federer hit the same shot against Djokovic to set up match point in their U.S. Open semifinal a year earlier.
4. "It didn't happen since Borg. Now, last three years, it happen. So how crazy is the life?"
-- Rafael Nadal, on the French Open-Wimbledon double being completed three straight times since 2008, after no one had done it since Bjorn Borg in 1980.
5. "... feels like a million bucks!!!!"
-- John Isner, updating his Twitter status after the second day of his record-breaking 70-68 fifth-set match against Nicolas Mahut.
6. "My trainer took me to the entrance to Centre Court to see the little poem by Kipling. I hope I'll someday have the strength to be able to appreciate that."
-- Mahut, after losing to Isner. The inscription reads, "If you can deal with Triumph and Disaster, and treat those two imposters just the same."
7. "If I win, it'll be fabulous. If I lose, it'll be even more fabulous."
-- Gilles Simon, on winning another round at the U.S. Open versus going home to see his newborn son.
8. "I think that was some kind of a therapeutical group psychoanalysis."
-- Marion Bartoli, recalling a long and involved news conference.
9. "I'm sure I'll get a lot of male fans now."
-- Caroline Wozniacki, on her shorter-than-expected dresses for the U.S. Open.
10. "She said she loved me in the 'American Pie' movies."
-- Andy Roddick, who bears a strong resemblance to actor Seann William Scott, on what the Queen of England said upon meeting him.
11. "The doctor told me that she didn't think I was going to grow much more. It was a pretty sad day." -- Melanie Oudin, resigning herself to her 5-foot-5 height.
12. "Maybe I have a twin brother. I won six Slams and he won eight Slams."
-- Federer, joking about the possible link between his dominance and twins running in the family. Both Federer and his sister are the parents of twins.
13. "It's like a penalty."
-- Nadal, comparing facing Ivo Karlovic's giant serve to being a soccer goalie.
14. "I was getting calls from my publicist in the middle of the night. ... The last time this happened there were rumors I was married."
-- Venus Williams, on causing a sensation by wearing "nude" shorts under her dress.
15. "I think every person should go to jail once."
-- Ernests Gulbis, looking back on his night behind bars in Sweden for (unknowingly, he says) soliciting a prostitute.
Quotable women
Player of the year: Francesca Schiavone
Most improved: Kim Clijsters
Future promise: Andrea Petkovic
Too little occasion: Serena Williams, Maria Sharapova

Francesca Schiavone
"That everybody have the chance to be who really you want to be, and to do everything in your life. This is what's happened to me."
-- on the meaning of her unexpected French Open victory.
"Heart attack."
-- on her reaction to winning her quarterfinal.
"Every morning that you wake up, you work to do something like this. So maybe it was far away in the reality, but here [in the heart], never far away."
-- on whether she believed that winning the title was possible.
"To kiss the ground for me is to thank this clay, this beautiful tournament and this arena ... to give me this opportunity and all the emotion that I am living."
-- on why she kissed the clay after her win.
"I walk in Italy and they say, 'Hello. Are you Francesca? You look smaller than in the TV.' I say, 'No, don't tell me like this. I work hours and hours to become big.'"
-- on her new profile at home in Italy.
"I won three tournaments. The first one, the trophy was broken. ... The second one, in Moscow, I won a trophy like this, fantastic -- at the end, [I only got to keep] a plate. Now I have won this one, and they give me a trophy like this. But [at least they] write my name."
-- on getting to keep only a miniature replica of the French Open trophy.
Passing shots
Slings, arrows and good-humored ribbing.
1. When did you first notice he had a problem? "About three years ago."
-- Jo-Wilfried Tsonga, on Djokovic suffering one of his frequent maladies during their Australian Open match.
2. "I know Andy would like to win this first title for British tennis in, what is it -- 150,000 years?"
-- Federer, on the pressure Andy Murray would face in their Australian Open final meeting.
3. "I can cry like Roger, it's just a shame I can't play like him."
-- Murray, after losing the Australian Open final and tearing up like Federer did a year ago.
4. "You know how they say -- sport doesn't build character, it shows it."
-- Ana Ivanovic, on Jelena Jankovic imitating her fist pump after the two played each other in Madrid.
5. "I don't think it's nice to put the fist in their face."
-- Jankovic, on why she did it.
"I have nothing against her or fist pumps."
-- Jankovic, recanting, not entirely convincingly.
6. "A tournament is not managed on ambition. ... There is no ambition. The player who has ambition is the player you mentioned before."
-- Bartoli, referring to Aravane Rezai.
7. "Marion is a difficult girl."
-- Rezai, responding.
"I have absolutely no animosity whatsoever against Aravane, and I'm delighted she won Madrid. The further she goes, the happier I am."
-- Bartoli, recanting, even less convincingly.
8. "He uses it a lot to be against it."
-- Serena Williams, on Federer and Hawk-Eye.
9. "I just hope it's not $92,000."
-- Serena Williams, on facing a fine for not doing a postmatch news conference. She was fined $92,000 for her infamous U.S. Open outburst last year.
10. "I understand the rules of football so well that apparently when two Slovenian guys mug an American guy, the American guy gets called for a foul."
-- Roddick, on officiating mishaps at the World Cup.
11. "I see a lot of tweets just like, 'I'm having breakfast and the omelet is great.' Who cares, man?"
-- Janko Tipsarevic, critiquing his colleagues' Twitter use.
12. "Some of the tennis girls, they're sluts."
-- Teen phenom Laura Robson, still learning the art of giving magazine interviews.
"I would just like to say a big 'Sorry' to anyone that I may have offended in an interview published recently."
-- Robson, recanting.
13. "I honestly think everyone's kind of rough on him. They make him sound like he was just fat before this year and that they're surprised he could play."
-- Sam Querrey, on the reaction to Mardy Fish's summer success after losing 30 pounds.
14. "I'd vote for him, so that Independiente falls to the B Division."
-- Jose Acasuso, supporter of a rival soccer team, on Gaston Gaudio running for president of the Independiente soccer club.
15. "I am not Paris Hilton."
-- Nikolay Davydenko, on his low public profile.
Kamakshi Tandon is a freelance tennis writer for ESPN.com.
SPONSORED HEADLINES
MORE TENNIS HEADLINES
MOST SENT STORIES ON ESPN.COM
EDITORS' PICKS
Here's what celebrity coaches and players would give each other for the holidays.
Bodo »

Roger Federer to face Stan Wawrinka in Battle for Africa.
Watch

Caroline Wozniacki sails after split with Rory.
Tandon »