Commentary
Can Federer find his form and capture Olympic gold?
It's essentially a Masters Series event without byes. None of the top-tier men appear to have a seamless path toward an Olympic medal.
Updated:
August 7, 2008, 1:04 PM ET
By
Ravi Ubha
| Special to ESPN.com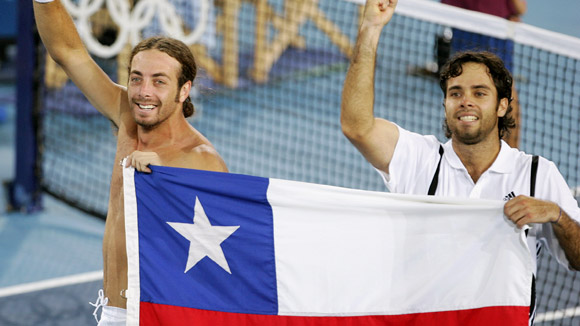 AP Photo/Adam ButlerFernando Gonzalez, right, won two medals in Athens four years ago, but will have a tricky path in Beijing.
Tournament: Olympics
Surface: Hard
Draw: 64
Top seeds: Roger Federer, Rafael Nadal, Novak Djokovic, Nikolay Davydenko
Given his recent struggles, Roger Federer must have been hoping for a gentle draw at the Olympics. It didn't happen: The Swiss has one roadblock after another.
Incoming world No. 1 Rafael Nadal has a smoother path, although Novak Djokovic is a potential semifinal opponent.
With a few exceptions, think of the Olympic draw as a Masters event, only without opening-round byes for the big guns.
First quarter: Roger's rocky road
Federer begins with the enigma that is Dmitry Tursunov. The laid back -- off court, that is -- California-based Russian has a big hard-court game and reached the final of the Indianapolis Tennis Championships two weeks ago. Seemingly he can topple anyone on any given day.
Couple that with Federer's loss of form and we could have a match on our hands. Federer leads their head-to-head matchups 2-0, and can suitably change the pace to drive Tursunov crazy, just like Scot Andy Murray.
Federer's probable second-round foe is Hyung-Taik Lee, no slouch on hard courts. Playing in Asia might give the South Korean even more incentive, if he needs it.
Then comes the third round. Federer could end up with either Tomas Berdych or 14th-seeded Croat Ivo Karlovic. Berdych downed Federer at the Athens Games four years ago; ace machine Karlovic defeated Federer more recently, at last week's Cincinnati Masters.
Guess who Federer might tangle with in the quarterfinal? None other than Gilles Simon, his conqueror at the Toronto Masters. Simon has a tough opener, in Swede Robin Soderling.
The highest American seed, No. 8 James Blake, starts with huge-serving Aussie lefty Chris Guccione.
Prediction: Federer
Second quarter: Up for grabs
Fourth-ranked Nikolay Davydenko and fifth-ranked David Ferrer pop up in this section, though neither are playing particularly well.
Davydenko is 3-4 in his last seven meaningful matches (as in, at big tournaments), while Ferrer, hampered by a leg injury, suffered early exits at the Toronto and Cincinnati Masters.
Davydenko is particularly streaky, so it wouldn't be a surprise if he suddenly gets on a roll. Still, don't bank on it -- Ernests Gulbis is his first opponent, and expect the rising Latvian to emerge.
Ferrer also has an interesting opener against Janko Tipsarevic. One minute the philosophical Serb looks like a world-beater. The next, he collapses mentally and can exit to anyone.
Fernando Gonzalez, expected to carry Chile's flag during the opening ceremonies, claimed bronze four years ago and has a decent looking path, though upstart Croat Marin Cilic would give him a test in the second round.
Prediction: Gonzalez
Third quarter: Which Novak turns up?
It was a mixed week for Djokovic in Cincinnati.
He ended Nadal's 32-match winning streak in their semifinal match, yet was utterly disappointing in a straight-sets loss to Murray in the final. That he stretched Murray to two tiebreaks was almost a miracle. Djokovic's serve let him down and he struggled with the heat in Ohio. Things figure to get even stickier in Beijing.
Djokovic, however, has made no secret of the fact the Olympics are huge for him, which should elevate his game.
In any case, we should find out early if he's on his game. His first-round foe is Georgia resident Robby Ginepri, having a good campaign that would have gone even better had he served it out against Federer in the second round in Cincinnati. A Djokovic-Kei Nishikori encounter in the round of 32 would entice -- Nishikori played Nadal tough on grass at the Artois Championships in London in June and has drawn praise from Nadal and Federer.
Defending Olympic champion Nicolas Massu is in a major slump and essentially got in as a wildcard. He faces Belgian Steve Darcis in the first round, with the victor likely battling David Nalbandian. An arm injury almost forced Nalbandian to skip the Games, so he won't be in the best of form. His first-round opponent is Chinese alternate Shaoxuan Zeng, a 26-year-old ranked 598th.
Prediction: Djokovic
[+] Enlarge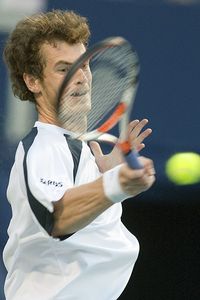 AP Photo/The Canadian Press/Frank GunnAndy Murray hopes his emergence from the Cincinnati Masters is a prelude to what lies ahead at the Beijing Olympics.
Fourth quarter: Rafa and Andy
Nadal said he was tired in Cincinnati, and who could blame him? He's been playing almost nonstop the last three months. Upon arriving in Beijing, the Mallorcan vowed to be ready to go in a few days.
Nadal's opener is against Italian clay-court specialist Potito Starace. They met in the second round at the Hamburg Masters in May, and an entertaining affair it was, Nadal prevailing in two tight sets. This is hard courts, so it shouldn't be as close.
At least on paper, Nadal's possible second-round match is intriguing -- versus former world No. 1 Lleyton Hewitt. Hewitt, however, is still dealing with a bad hip.
A Nadal quarterfinal with Murray beckons. The two are the hottest players in the men's game, with Murray claiming his first Masters Series title in Cincinnati.
It's not a foregone conclusion they'll square up. Murray has a potential third-round tussle with Swiss No. 2 and friend Stan Wawrinka. Wawrinka was bothered by a bad knee when they played in Toronto, yet he still took it to three sets. In fact, five of their six head-to-heads have gone the distance.
Prediction: Nadal
Semifinals
According to Nadal, Djokovic played "unbelievable'' in the first set of their semifinal in Cincinnati, which ended 6-1 and lasted 25 minutes. The latter captured the opening eight points and conceded just six in racing out to a 5-0 lead. Nadal figures to be fresher this time around.
When a crowd gets behind Gonzalez, he's hard to overcome. And he beat Federer the only time they met in China (yes, we're stretching), at the 2007 Masters Cup in Shanghai. It could be close.
Prediction: Nadal, Federer to advance
Final
How special would it be to see Federer and Nadal square off in an Olympic final, right before Nadal strips Federer of the No. 1 ranking?
Even though it's a hard court, Nadal has the mental edge following the Wimbledon final and is on a heck of a roll.
Predictions:
Gold medal: Nadal
Silver medal: Federer
Bronze medal: Gonzalez
Ravi Ubha is a frequent contributor to ESPN.com.
EDITORS' PICKS
Li Na leaves tennis with her legacy fully intact.
Tandon »

It's still Serena Williams against the field.
Tandon »

Here's why fall tennis still matters -- a lot.
Tandon »