Davenport's biggest fear may be fear itself
Lindsay Davenport is really all there is to say about the U.S. Open Series for the women because she's been absolutely dominant this summer.
She beat Venus and Serena Williams in the finals at Stanford and Los Angeles respectively and made it three weeks in a row with her win over Roland Garros champion Anastasia Myskina in San Diego.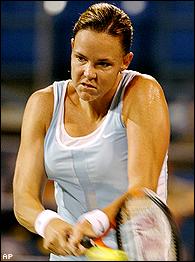 Lindsay Davenport is dominating the U.S. Open series.
There are only two things left for her to do: beat the Belgians, Justine Henin-Hardene and Kim Clijsters, who have yet to make an appearance this summer; and win the U.S. Open.
The way she's been playing no one can touch her, but her biggest fear might be fear itself. Her last Grand Slam championship win was at the 2000 Australian Open, and since then she really hasn't had a legitimate shot at a major because of the Williams' sisters and the Belgians, and most recently Maria Sharapova, who beat her in the Wimbledon semifinal.
With the way she's been playing, it would be fitting if she were able to end the summer with a U.S. Open win and get her first major in over four years. Her confidence and the strength of her right knee will make the difference.
With Davenport not playing in Montreal, the big contenders will be Myskina, Sharapova, Jennifer Capriati and Amelie Mauresmo.
Myskina is coming off a final in San Diego, losing to Davenport, while Sharapova is playing her first event since winning Wimbledon. I want to see how Sharapova responds with so many expectations on her shoulders. The pressure will come from all angles -- herself, her fans, tournament directors and every other person in her entourage. It's impossible to imagine how different life is after a player wins their first major.
Sharapova made a very smart decision by taking several weeks off after winning Wimbledon. She'll be a big hit in North America, and if she can win a couple tournaments this summer, the attention and exposure will be ridiculous.
For Capriati and Mauresmo, this too will be their first appearance on this side of the Atlantic since Wimbledon. It couldn't have come at a better time for the Montreal tournament. Without the Williams' sisters or the Belgians, these two players can add so much to the event.
They both have good roads to the semifinals. I expect to see Mauresmo against Sharapova in one semi, and Capriati against either Chanda Rubin or Myskina in the other semifinal -- that is, of course, if my sister Mashona Washington doesn't get past Rubin and Myskina first.
MaliVai Washington, a tennis analyst for ESPN, reached the 1996 Wimbledon final.
EDITORS' PICKS
Andy Murray beats Donald Young in straight sets.
Scores »

Here's what Serena Williams hasn't done on the tennis court.
Arth »

Eugenie Bouchard suffered a straight-sets loss at the Miami Open.
Story »
MOST SENT STORIES ON ESPN.COM