Serena working hard to return to No. 1
Updated:
November 11, 2004, 1:36 AM ET
By
Miki Turner
| Special to ESPN.com
LOS ANGELES -- Serena Williams comes into this year's WTA Tour Championships with a ton of confidence but some pretty heavy baggage, as well.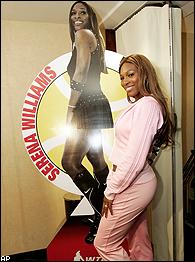 Serena Williams says she's not spending too much time on interests outside of tennis.
The once-overpowering game that catapulted Williams to the top of the rankings in 2002 has been slowed slightly since her knee surgery in '03. She has won only two singles titles this year -- at Miami and Beijing -- and missed the Olympics because of the nagging knee. Her ranking slipped from No. 3 to No. 8 over the past 1½ years.
Most recently, there were those bad calls from which Jennifer Capriati benefited during the U.S. Open quarterfinals and the loss to qualifier Alina Jidkova in Austria two weeks ago. On Tuesday, a Compton judge declared a mistrial in the case of man accused of murdering her older half-sister Yetunde Price in September 2003. It was the second mistrial in her sister's death.
That's a lot to overcome heading into a tournament featuring the top eight players on the tour. Williams -- who secured one of the final two spots in the field on Friday when her older sister Venus lost in the Advanta quarterfinals -- insists that she's feeling pretty good about her chances at the WTA's season-ending tournament at Staples Center, which begins today.
"I've been really getting myself into shape and really working hard," said Williams, who won this event in 2001 and reached the final in 2002. "My mom told me the other day that I stress out too much, that I needed to be more relaxed. So, I think that was really good advice because I do. I work too hard and I stress out too much. I just need to relax and that's what I'm going to do going into the tournament."
She might not want to relax too much. Joining Williams in L.A. this week are the top six players in the world: Lindsay Davenport, Amelie Mauresmo, Anastasia Myskina, Svetlana Kuznetsova, Elena Dementieva, Maria Sharapova and No. 11 Vera Zvonareva. Williams defeated Myskina 4-6, 6-3, 6-4 Wednesday night.
"I think it's a great field and a top field," she said. "You have to come out in the beginning with your top game because it's the top eight players of the year. Everyone's playing really hard and everyone's going to want to win."
Davenport concurred. "I don't think you can underestimate anyone here," she said. "Serena's had some ups and downs this year, but she's still a player to beat. And it's still hard to beat her on any given day."
Collectively, Williams, 23, has winning lifetime records over the top five players and Zvonareva. But she's 0-1 against Davenport this year and 1-1 against Sharapova, who prevented Williams from defending her Wimbledon title this year with a 6-1, 6-4 victory in the final.
"I definitely think it's an important tournament for me to play right now, and I love that it's here in L.A., here at home," she said. "That's perfect."
Well, close. Fans and sponsors alike probably would have preferred Venus to make the cut. But Serena said that she had no mixed feelings about making it into the $3 million tournament as a result of her sister's loss.
"It's a competition," Williams said bluntly in a press conference Tuesday. "We don't talk about it. We don't discuss tennis outside of you guys."
Some tennis insiders have speculated that Williams has lost her passion for the game because of her outside interests in fashion and acting. But, the Compton-born, six-time Grand Slam champion scoffed at that notion, saying wouldn't consider giving up tennis right now even if a network offered her a prime-time series today.
"I couldn't, no way," she said.
Her top priority is getting back to No. 1.
"I haven't gotten any gigs lately in acting because I've been so busy with tennis," said Williams, who last appeared in "Hair Story," a feature film released by Magic Johnson's production company. "I have a really good team on my fashion, so a lot of that stuff has been lifted off my shoulders. If I wasn't playing tennis I'd have something to do every day, but unfortunately I don't have time for it right now."
Despite all of her setbacks this year, Williams says she has not once doubted her abilities on the court.
"No, not at all," she said. "I think there was just more doubt about whether my knee was going to hold up. But once it did, and then it didn't, and then it did, I felt comfortable with it again. The setbacks just made me want to work harder.
"Right now, I'm just looking forward to playing in this tournament. I always want to succeed in whatever I do and whatever I try. I think it's important to want to succeed and be the best that you can be. I'm looking forward to 2005 and starting clean. The one thing about tennis is that there's always next year. You always have another chance and another opportunity. I'll be fine."
Miki Turner, a regular contributor to Page 3, is covering the WTA Tour Championships for ESPN.com. She can be reached at dmiki@aol.com
SPONSORED HEADLINES
MORE TENNIS HEADLINES
MOST SENT STORIES ON ESPN.COM
EDITORS' PICKS
Serena's Wimbledon saga most mystifying moment of 2014.
Tandon »

No one is more fiery than Fabio Fognini.
Tandon »

Martina Navratilova just part of coaching carousel.
Bodo »