Don't put too much pressure on debut
Updated:
February 8, 2005, 2:23 AM ET
By
Matthew Cronin
| Special to ESPN.com
When Andy Roddick won the U.S. Open junior championship at age 17, it was pretty obvious he had the outright power and competitive zeal to become a great player.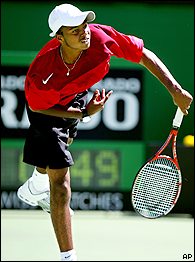 Lefty Donald Young has terrific touch and solid strokes, but at age 15, he's only 5-feet-10, 150 pounds.
When Donald Young became the youngest male to win the Australian Open junior championship two weeks ago -- at 15 years, six months becoming the youngest to reach No. 1 in the ITF junior rankings -- long-term projections are not as obvious. It's clear that if Young keeps improving at the level he has during the past year, he's a surefire top-50 pro.
Young lost in his pro debut as a wild card against fellow American Robby Ginepri 6-2, 6-2 on Monday night at the SAP Open in San Jose, Calif.
Young, a crafty lefty, has terrific touch and solid strokes, but at 5-feet-10, 150 pounds, he's not about to knock out giants like Marat Safin in his rookie year. While he has proved himself in the juniors, more than a few kids have impressed against their peers and then never developed the mental and physical tools to deal with week-in, week-out grind of the tour (remember Tommy Ho?). Plus, Young faces the expectations that come with being a promising African-American male player.
With Roddick, now 22, being the only elite American male outside of 34-year-old Andre Agassi, fans are looking for another kid to bring back the glory years of U.S. tennis when Agassi, Pete Sampras, Jim Courier and Michael Chang dominated the tour.
"I was fortunate because I was ready to play pro ball right away after I won U.S. Open [juniors]," Roddick said. "We have to realize how young Donald is and how much he has left to learn. I think his potential is unbelievable. The way he already constructs points, he's just one of those guys who has a natural feel for the game.
"My biggest concern is letting him grow and people knowing that this is a process. If he does come in and start winning some, then it should be looked upon as a bonus. It shouldn't be expected right away."
Much is expected of Young, who has been called the next great one by numerous renowned coaches since he won the 2003 Orange Bowl 16 and unders as a 14-year-old. In December 2004, Young lost in the final of the Orange Bowl 18s to another promising African-American male, Timothy Neilly. But USTA High Performance chief Eliot Teltscher was still singing Young's praises.
"He has a winning way about him," Teltscher said. "It would be hard to believe that he won't make it as a pro. He moves very well and has beautiful strokes. He really knows his way around the court."
Young turned pro early not only because he's showed ability but also because he comes from modest means. His parents, Donald Sr. and Ilona, are both tennis teaching pros who competed at the collegiate level. Donald Jr. was brought up in Chicago, but last year his family moved to Atlanta, where his parents set up a tennis academy.
His dad focuses on his son's technical aspects, while his mom fine-tunes his mental game. His father says his son is the best lefty he's ever seen. By the time Donald Jr. was 9 years old, his father says he knew college was out of the question for his promising son. Ilona Young says they let their son take big career steps so he won't get bored.
"We've let him lead us," Ilona Young said. "As soon as he masters something, we move to the next level."
That's sounds like a solid parenting philosophy, but neither can be sure how Donald will respond to the rigors of the pro tour at age 15. Some phenoms have done fine, like Spaniard Rafael Nadal, who turned pro at 15. Nadal became a Davis Cup hero at age 18 and is currently ranked No. 17. Others have seriously struggled. France's 18-year-old Richard Gasquet, another pro who made waves by winning matches at 15, suffered with health and confidence problems in 2004 and is now ranked No. 111.
Roddick knows what it's like to hold the hopes of a nation. After winning his first major title as a pro at the '03 U.S. Open, Roddick's first words to the media were "No more, 'What's it feel like to be the future of American tennis?'"
"Hopefully, Donald is not going to travel full-time right away," Roddick said. "But at the same time, you have to kick butt when it's there to be kicked. He's obviously not a normal 15-year-old with the ability that he has. I hope they still let him do some normal stuff. I don't want it to start feeling like a job to him this early.
"It's a very sensitive situation because you have someone who is so talented and who wants to play the game, so you have to let him do his own thing, but at the same time, I think the sense of normalcy has to remain, as well."
Young might eventually master the pros, but it is doubtful he'll be doing that soon. It's extremely rare for male tennis players to do major damage before they are 18, mostly because they haven't physically matured. Moreover, the mental strength it takes to keep progressing when the world's eyes are fastened on your progress is phenomenal. Young might have "Next" in the potential department, but only hard work and a cool head will keep him climbing the ladder in the reality department.
"You see some kids who keep hearing how great they are, get it into their heads and forget what got them there," fellow African-American player James Blake said. "Donald has to remember that until he starts having results, that it's all potential. No one remembers potential. You have to back it up."
Matthew Cronin, the managing editor of Inside Tennis Magazine, is a regular contributor to ESPN.com.
SPONSORED HEADLINES
MORE TENNIS HEADLINES
MOST SENT STORIES ON ESPN.COM
EDITORS' PICKS
Novak Djokovic and Stan Wawrinka set for Down Under slugfest.
Wilansky »

Serena Williams and Maria Sharapova set for final showdown
Caple »

Andy Murray beats Tomas Berdych to reach the Aussie Open final.
Story »