2006 preview: Can anyone catch Roger?
Federer is fantastic and McEnroe is back (sort of). Bonnie DeSimone takes a look at that and much more in her 2006 ATP Tour preview.
Updated:
January 9, 2006, 2:42 PM ET
By
Bonnie DeSimone
| Special to ESPN.com
Can Roger Federer keep it up?
It'll be fascinating if he can, interesting to watch who makes him look mortal if he can't.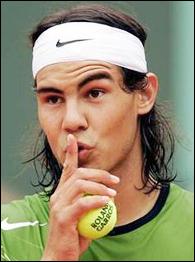 Rafael Nadal is the one player who has had success against Roger Federer.
Will Rafael Nadal continue to improve on faster surfaces?
This directly relates to the previous question. At 19, Nadal still has plenty of time to prove he's got something more than clay feet. He went 50-2 on the soft stuff in 2005, but showed some hardcourt chops, too, with a 28-6 record and three titles on that surface.
What does Andy Roddick need to do to win another Grand Slam event?
He's strong, versatile and … competing in the shadow of two guys who don't appear to be going anywhere. Roddick says he'll ditch a lesser tournament here and there to focus on the majors and the Davis Cup, and play more assertively off his opponent's serve rather than counting on his own bazooka blasts to win every battle. "Constant aggression. That's going to be my mantra in 2006," Roddick told Charles Bricker of the Fort Lauderdale Sun-Sentinel in December. Any other approach might leave him in a long-running gig as No. 3.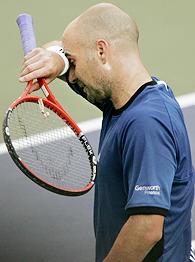 AP Photo/Gregory BullAndre Agassi's health has slowed the start of his 2006 season.
How much longer will we have the pleasure of seeing Andre Agassi hang in there, returning, retrieving and duck walking back to the baseline between points?
Right now the beginning of his season is in question because of the lingering effects of a racquetball injury, and he's already said he's skipping the clay portion of the program.
Oh, say, can you foresee what the young American fife-and-drum corps might do this year?
Twenty-three-year-old U.S. Open semifinalist Robby Ginepri will shoot to stay in the top 20, James Blake, 26, seems poised to build on his late-season success, Taylor Dent, 24, reached a career-high No. 21 ranking (he finished at 30) and 24-year-old Mardy Fish will try to come back from a wrist injury. There's a pretty steep dropoff after that, but if Davis Cup captain Patrick McEnroe has all these guys in form and fighting for the non-Roddick slot on his singles roster -- the world No. 1 Fabulous Bryan Brothers are inked in for dubs -- he'll be ecstatic.
Outside of Davis Cup, do doubles matter?
The partially resolved dust-up over proposed rules changes revealed more about control and communications issues between the players and the ATP than it did about the popularity of the format itself. And speaking of doubles …
Can this be serious?
John McEnroe will compete in an ATP tournament for the first time since 1992, playing doubles next month with Sweden's Jonas Bjorkman in San Jose, Calif. Mac says it's his way of helping people rediscover the tandem game he loves. Bet he can't eat just one.
Will drug testing become more credible now that it's overseen by the International Tennis Federation rather than the ATP?
As I mentioned in a companion piece about the women's tour, timeliness is next to fairness where doping is concerned. While delays and challenges are endemic to the quasi-judicial process, every effort should be made to clear the air as quickly as possible -- especially in the case of a second offender like Argentina's Mariano Puerta, whose status as a suspect (oops, I mean "person of interest") was the worst-kept secret in tennis between May and December.
Is Donald Young capable of winning an ATP match this year?
The 16-year-old, winless in seven tries against the big boys in 2005, won the ITF junior worlds by a hair and will continue to bounce between the kids' and grown-up's tables. Starting this month, he'll play three Futures events on the stepping-stone USTA Pro Circuit to try to lift his pro ranking (553rd).
Who's going to make best use of the impending installation of Hawkeye electronic line-calling technology?
Some fear unlimited challenges will prolong matches, but I think the system will simply create a new layer of etiquette and a sense of what's over the top and what's not. Since the cameras-and-software combo will likely only be used on show courts where high-profile matches are played, I also expect the crowd will police things, noisily letting players know when they're testing the collective patience.
How can the new season be starting this week?
Half the tennis writers I know are hobbled by conditions like hat hair, "flack" allergies, multi-lingual tinnitus and chronic soreness of the gluteus maximus, which gets more and more maxi with each tournament. They're risking further injury by coming back too soon, while officials turn a deaf ear. It's an outrage.
Freelance writer Bonnie DeSimone is a frequent contributor to ESPN.com.
EDITORS' PICKS
The clay season can't come fast enough for Rafael Nadal.
Bodo »

Serena Williams takes care of CiCi Bellis in straight sets.
Story »

Eugenie Bouchard suffered a straight-sets loss at the Miami Open.
Story »
MOST SENT STORIES ON ESPN.COM