Bad day for Capriati
Updated:
June 3, 2004, 3:18 PM ET
By
Greg Garber
| ESPN.com
PARIS -- Anastasia Myskina, standing in the hallway that leads to Court Philippe Chatrier, played nervously with the ends of her short dark hair. How would the hazel-eyed Russian, in her first Grand Slam semifinal, meet the moment?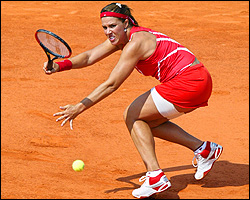 Jennifer Capriati said Anastasia Myskina did not play as Capriati had expected.
Jennifer Capriati, meanwhile, had been here before. She contemplated her 12th Grand Slam semifinal with a worn, pensive look on her tanned face.
As they walked out to the swelling applause, the result seemed inevitable. Few gave Myskina much of a chance against the three-time Grand Slam champion.
It was over in a sobering 61 minutes and, indeed, it wasn't close. The score was 6-2, 6-2, but Capriati wasn't the winner. She was defeated, utterly defeated by Myskina, who will meet her friend and fellow Russian Elena Dementieva in Saturday's French Open final.
The Russians have been coming for several years now, but the women have now arrived. Only one Russian woman, Olga Morozova, ever played in a Grand Slam final in the Open Era (1968), but she lost both times. Now, either No. 6 seed Myskina or No. 9 Dementieva, whom Morozova coaches, will surpass her. Dementieva was a 6-0, 7-5 winner over Paola Suarez in the other semifinal on Thursday.
Myskina was very, very good and Capriati, by her standards, was very, very bad.
"The problem is that I was just having a bad day," Capriati explained. "Obviously, it just wasn't my day. I just had no rhythm, no timing on my shots. I mean they were like flying.
"I was just flat today."
Did Capriati's rousing three-set victory against Serena Williams in the quarterfinals take too much out of her?
"Maybe it was just too much excitement, too much hype for that match," Capriati said. "I couldn't focus on the next one. You know, everyone just talking about it too much, and it's only the quarterfinals. I didn't have much time to really concentrate on it."
The truth is, Myskina had a terrific game plan for Capriati. Instead of hitting a steady succession of rockets from the baseline as she had in their previous matches, Myskina took some pace off her shots. Many of them were so short they landed in the service box. Capriati seemed miffed at the strategy.
"I haven't been used to someone hitting the ball really so -- I don't know. She was just kind of almost pushing it on purpose and hitting really with no pace on purpose," Capriati said.
Why, the nerve!
"I was just expecting Myskina to come out and play the normal game," Capriati said. "She's hitting serves, what, like 50 miles an hour, and then usually I should be able to just take those shots and hit winners or do something.
"But it was just like -- just nothing was going in today."
Said Myskina: "Jennifer was not play her best today. I really used that, and I play good tennis. She was doing a lot of unforced errors, and I wasn't rushing. So I let her do that [and] move her around a lot."
Capriati lost the first three games of the match and never quite seemed to recover. There was a moment in the second set when she appeared on the verge of reeling Myskina back in. A single game, the fifth, framed her frustration.
With Myskina serving, Capriati earned a break point at 30-40. But Myskina hit a forceful forehand that caused a Capriati miss. Later, after a third deuce, Capriati had another break chance. But another strong Myskina forehand led to another errant forehand by Capriati. On the 16th point of the game, Capriati's forehand failed again and Myskina had escaped.
The Russian won the last four games, gradually turning up the pace on her shots. The last two were struck with vehemence, a forehand cross-court winner, followed by a backhand service winner in the same spot.
Afterward, Myskina said she was tired.
"It's two weeks tournament," she explained. "Never played that far. You know, too much tennis."
Capriati, it must be said, looked even wearier.
She is 28 years old, nearly over-the-hill by today's tennis standards. She missed the Australian Open because of back problems and hadn't been playing particularly well; her last title came in New Haven in August (where she didn't have to play a final).
When Capriati beat Serena Williams in the semifinals at Rome, it ended an eight-match losing streak. But, instructively, she lost to Amelie Mauresmo in the final.
Her second straight victory against Williams came at great cost, too. Capriati didn't have much left for the hungry Russian.
Capriati talked bravely about turning around her season.
"I've really done well to get this far -- that's a bonus for me," she said. "Nobody would have thought that before, anyways.
"So I look at this as just -- this is just the start again."
A lovely sentiment, perhaps, but not quite the truth.
With the Williams sisters and the two Belgians, Justine Henin-Hardenne and Kim Clijsters, out of the tournament, this was a fantastic opportunity to win a fourth Grand Slam title. At last year's U.S. Open she had a similar chance against Henin-Hardenne. On 10 occasions she was within two points of the match but couldn't close the deal. Henin-Hardenne won in a thee-hour match and went on to take the championship.
"I don't want to talk about the U.S. Open," Capriati said sharply when the subject was raised. "The U.S. Open is history. This is now, you know."
Greg Garber is a senior writer for ESPN.com.
Writer, Reporter
Greg Garber joined ESPN in 1991 and provides reports for NFL Countdown and SportsCenter. He is also a regular contributor to Outside the Lines and a senior writer for ESPN.com.
SPONSORED HEADLINES
MORE TENNIS HEADLINES
MOST SENT STORIES ON ESPN.COM
EDITORS' PICKS
Roger Federer proved again why he is a night own.
Garber »

Despite a few crazy antics, Gael Monfils the man.
Garber »

Peng Shuai brings greater glory to China.
Assael »