A rivalry Americans can get behind
Brad Gilbert explains why a rivalry that involves two foreign players will be one American fans can get excited about.
Updated:
May 24, 2006, 1:58 PM ET
By
Brad Gilbert
| Special to ESPN.com
Roger Federer and Rafael Nadal are ranked No. 1 and No. 2, respectively, on the ATP Tour. Federer won the Australian Open in January, and if he wins the French Open, he will own all four Grand Slam titles at the same time (he won Wimbledon and the U.S. Open last year).
Federer is 38-3 in 2006, with all three losses coming against 19-year-old Nadal.
Federer-Nadal has the potential to be a great rivalry. I also think it's the first time the American public can accept a rivalry that doesn't involve an American. Both players are popular, and I can see either one winning the French Open.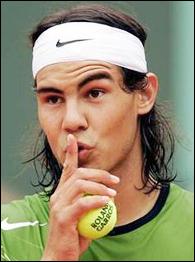 Even Roger Federer says Rafael Nadal is the player to beat at the French Open.
How does this become a great rivalry? Over the next 18 to 24 months, these two will need to play in the finals of Grand Slams -- that's how it becomes a great rivalry. (Federer and Nadal have yet to meet in the final of a Grand Slam event.) Like a boxing match, they go toe-to-toe for 15 rounds. Nadal has won all three meetings this year, but all have been intensely close.
During the next two to three years, Federer-Nadal has the potential to get to the Andre Agassi-Pete Sampras level, just without the American angle. Nadal is so much fun to watch. He has the flashy look -- like Agassi -- and Federer is decked out in Nike gear like Sampras. They have different styles. Nadal's left-handed and Federer is a righty, yet they match up so well when they play each other. Even though Nadal has won the past four meetings with Federer, you still can have a rivalry in which the two parties involved play intensely close matches, as they did earlier this month in Rome.
Right now, it has been one-sided in favor of Nadal (5-1 lifetime against Federer), but I think if the two played on a hard court or on grass, it would be incredibly intriguing. Nadal is hitting his peak (he turns 20 on June 3) and is a serious talent outside the clay court, and I don't see him being stuck at No. 2 forever. He's too good.
If they could play in the final of the U.S Open, the American crowd would be won over and people would forget there isn't an American involved.
But before they meet in the final of the U.S. Open, I want to see them meet in the final of the French. That's the final I want to see, 100 percent. The countdown to that final is going to kill me. It will be an epic story, and that's all I want to see.
Brad Gilbert, former top-five player and former coach of Andre Agassi, is providing ESPN.com with analysis throughout the French Open. For more, log onto bradgilberttennis.com
Former player-turned coach and author Brad Gilbert is an analyst on ESPN's extensive schedule of tennis programming, including, since 2009, all four majors the Australian Open, the French Open, Wimbledon and US Open. He joined ESPN in 2004 and serves as a studio analyst, match analyst and sideline reporter. After leaving to return to coaching rising star Andy Murray of Scotland in 2006, he came back to ESPN in 2008.
Wimbledon
Dates: June 26-July 9
Defending champions: Venus Williams, Roger Federer
Coverage: ESPN2
Time difference: Great Britain is 5 hours ahead of ET

Week 2
• Day 13: Federer wins men's title
• Garber: Federer maintains supremecy
• Sheppard: Nadal No. 2, and closing, on grass
• Notebook: Gilbert deal to coach Murray not official ... yet
• Jensen: Federer learned from French Open

• Day 12: Mauresmo wins women's title
• Garber:Mauresmo keeps nerves in check
• Sheppard: Bryans complete career Grand Slam
• Shriver, Fernandez: Mauresmo held up when it mattered
• Men's final preview: Nadal won't be an easy out
• Day 11: Men's semis
• Garber: Flawless Federer
• Sheppard: Don't write off Nadal on grass
• Notebook: Henin-Hardenne doesn't watch women's tennis
• Day 10: Women's semis | Nadal reaches semifinals
• Garber: Mauresmo breaks through
• Garber: Nadal's transition to grass
• Shriver: Two Grand Slam finals in one
• Navratilova loses final Wimbledon match
• Paul Goldstein blog
• Day 9: Men's quarterfinals
• Garber: Baghdatis awaits Nadal-Nieminen winner
• Garber: Navratilova wants one more title
• Sheppard: Bjorkman wins five-set marathon
• Notebook: Women's semifinal previews
• Nestor-Knowles win longest Grand Slam doubles match in history
• Day 8: Women's quarterfinals
• Garber: Belgians meet for third time in '06
• Garber: Mauresmo at home in Wimbledon
• Hawkins: Sharapova not fazed by streaker, Dementieva
• Notebook: Quarterfinal previews

• Day 7: Men | Women
• Garber: Ancic hopes to end Federer's streak
• Sheppard: State of American tennis
• Notebook: Na Li makes history for Chinese
• Week 1 photo gallery
Week 1
MOST SENT STORIES ON ESPN.COM