Quest for the 'Roger Slam' begins
Rafael Nadal is the overwhelming favorite to win the French Open, but Greg Garber writes about the history that will be made if Roger Federer walks away with the title.
Updated:
May 28, 2006, 2:42 PM ET
By
Greg Garber
| ESPN.com
PARIS -- The sympathetic, rhythmic applause began only 28 points into the first-round match on Court Philippe Chatrier.
This is a fairly typical phenomenon. When the world's No. 1-ranked player is facing an unknown and the match is sliding from one-sided to unsalvageable, the crowd invariably tries to level the field by supporting the underdog.
Except on this occasion Roger Federer, inexplicably, was that underdog.
Diego Hartfield, of all people, won the first three games and was serving at 40-15 for a 4-0 lead -- remarkable for the 25-year-old Argentine playing his first-ever ATP-level match.
Ever.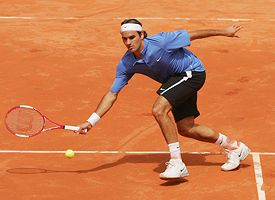 Matthew Stockman/Getty ImagesAfter a slow start in the first set and a second-set tiebreak, Federer finally wore down Diego Hartfield in the third.
"Obviously, not a good start," Federer said later. "[You] try not to panic because, obviously, it's the worst of starts."
Then, the crowd intervened.
This would have been an upset well beyond David versus Goliath in scale -- but, of course, it never came to pass. Hartfield was actually two points away from winning the first set, but the natural order of things eventually prevailed. Federer won the match 7-5, 7-6 (2), 6-2 to skulk into the second round.
The two-hour and 35-minute victory did little to ease anxiety that the French Open will forever be Federer's Waterloo. He has won seven of the last 11 Grand Slams and is in position to make some remarkable history -- but the best he's ever done at Roland Garros is last year's semifinals.
A win here would give Federer a personal Grand Slam -- something only five men have ever achieved -- and it would create something even rarer: a fourth consecutive Grand Slam title. After losing here in last year's semifinals to Rafael Nadal, Federer rallied to win Wimbledon, the U.S. Open and this year's Australian Open.
Only two men, Don Budge and Rod Laver, have ever held all four Slams, and both of them did it in the same calendar year, Budge in 1938 and Laver in 1962 and again in 1969. The "Roger Slam," as he calls it, would follow similar efforts from Serena Williams and Tiger Woods in golf.
Guillermo Vilas won three different Grand Slams, but failed to capture Wimbledon, reaching only the quarterfinals there. His name is in the news these days because Nadal is on the verge of eclipsing his record of 53 consecutive match wins on clay, a record likely to fall on Monday when Nadal meets Robin Soderling.
Vilas believes Federer has the physical game to prevail at Roland Garros, but there is a caveat.
"It just depends how tough he mentally is -- depends on him," Vilas said in a conference call earlier this month. "If he's strong mentally, he can win it. But that's also the main part what Nadal has behind him."
Federer, who famously lost in the first round here as the No. 5 seed in 2003 to Luis Horna -- in straight sets -- admitted on Friday that he was nervous about his first-round match. After Sunday's match he acknowledged he still felt the pressure.
"I knew it's not going to be easy -- the pressure is high," Federer said. "It was a good match to get out of the way with.
"I won the last three Grand Slams, so I suppose everyone is still expecting a great performance from me, at least semifinal or final. Everything that happens before is pressure. It's not easy."
Three Slams, but not French Open
Name
Australian
Wimb.
U.S.
Arthur Ashe
'70
'75
'68
Boris Becker
'91, '96
'85, '86, '89
'89
Jimmy Connors
'74
'74, '82
'74, '76, '78, '82, '83
Stefan Edberg
'85, '87
'88, '90
'91, '92
John Newcombe
'73, '75
'67, '70, '71
'67, '73
Pete Sampras
'94, '97
'93-95,
'97-00
'90, '93, '95, '96, '02
Roger Federer
'04, '06
'03-05
'04, '05
Predictably, Federer and Hartfield gradually returned to previous form as the match progressed. Hartfield, who bears more than a passing resemblance to countryman Gaston Gaudio, surprised Federer by attacking net and a variety of speeds and angles. He had the audacity to try a number of drops shots and even argue calls with the chair umpire. But by the end, Federer had the measure of his man.
"I only knew one day ahead who I was going to play," said Federer, who was originally scheduled to meet Arnaud Clement before he pulled out with a foot injury. "I never heard of his name or never seen him before the match. It's not easy to play like this."
Until he wins his first French Open, it won't get any easier.
Thirty-seven years after Laver won four straight Grand Slam singles titles, Federer will attempt to reach his first final here, presumably opposite Nadal. Federer has lost five of six career matches to the 19-year old -- including all three on clay. All thee of his losses in 2006 are to Nadal.
"I think it's maybe getting there slowly with the rivalry," Federer said. "We still haven't played enough yet. Sometimes a rivalry needs a win and a loss, a win and loss. That's not what's been really going on.
"He's been winning the last few."
Vilas, who is in Paris and presumably will watch Nadal play on Monday, sounds like he believes it is possible.
"I think Federer also like challenges," Vilas said. "He likes to work on clay. He can do it. He's playing better. He's prepared for the big one."
Greg Garber is a senior writer for ESPN.com.
Writer, Reporter
Greg Garber joined ESPN in 1991 and provides reports for NFL Countdown and SportsCenter. He is also a regular contributor to Outside the Lines and a senior writer for ESPN.com.
SPONSORED HEADLINES
MORE TENNIS HEADLINES
MOST SENT STORIES ON ESPN.COM
Wimbledon
Dates: June 26-July 9
Defending champions: Venus Williams, Roger Federer
Coverage: ESPN2
Time difference: Great Britain is 5 hours ahead of ET

Week 2
• Day 13: Federer wins men's title
• Garber: Federer maintains supremecy
• Sheppard: Nadal No. 2, and closing, on grass
• Notebook: Gilbert deal to coach Murray not official ... yet
• Jensen: Federer learned from French Open

• Day 12: Mauresmo wins women's title
• Garber:Mauresmo keeps nerves in check
• Sheppard: Bryans complete career Grand Slam
• Shriver, Fernandez: Mauresmo held up when it mattered
• Men's final preview: Nadal won't be an easy out
• Day 11: Men's semis
• Garber: Flawless Federer
• Sheppard: Don't write off Nadal on grass
• Notebook: Henin-Hardenne doesn't watch women's tennis
• Day 10: Women's semis | Nadal reaches semifinals
• Garber: Mauresmo breaks through
• Garber: Nadal's transition to grass
• Shriver: Two Grand Slam finals in one
• Navratilova loses final Wimbledon match
• Paul Goldstein blog
• Day 9: Men's quarterfinals
• Garber: Baghdatis awaits Nadal-Nieminen winner
• Garber: Navratilova wants one more title
• Sheppard: Bjorkman wins five-set marathon
• Notebook: Women's semifinal previews
• Nestor-Knowles win longest Grand Slam doubles match in history
• Day 8: Women's quarterfinals
• Garber: Belgians meet for third time in '06
• Garber: Mauresmo at home in Wimbledon
• Hawkins: Sharapova not fazed by streaker, Dementieva
• Notebook: Quarterfinal previews

• Day 7: Men | Women
• Garber: Ancic hopes to end Federer's streak
• Sheppard: State of American tennis
• Notebook: Na Li makes history for Chinese
• Week 1 photo gallery
Week 1